ATMs at Las Vegas Casino Table Games Are Officially a Thing
The D casino announced it now offers what amounts to ATMs at its table games, and the Internet sort of lost its mind.
In a news release, The D shared it has "officially debuted a new automated cashless gaming system, ACS PlayOn, for all table games."
The release continues, "Offering a convenient experience for guests, PlayOn is a modern technology that allows players to purchase casino chips using a debit card, eliminating the need to use an ATM machine or cashier's window between hands."
Cue the mind-losing.
Here's a look at the kerfuffle-causer in question.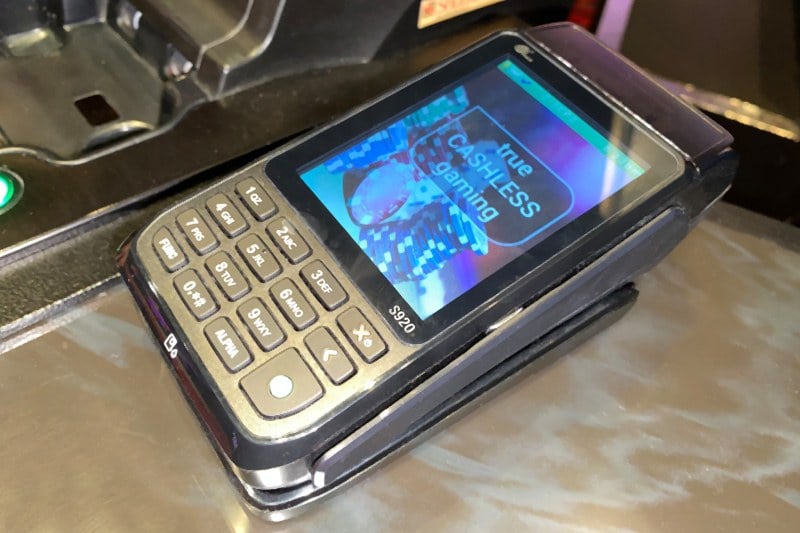 Simply put, when you're at the table (roulette, craps, blackjack, whatever), you can use your debit card to get chips.
That's pretty much it.
Yes, there's a fee. We know how you are.
The fee is $4, plus 2.5% of whatever you withdraw. So, for $100, that's a total of $6.50, or about the same as an ATM fee. (Reminder: ATM stands for "automated teller machine," so please don't say "ATM machine." Sorry to call you out, news release, but common mistake.)
It's worth noting the PlayOn machines don't accept credit cards. They also won't let you exceed your debit card's maximum daily withdrawal limit.
This seemingly straightforward service has already been in place at Palms since December 2019. The system will also be available at Golden Gate (same owners as The D) and The Strat in the next few days (as yet unannounced).
News of the system's debut at The D seems to have hit a nerve.
Most of the feedback on the Twitters relates to the belief people will gamble more than they typically would because the cashless system makes money (or chips) too readily available.
There was also some discussion of the fee being too high. At The D, players can withdraw $50-$3,000. The 2.5% fee on $3,000 would be $75, presumably.
We didn't read the fine print. We were drunk. Full disclosure: We still are. You're not our mom.
Our brilliant response to most of the criticism of this system was, "It's an ATM, just closer."
A good number of people expressed that in the heat of the moment, a player having to stand up and walk to an ATM might give them time to ponder their life choices and avoid the impulse to throw good money after bad.
Interestingly, few mentioned people often win in casinos when they throw good money after bad. Glass half empty, much?
The controversy about "tabletop ATMs" in casinos isn't new. When Palms got its system in 2019, the news coverage ranged from balanced to outright damning.
All we know for sure is if we're playing blackjack and out of cash but want to double down, now we can do it without leaving the table (and without borrowing the money using a "marker," or casino credit).
We'd love to hear your thoughts about this, as the amount of negative feedback was genuinely surprising, and we tend to know everything.
Another disclosure: We work in digital marketing at Fremont Street Experience. The D is a member casino of that organization. Our opinions are our own.
Here's the official site for PlayOn, the cashless casino table games system we expect is here to stay.