From Artist to Belly Dancer to Chef, Seonkyoung Longest Brings Charm, Passion to Jayde Fuzion at M Resort
Chef Seonkyoung Longest doesn't have the easiest name to remember (or pronounce), but once you meet her, you're unlikely to forget her charm, her story and her passion for food.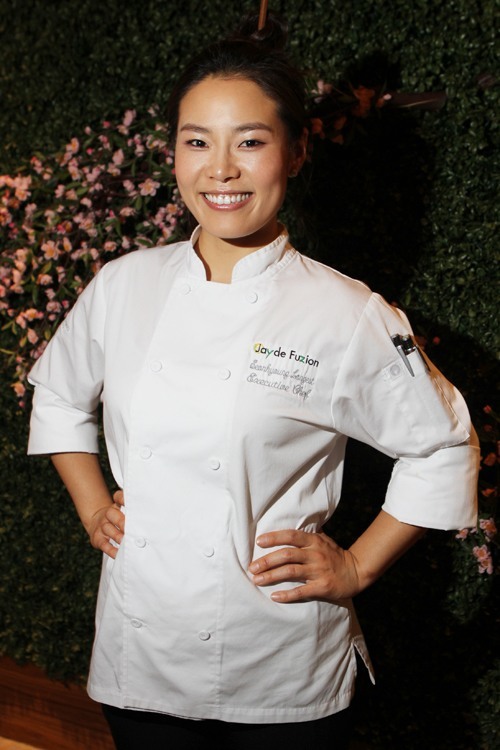 Longest rocketed into celebrity chef territory after appearing on the Food Network's "Restaurant Express" reality show. "Restaurant Express" was a seven-week competition hosted by Robert Irvine, and Longest prevailed over nine other chefs and aspiring restaurateurs.
Her prize? She's now the Executive Chef at M Resort's Jayde Fuzion restaurant, which we predict will become one of the premier Asian restaurants in Las Vegas.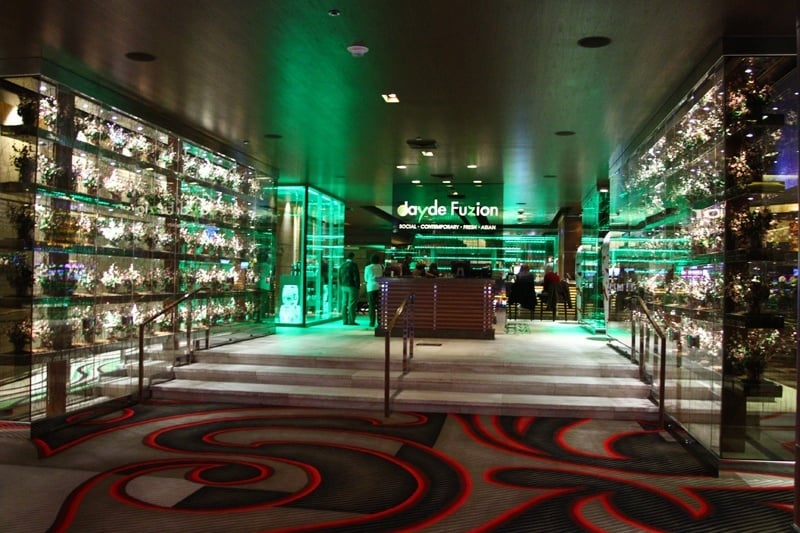 On just about any night, Longest can be found greeting customers at Jayde Fuzion. She says, "Guests want to taste the food, but they also seem to want to meet me, as the winner of 'Restaurant Express.' They ask for a picture with me, and I love being able to explain more about the food and my recommendations, so they can get the most out of our menu."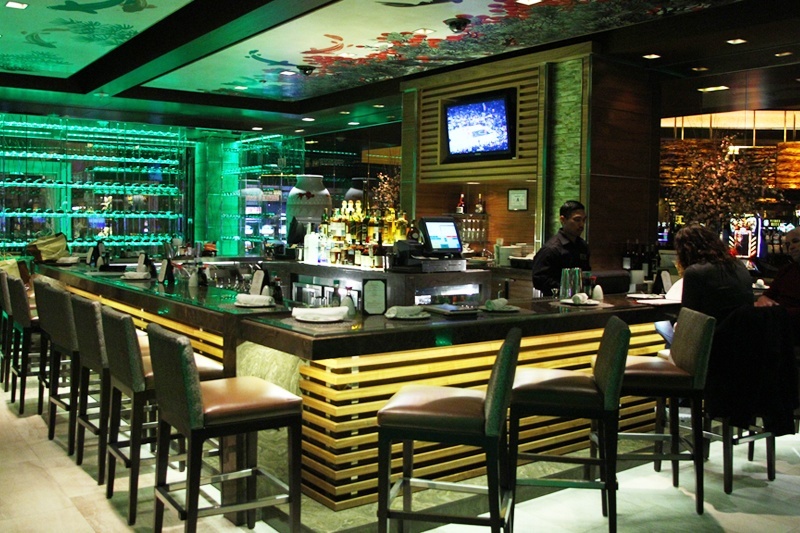 During her stint on "Restaurant Express," she traveled in a bus with the other contestants, eventually ending up in Las Vegas for the show's finale.
"The show was crazier than what people saw on TV," says the chef. "Living in the bus wasn't easy at all. We started with eight people on the bus, so it was hectic. With each week that passed, though, there was a little more room. It was upsetting seeing people leave, though. The contestants became really good friends. It was very emotional, but we still keep in touch."
This is probably a good juncture to share some food porn!
On the restaurant's "Road Trip Signature Dishes" menu, we tried the scrumptious Korean street tacos appetizer ($8) with scallion pancakes, beef bulgogi, napa cabbage and sriracha-lime aioli dressing. The chef says, "The meat is the eye of the ribeye, because it's so tender. It's marinated overnight, then made to order. There's also a kimchi slaw, made in-house. Our 'tacos' are the perfect bite."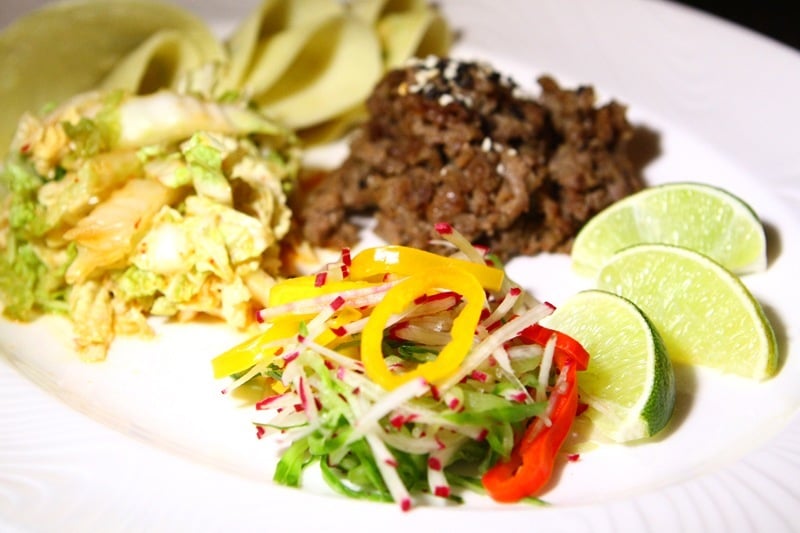 The chef's story is a fascinating one, to say the least. We'll let her tell it.
She says, "I started out as a comic book artist in Korea. I had done that since I was a kid, and I was really into it. I saw how hard it was to pursue something by yourself. I didn't have any mentors. I quit. Then a friend took me to a belly dancing class, and I started doing that as a hobby. I loved it because when you're dancing, your mind becomes empty. It's like meditation. I was able to forget about everything I was going through. Eventually, I became a belly dancing instructor, then a professional belly dancer."
Belly dancer to Las Vegas chef. Isn't that how it happens for everybody?
Chef Longest continues, "During that time, I met my husband. He was stationed in Korea, serving in the Air Force. When I saw him the first time, I said to myself, 'I think I'm going to marry him.' It was crazy."
It was a challenge moving to America, especially because of the language barrier, which made it difficult to make friends.
"When I was at an especially challenging point in my life, I found the Food Network," Longest says. "I still remember that moment. It was Rachel Ray and her show '30 Minute Meal.' She was making lemon risotto, and I made that dish. My husband loved it, and I loved it, and it was fun. I didn't even really know that kind of food existed. I watched more and more Food Network shows, and even started my own cooking show to share recipes on YouTube. It's called 'Asian at Home.' I realize cooking makes me happy. Again, it's a kind of meditation, as dancing was. The YouTube show was a way to share the joy I was feeling when I was cooking."
The chef's YouTube channel has nearly 20,000 subscribers. Take a look. Many of her recipes can be found on her blog. Blogs are some of our favorite things. Ahem.
Our favorite item on the Jayde Fuzion menu had to be the samgyeopsal, or pork belly, lettuce wraps ($8). Hey, we're as surprised as anyone! The wraps feature crispy pork belly, kimchi, enoki mushrooms, cucumber, gem lettuce and Korean ssamjang sauce. It has a kick to it, but the wraps are fantastic, and we're not really even a pork belly person.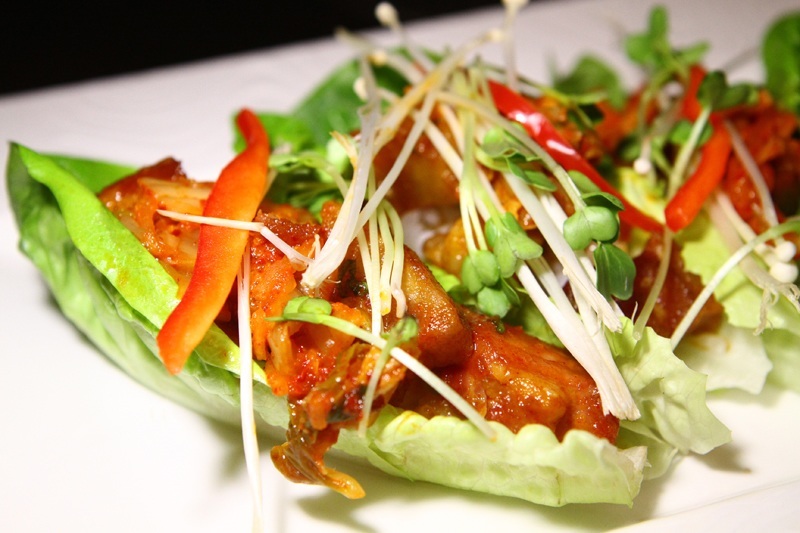 Chef Longest still can't believe she tried out for "Restaurant Express," and seems even more amazed she won.
She says, "I feel like the Food Network saved my life. Being on the Food Network was a dream come true, and winning was something I never expected. I only had three years of cooking experience. But here I am."
One of her signature dishes is Kalbi, Korean beef short ribs.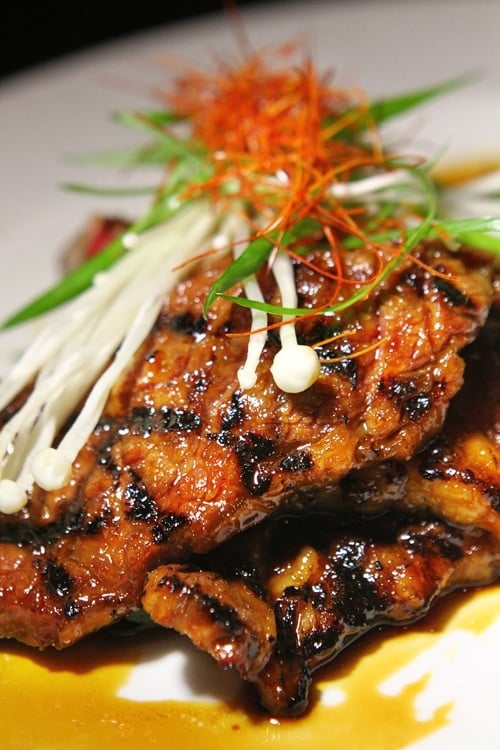 The restaurant's menu also features salads, dim sum, tempura and noodle soups, as well as an irresistible selection of desserts. The most striking is the white chocolate strawberry yuzu mousse.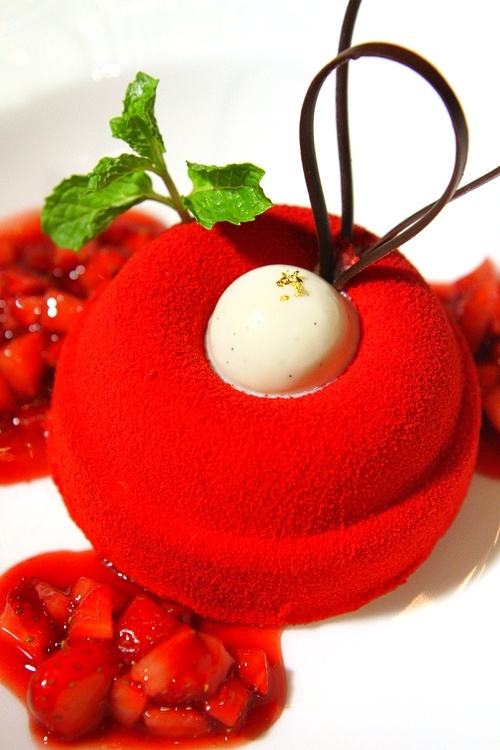 "I like everything light, fresh and balanced," says the chef. "I would like to have sweet, spicy, salty, tangy and a little bitterness in everything I make. When you can have all those things, and nothing pops out, that is a well-balanced dish, and that is what Asian food is all about."
When you dine at Jayde Fuzion (located in the former Marinelli's), and you should, make sure to say "hello" to Chef Longest. Even if you didn't see "Restaurant Express," you're sure to be charmed by this spitfire of a chef, and you're also likely to learn something new about Korean food, and possibly belly dancing.
Only in Las Vegas, baby!