"Absinthe" Celebrates 11 Years of Raunchy Jokes, Crazy Talent and Epic WTF
"Absinthe" recently celebrated its 11th anniversary at Caesars Palace, and the show is as bawdy, ballsy and mind-blowing as ever.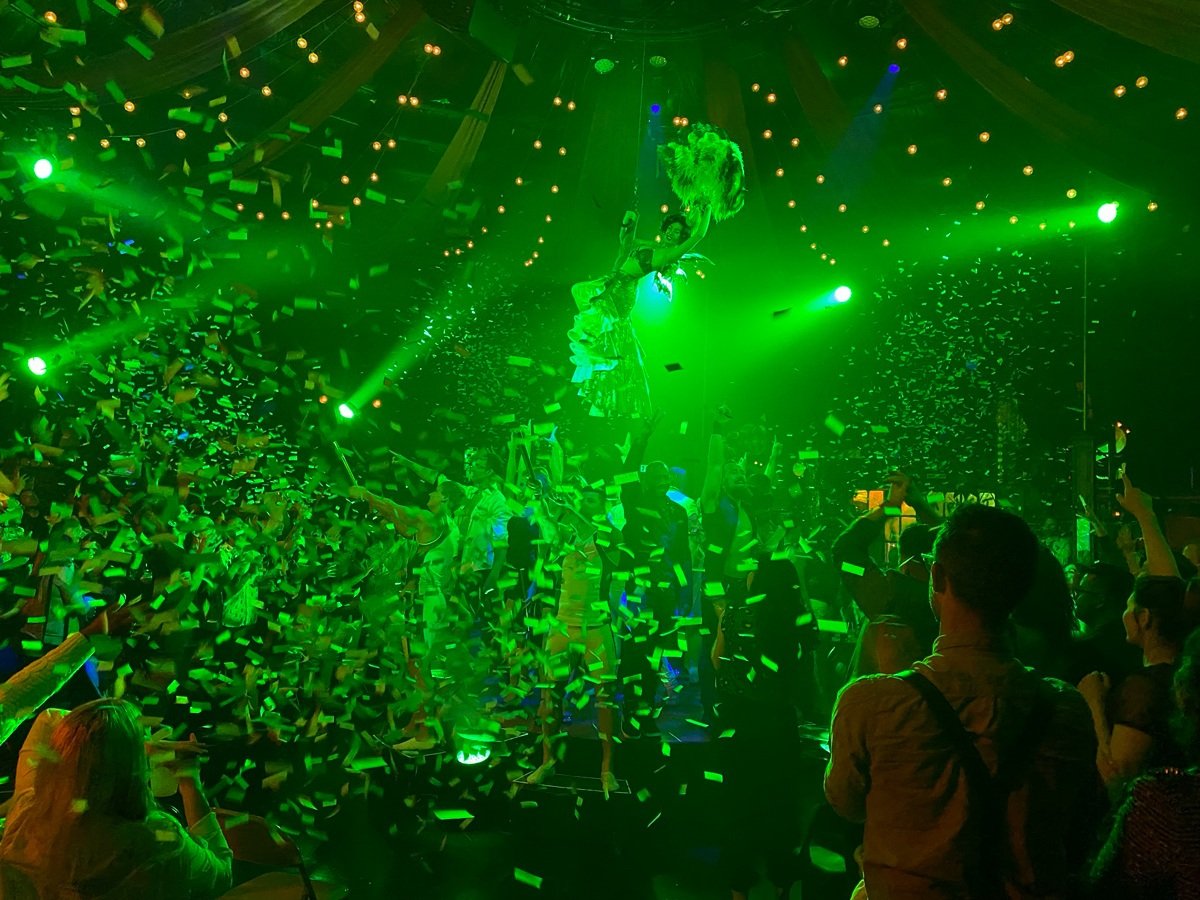 "Absinthe's" threw its anniversary party on April 13, 2022. The outrageous variety show originally opened April 1, 2011.
While there were skeptics early on, "Absinthe" has since proven itself to be one of the most acclaimed and profitable shows in the history of Las Vegas. We should know, as we are one of the people who acclaim it.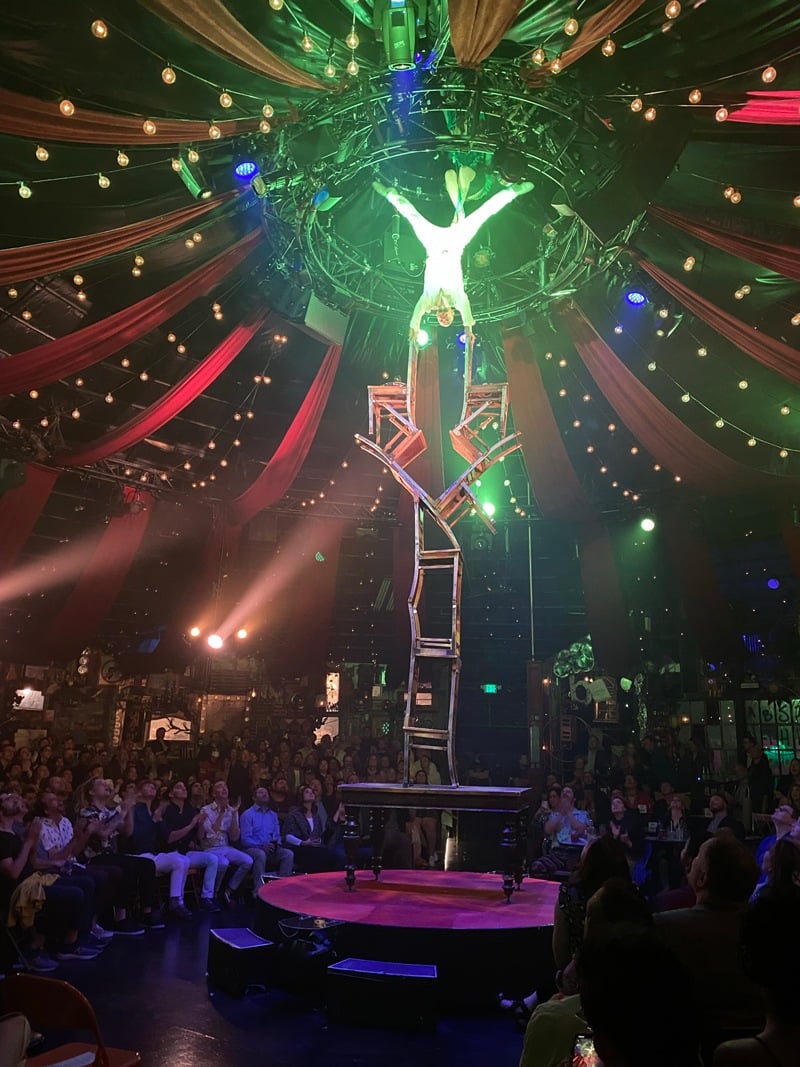 "Absinthe" has roots in the worlds of circus and burlesque, with some of the most incredible acts not only in Vegas, but the world.
Here's a look at one of those acts. It involves four very attractive women on flexible poles, if you get our drift.
The show's producer, Ross Mollison, and his team continue to maintain an impressive roster of talent, while feeding two other Vegas shows with outstanding variety acts as well, "Opium" at Cosmopolitan and "Atomic Saloon" at Venetian.
Mollison's Spiegelworld has another Las Vegas show in the works as well, "DiscoShow," set to launch on August 23, 2023 at the Linq. The show will move into a renovated space which formerly housed a sportsbook (from the Imperial Palace days).
Here's another look at one of the acts in "Absinthe."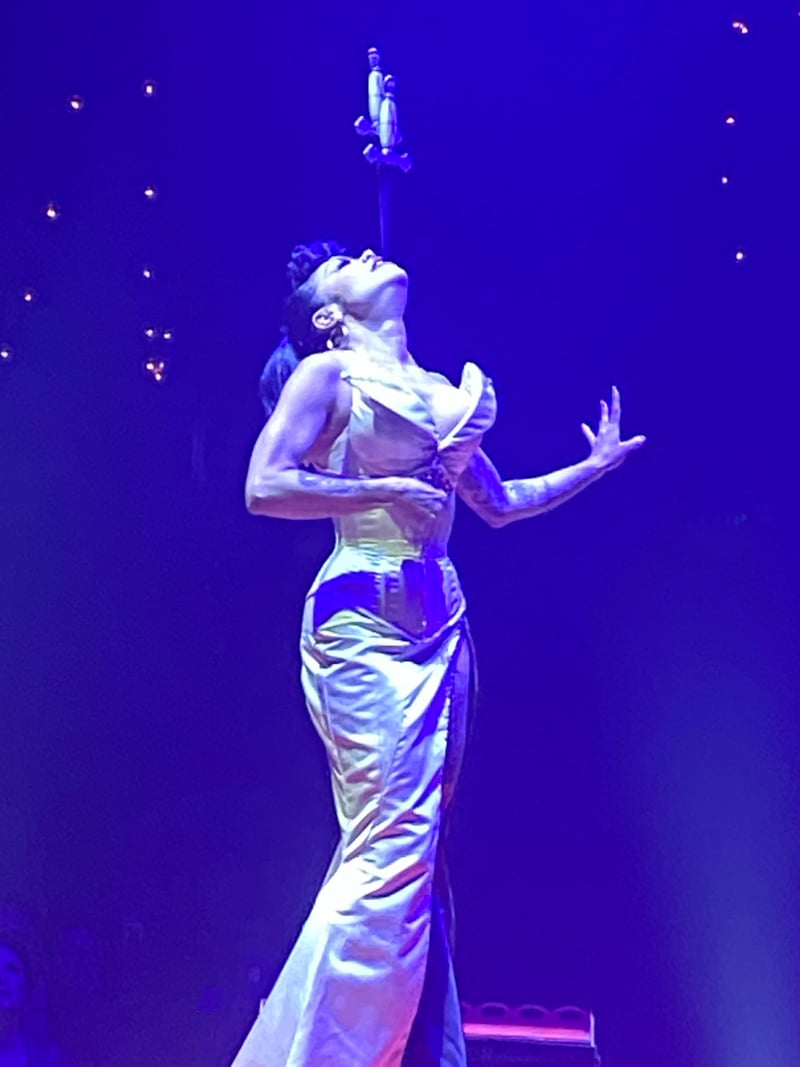 "Absinthe" flies by, a dizzying cavalcade of acrobats, aerialists, sword swallowers (do you skim past the photos, too?) and others.
Some acts defy description, really.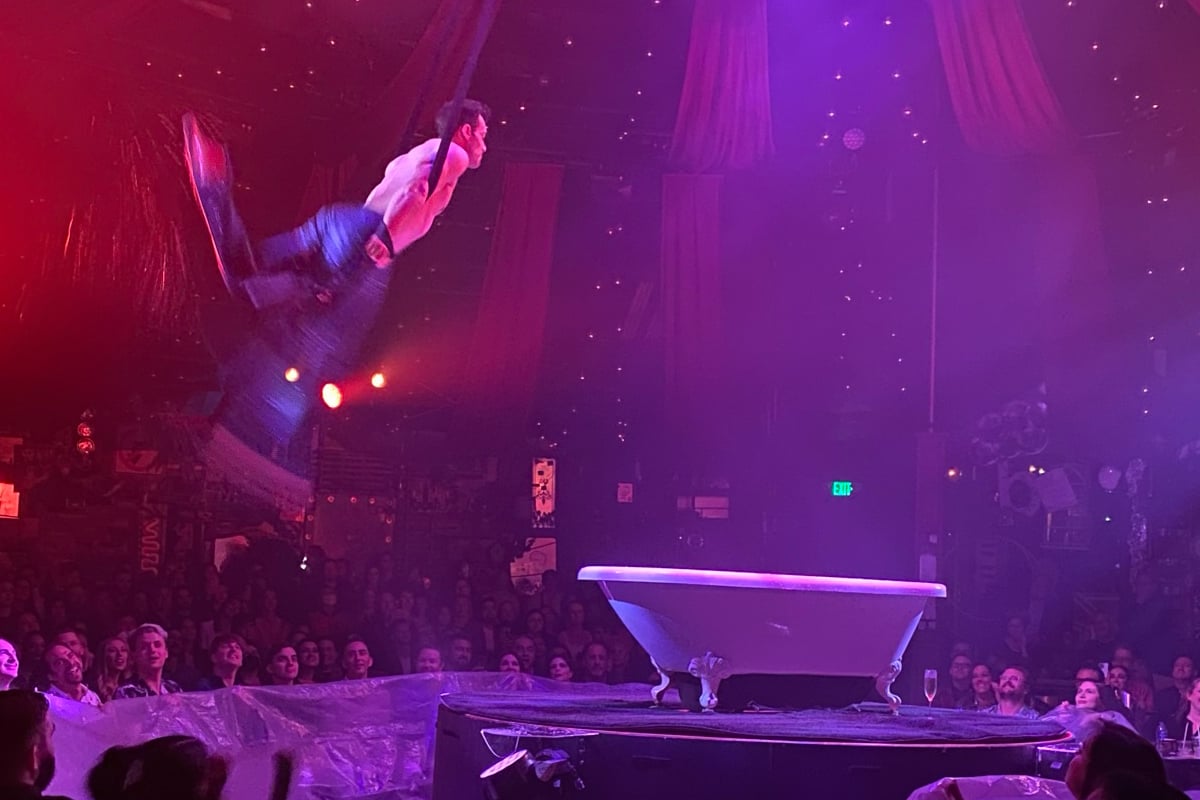 Others are simply stupefying.
Beyond the aforementioned sword swallower and sway pole artists, there's the guy who climbs a stack of chairs, the guys who tap dance (Sean and John), the hunky guy who soars shirtless above a bathtub, a couple pretty much getting it on in mid-air, balancers, for starters.
And these insane people who don't seem to realize their act would be jaw-dropping even if they did it slowly. Nope, that's not how "Absinthe" rolls, so to speak.
The show's cohesion comes in the form of two co-hosts, The Gazillionaire and his concupiscent sidekick, Wanda Widdles (previously Joy Jenkins and Penny Pibbits).
Comedians playing The Gazillionaire have changed over the years, but they're consistently hilarious and know exactly where the line of good taste is. And step over it. A lot.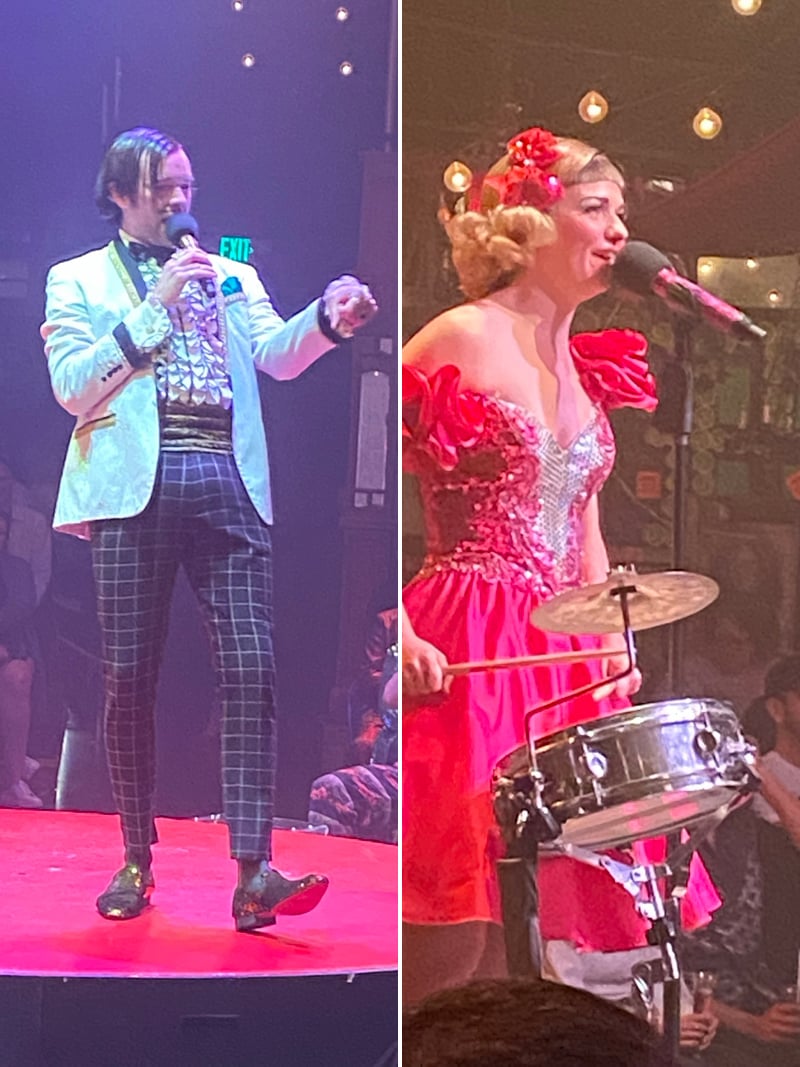 "Absinthe" has figured out the formula for non-stop astonishment punctuated by amusement.
We have no idea why others haven't stolen the formula, but there's simply nothing like "Absinthe."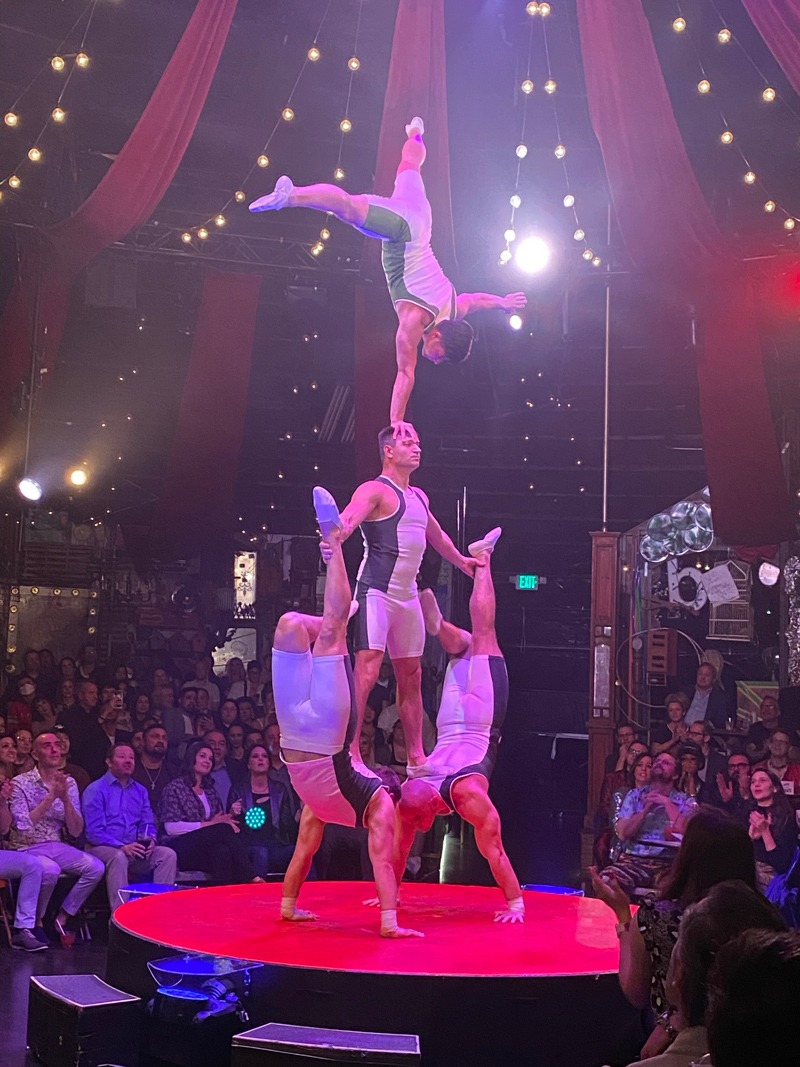 There's no use trying to describe "Absinthe," you just have to see it for yourself.
Learn more and get tickets at the official "Absinthe" Web site.
Big props to all the talented performers and dedicated technicians who have made "Absinthe" an essential part of the Las Vegas experience. Also, shout-out to all the performers thinking, "I'm dedicated!" and technicians thinking, "I'm talented!" We were a theater person back in the day. We know how you are.