Fremont Casino Renovation Update, Plus Exclusive Renderings
The $50 million renovation and expansion of downtown's Fremont casino is under way, and we've got an update and exclusive renderings of where the project is headed.
We passed by the work being done at Fremont casino and there's been a lot of progress, including the steel framework of a new structure jutting north toward Pizza Rock and Downtown Grand.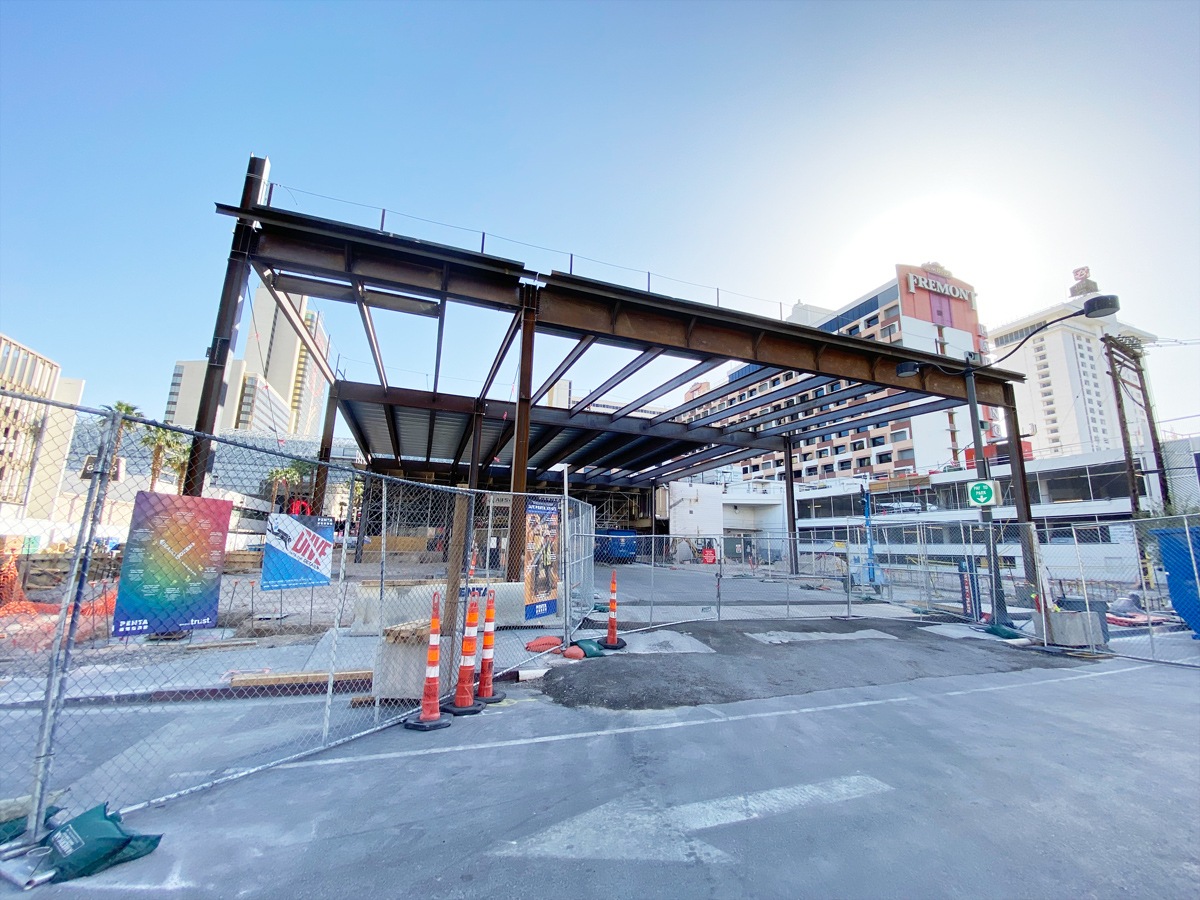 It appears plans for a new Fremont hotel tower have been nixed, as this was where it was originally supposed to go.
Instead, the Fremont will get an expanded casino floor, a new food court and sports book. We told you about the food court back in February, of course.
If there were any lingering questions about whether the buffet could return to Fremont casino, that's a nope. (It's now restrooms.) The casino is, however, getting a new (as yet unannounced) food court. pic.twitter.com/A9Yxds6Sm9

— Vital Vegas (@VitalVegas) February 4, 2022
While details have been light about this project, we ferreted out some renderings you won't see anywhere else!
While not technically part of the Fremont expansion (paid for by Boyd Gaming), the project includes beautification of the walkway between Fremont Street and Ogden Ave.

The work will include new greenery and other enhancements to this walkway (see more below).
Downtown Grand has been pushing for embellishments to this stretch for years, essentially to try and lure foot traffic away from Fremont Street. It appears they'll finally get their wish.
Here's the spot where the walkway meets Fremont Street.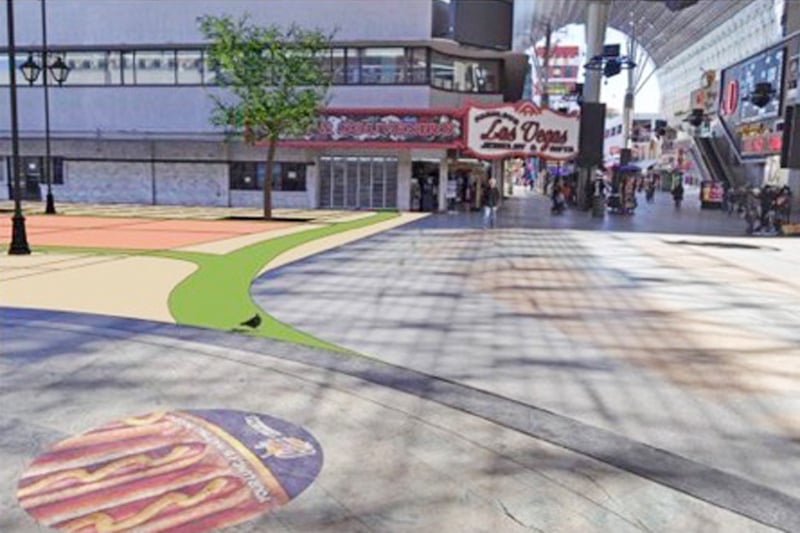 A big plus for Downtown Grand (and other businesses in this part of downtown, including Hogs & Heifers, Triple George and others) is the fact the walkway upgrade will be paid for by the City of Las Vegas.
We suspect that has to do with the fact the Mob Museum is nearby, and the Mob Museum was created, in large part, due to the efforts of former Mayor Oscar Goodman. Oscar Goodman's wife, Carolyn, is the current mayor. It doesn't take a detective to see how things work in Las Vegas.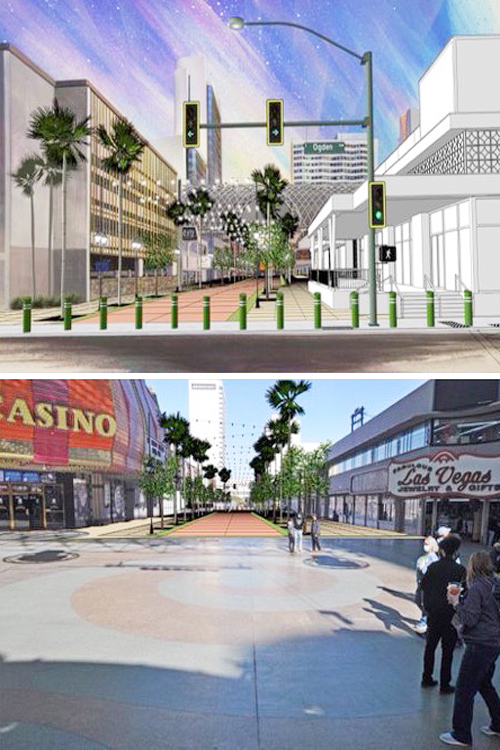 Something needs to be done with this area as it's a popular hang-out for derelicts and panhandlers.
A good portion of the walkway is within the footprint of the expansion project. Here's how it looks at the moment.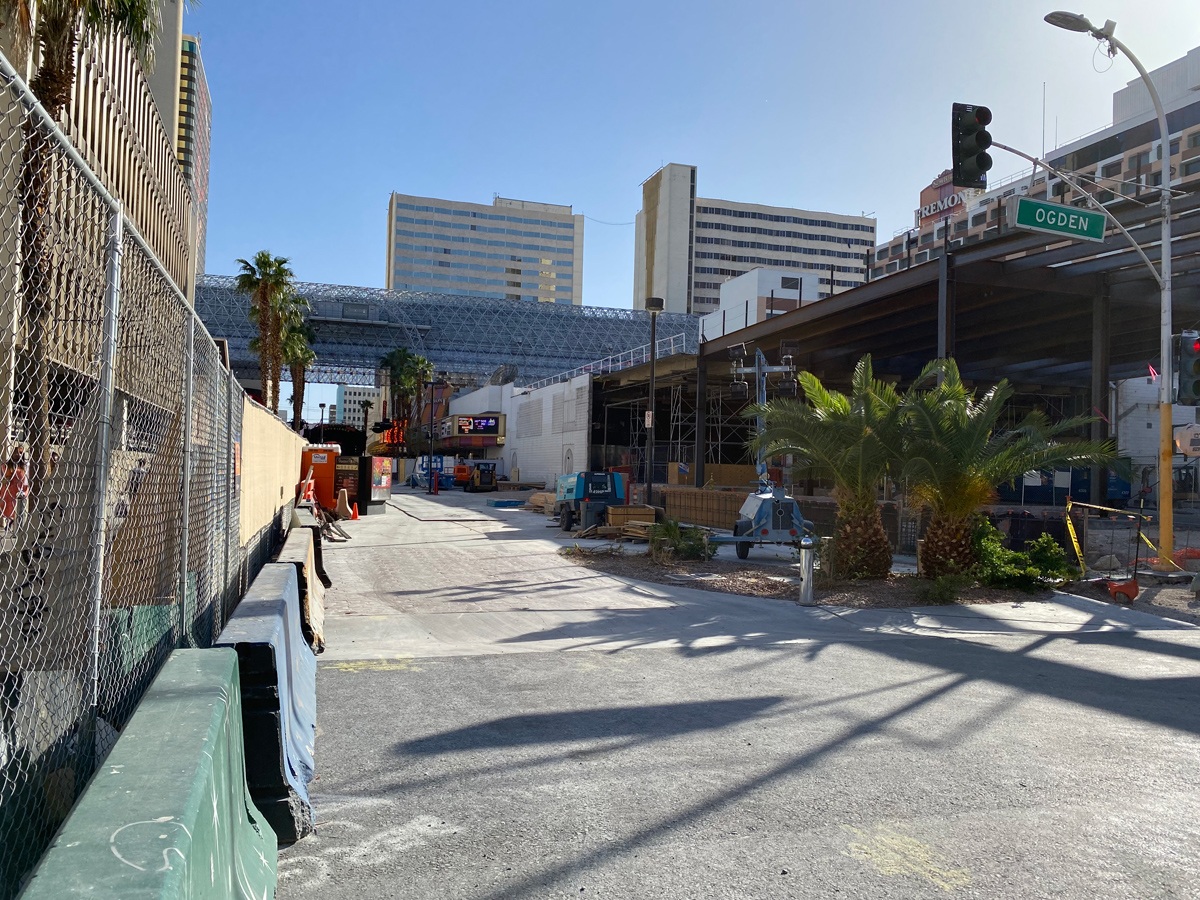 Downtown Grand has really let its buildings go, and the windows are covered with graffiti. At one point, Hooters expressed interest in leasing this building, but their plans for an outdoor patio was rejected, so Hooters bailed.

This whole area will get a boost from the Fremont project, as it appears the new structure will create another entrance to the casino, on the east side of the building.
Boyd Gaming says "no comment" to any of this, but the Fremont expansion is taking shape and we'll keep an eye on it for you.
Rumors of budget overages abound, but that's for the bean counters to sort out.
We like new and shiny, and this project has plenty.