A Taste of Press, the Intoxicating New Four Seasons Lounge
The Four Seasons Las Vegas recently opened a new lounge, Press, and it's a cozy, irresistible addition to an already world-class hotel.

The Four Seasons is a peculiar hotel in that its rooms are inside another hotel, the Mandalay Bay. We've always been a little confused by that whole arrangement, but once you get past the boutique hotel-within-a-hotel idea, it's fairly straightforward.
The Four Seasons' rooms take up Mandalay Bay's top five floors. Otherwise, the Four Seasons functions as a self-contained entity, with its own entrance, valet (see below), pool complex, restaurants (Charlie Palmer Steak and Verandah) and convention space.

Now, the Four Seasons also boasts Press, a welcoming, unpretentious lounge where the focus is on hand-crafted cocktails.
The staff is top-notch, as one might expect at a Four Seasons, and Ross the bartender expertly whipped up some distinctive twists on tried-and-true favorites.

First up is the Manhattan, with house-infused pecan bourbon, Heering Cherry liqueur and special bitters.
The garnish includes Luxardo cherries, a gourmet cherry from Italy we didn't exactly know existed until Ross gave us the scoop. They're candied with Marasca syrup, in case you're ever asked about them on a game show.

Next, we were treated to a "classic" Negroni, with fresh-squeezed grapefruit juice. All the juices at Press a squeezed fresh, by the way, to order. You can tell the difference immediately.

We followed up with what we're quite sure is one of our favorite cocktails in Las Vegas, ever, a cinnamon caramel apple martini. There's some serious flavor going on here, with an equally serious kick. We'd call it a "panty-dropper" if the Four Seasons weren't such a classy joint.
This unbelievably good cocktail has vodka, apple liqueur, sweet vermouth and a house-made sweet-and-sour mix. The drink is topped with freshly-cracked cinnamon, and the garnish is a dehydrated caramelized apple.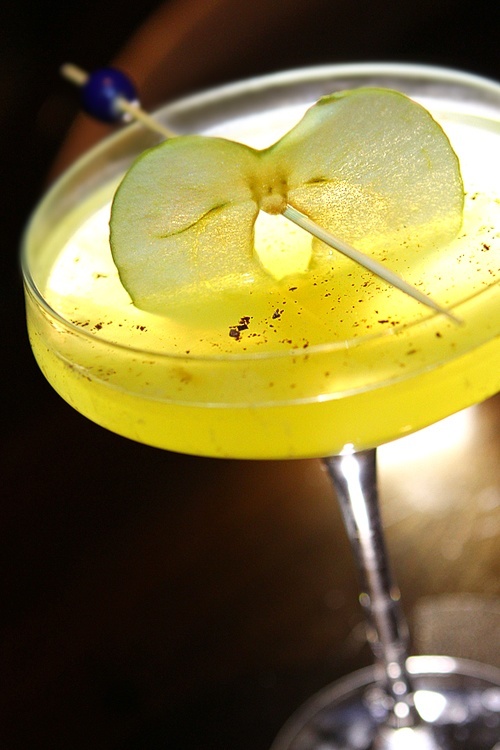 If you're going to try this martini, take advantage of a 5:00 p.m. to 7:00 p.m. happy hour (called a "Social Hour" at Press), when martinis are half-price. Typically, the martinis and house cocktails are $15. Well worth it.
Oh, and make sure to try the garnishes. The bartenders at Press make their own lemon chips, apple chips, pickled ginger, lime chips, dehydrated pineapples, apples and limes, and bitters (kind of a thing at the moment).

Press is just inside the Four Seasons' entrance, and includes indoor and outdoor seating.
The outdoor lounge seating is adjacent to the hotel's pool and a fountain, so it's an inviting, comfy place to hang out and try the drinks and food.

Yes, food. Press serves small plates and desserts, because one cannot live by awesome cocktails alone. Presumably.
The small plates menu includes flat breads, beef sliders (with horseradish cream, see below), coconut shrimp, chicken wings, short rib nachos and other "elevated" fare. (Translation: A smidge on the pricey side, but have another martini to deaden any discomfort.)

Something to watch for at this new lounge: The Press patio will be transformed into a beer garden in honor of Oktoberfest, Thursdays and Fridays, through Nov. 22, 2013. A variety of craft and Oktoberfest beers, beer-inspired cocktails and beer-centric dishes will be served.
Even if you're not staying at the Four Seasons, the new Press lounge is well worth a stop. No Press-ure.
Press Lounge at Four Seasons