12 Memories in Honor of the Return of O'Sheas
It's official. The new incarnation of a beloved Strip landmark, O'Sheas, will open Dec. 27, 2013 at The Linq.
The new O'Sheas has an uphill climb ahead. Comparisons between the old and new O'Sheas are inevitable, and pretty much everyone agrees the new O'Sheas will be a dramatic departure from the one Las Vegas visitors grew to love (or loathe).

The former O'Sheas was gritty and loud. The new O'Sheas, sandwiched between The Quad and The Linq, a dining and entertainment promenade opening soon, is likely to be less of those things.
Other than a couple of aspects making the transition from old to new, like the return of Lucky the Leprechaun and a recycled O'Sheas sign, it's probably a misnomer to even call it O'Sheas. But they had to call the new bar something.
Here are 12 O'Sheas memories in honor of the Dec. 27 opening of the new O'Sheas Bar and Perfunctory Beer Pong Experience at The Linq.
1. The Original Sign

The original O'Sheas sign (below) has been refurbished for the new O'Sheas, losing the leprechaun and gaining a shamrock on top.

2. Beer Pong
The day the O'Sheas beer pong pavilion closed, there was a disturbance in The Force. Sorry, The Foam. Beer pong will be back, but not like that. Beer pong players aren't necessarily big gamblers, and gambling's what decides how much floor space a pursuit gets in Vegas.

3. Cheap Shots
In its heyday, O'Sheas was the cheap hooch headquarters of The Strip.

4. Free Shots
What could be better than cheap shots? How about free shots? Yes, Lucky the Leprechaun (real name, Brian Thomas) will be back, and there's some hope he'll keep the free shots of rot-gut coming, but again, we expect the days of it raining free shots at O'Sheas are a thing of the past.

5. Vince Neil Ink
Many a Las Vegas visitor got their tattoos at O'Sheas, and several even remember having gotten them.

6. Shadow Dancers
These projections were an often-overlooked feature of the O'Sheas exterior. We proposed marriage to at least three of them.

7. Insane White Guy
O'Sheas was home to a taco shop with one of the most racist names in North America, and darned proud of it, too.

8. St. Paddy's Day Block Parties
They were simply epic, and feared by livers everywhere.

9. Holly Madison
Holly Madison's annual beer pong matches with Lucky were two of our favorite things about O'Sheas.

10. "Freaks"
The O'Sheas Theater was home to a slew of quirky shows. Luke Jermay, a "mentalist," performed there, as did magician Dirk Arthur and the Viper Vixens (scantily-clad women performing martial arts). But "Freaks" was off-the-chart weird, and The Strip has yet to recapture that "Freaks" WTF.

11. Last Chip Standing
Toward the end, O'Sheas issued a collectible chip highlighting the casino's run from 1989 to 2012. We look at our chip when we want to purge our tear ducts. And, no, that's not a euphemism for anything.

12. Last Call
The day O'Sheas closed was a rough one. Fans of the casino came from far and wide to have a last shot and bid farewell to a true Vegas classic. The last spin of the roulette wheel in O'Sheas landed on 31, black. Lucky got about a thousand hugs, and O'Sheas was no more.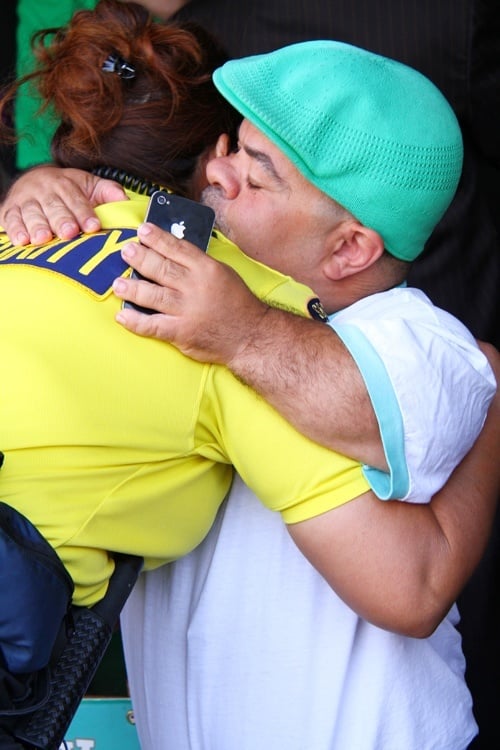 The new O'Sheas will have some big shoes to fill when it re-opens at The Linq on Dec. 27, 2013.
We'll be there. Drinking. Remembering. Pining. We hope to see you there.