10 Reasons the "Best of Las Vegas" Awards Are a Laughable Shitshow
It's that time again! The Las Vegas Review-Journal recently unveiled its "Best of Las Vegas"
awards, and predictably, it's a doozy.
The "doozy," of course, was the precursor of the "shitshow," and these awards more than qualify.

It's hard to describe the "Best of Las Vegas" awards (informally referred to as the "Naqvi Awards"), other than to say these so-called awards are responsible for myriad faces connecting with myriad palms.
The awards never fail to surprise and confound, including that time Strat won in 30 categories, including "Best Wedding Chapel" and "Best Shrimp Cocktail." Love the Strat, but please. (It should be noted The Strat, then called The Stratosphere, was under different ownership back in 2017. Their awards are now more merit-based.)
The "Best of Las Vegas" awards are voted upon by the public, and are essentially a digital marketing contest.
Las Vegas companies spend inordinate amounts of time and money trying to win these awards,
despite the fact no company has ever actually seen a return on this investment, as no one has ever used these awards to decide where they'll go or what they'll do in Las Vegas.
The "Best of Las Vegas" awards are basically a revenue-generating mechanism for the Las Vegas Review-Journal. Advertising opportunities abound, and when you win an award, winners get to pay $2,500 to use the "Best of Las Vegas" logo on their Web site, so there's that.
A substantial portion of the newspaper's annual revenue comes from these awards, and while we don't blame them for wanting to make money, we also enjoy calling out how ridiculous some of these awards are.
Here, then, are 10 examples where digital marketing prowess won out over taste and common sense in the "Best of Las Vegas" awards.
Let's start with the cream of the crop in this year's awards! That's right, Saddle N Spurs Saloon has the best happy hour in Las Vegas.
The incredulity factor spikes here when you realize this place we've never heard of actually won multiple awards: Best Bar Food, Best Burger, Best Chicken Wings/Tenders, Best Country Bar and Best Showroom/Live Venue.
The mind reels. Screw you Park Theater, T-Mobile and Colosseum. All the superstars play Saddle N Spurs Saloon!

Not only did Saddle N Spurs Saloon snag a number of prestigious "Best of Las Vegas" awards, it's also the recipient of our "Vital Vegas WTF" award, which we didn't know existed until writing
this blog post.
Gird your loins, we're just getting started.
Given the plethora of world-class restaurants in Las Vegas, it's quite an accomplishment for the Emerald Island Casino to be awarded "Best Breakfast." As we have not eaten breakfast at Emerald Island, we can't speak to that aspect of the award. What we do know is it's not in Las Vegas. Henderson can get its own awards.
Stage Door Casino is a beloved haunt for many Vegas visitors, so we can't deny its popularity. However, "Best Cocktail Bar" is probably not a category perfectly suited to this self-proclaimed dive bar. Stage Door also won Best Hot Dogs. Haven't tried them, but good luck with that, dissenting opinions welcome.

We have visited Yogurtland, and their yogurt is, indeed, tasty. Which sort of isn't the point. The
point is whether Yogurtland has the best desserts in Las Vegas. We have tried far too many desserts in Las Vegas, and we can personally attest if people actually believe Yogurtland has the best dessert in Las Vegas, "People done lost they minds."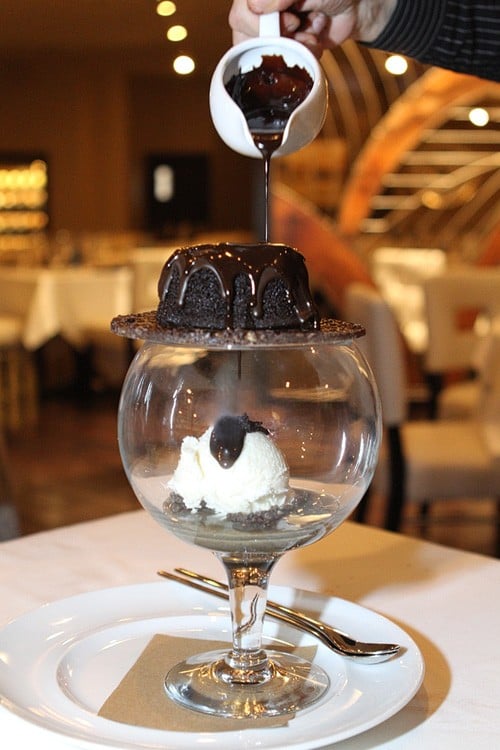 Tuscany Gardens is a restaurant at the Tuscany Suites & Casino. We like the Tuscany casino quite a bit. Tuscany Gardens is probably a lovely restaurant. However, Tuscany Gardens being named the best fine dining restaurant in Las Vegas is the kind of embarrassment against which all other "Best of Las Vegas" award embarrassments should be measured.
We are not making this up. Again, love the Tuscany, but we aren't even sure Pub 365's tacos are the best tacos at the Tuscany.

Again, love Margaritaville. It's a party, and a woman in a bikini sometimes slides into a giant blender. What's not to love? Margaritaville being named "Best Strip Restaurant," however, makes us think these awards are just an elaborate prank.

Butch. You're probably awesome. Please don't talk shit about us on your Twitter account. But, seriously. Comedy, like tacos, is subjective, but if you were the best comedian in the "Entertainment Capital of the World," we'd have heard of you. All we're saying there's a lot of competition. Carrot Top. Penn. Piff. Hammer and Cools and Garrett and Seinfeld. Oh, yeah, we said Seinfeld. We're definitely getting shit talked about us.
Haven't been there, still skeptical, sorry. Ever been to Mandalay Bay? Or Caesars Palace? How about Cosmo? Golden Nugget literally has a waterslide running through a shark tank. 'Nuff said.
It's been confirmed, the "Best of Las Vegas" awards are definitely an elaborate prank. Glittering Lights at the Las Vegas Speedway is undeniably one of the worst attractions in Las Vegas, holiday-themed or not. We call it the "Drive of Crushing Disappointment." The light displays mostly consist of advertisements, and the live nativity scene is monumentally awkward. Steer clear of this collision of weak and sauce, and certainly don't encourage these folks with awards.

If your mouth is agape, you're not alone. These are just some of the highlights of this annual avalanche of "Whuh?"
We're not even going to point out that the award for Best Elder Law was won by Young Law Group.
The crazy part is that while virtually no one takes these awards seriously, virtually every company wants to win them.
We have to wonder if the "Best of Las Vegas" awards ever give the folks at the Las Vegas Review-Journal (our paper of record) pause. When they see the results, do they cringe like the rest of us?
Better yet, do the winners of the awards ever cringe? Do the folks at Saddle N Spurs Saloon actually believe they have the best happy hour in Las Vegas? If so, we'll have what they're having.
All due respect to the entities that actually deserve their wins!
Ultimately, these awards are up to us. We vote. It's democracy in action, and democracy always nails it, right?
See all the Best of Las Vegas awards on the official Web site. We recommend you avoid drinking milk while you're doing it.