World Chess Championship Draws Interest from Bettors, Unibet Sponsorship
Posted on: November 18, 2018, 08:00h.
Last updated on: November 16, 2018, 10:22h.
The World Chess Championship may not seem like the kind of event that would spark much sports betting, but many bookmakers are offering odds on the contest — and one is even sponsoring the match.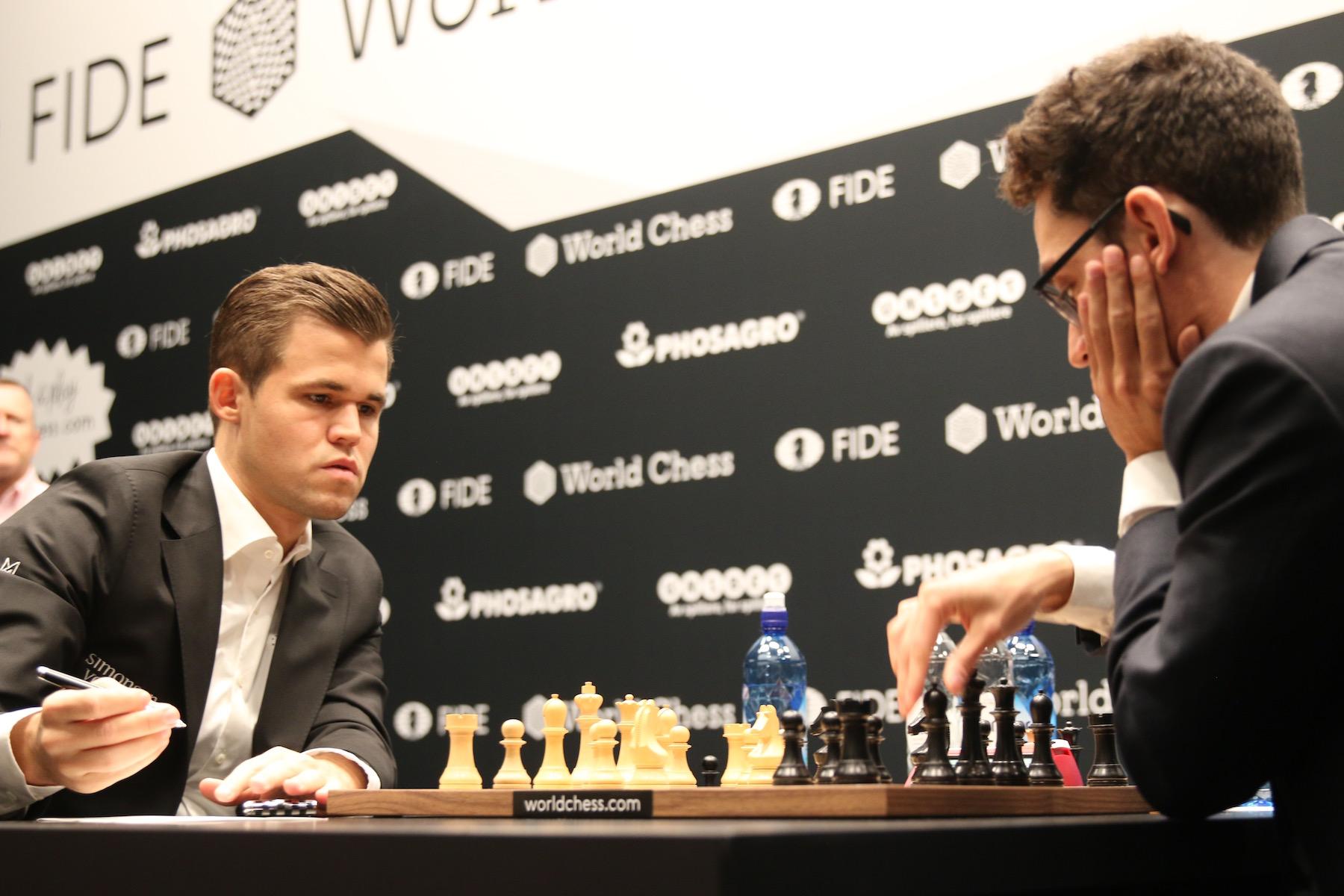 The 12-game World Chess Championship is taking place in London, and sees current champion Magnus Carlsen taking on American Fabiano Caruana for the title.
Match Tied Up After Five Games
The match began last week, and has been a tense affair so far: each of the first five games has ended in draws, with experts believing Carlsen has had the better of the play. The two are competing in a single game each day, with a rest day after every second game (as well as one final day off after Game 11).
Players receive a point for a win and 0.5 points for a draw, with the first player to earn 6.5 points winning the World Championship. Should the match end in a 6-6 tie, faster-paced games will be played to break the deadlock until a winner is determined.
Unless you have some understanding of chess, the match doesn't necessarily make for the most exciting spectator viewing.
So while odds on World Championship matches have been posted for decades, and some online sportsbooks now offer wagering on other major tournaments, it's not exactly a huge betting market.
"It is not a massive betting sport and it's mainly pre-game so far," Erik Backlund, head of sportsbook in Europe for the Kindred Group, told US Bets. "In-play is very difficult to compile odds for, and also for the punters to be confident enough to place bets."
Star Players Could Drive Betting Interest
But the Kindred Group may be banking on that changing over time, at least in some regions. In August, Unibet – which is a subsidiary of Kindred – became the first official betting partner for the World Chess Championship by the World Chess Federation (FIDE).
According to Backlund, nations with stronger chess traditions have historically shown more interest in betting on the game, such as in Russia and Eastern Europe. Then there's Norway, where the 27-year-old Carlsen has become a major celebrity in his home country.
The sport gets a lot of media coverage including TV broadcasting and prime national news show coverage," Backlund told US Bets. "This … contributes to an uptake in betting popularity and we are seeing more mainstream betting action on chess from Norway, especially on Magnus."
The challenger could play a big role in pushing sports betting interest as well. Caruana has the chance to become the first American to win the World Chess Championship since Bobby Fischer did so in 1972. And with sports betting regulation gaining traction across the United States, the 26-year-old could certainly attract some action if he becomes more of a household name.
While American sportsbooks aren't taking bets on the match  — in some states, like New Jersey, chess isn't even on the list of approved sports for wagering — there's plenty of action overseas and online.
After the first five games, Carlsen is listed as the -250 favorite, while the underdog Caruana can be backed at +195 to win the match.
Individual game betting is available, too. For instance, Friday's Game 6 sees Carlsen with the advantage of the white pieces. A Carlsen win will fetch +320, while a Caruana victory is worth +875 – with a sixth consecutive draw being the favored result at -265.
Similar Guides On This Topic
Latest Casino Stocks:
Retrieving stocks data...
Retrieving stocks data...
Retrieving stocks data...
Retrieving stocks data...
Retrieving stocks data...