WNBA Finals: Las Vegas Aces One Win Away from Securing Back-to-Back Championships
Posted on: October 12, 2023, 11:25h.
Last updated on: October 12, 2023, 12:31h.
The Las Vegas Aces are one victory away from winning consecutive WNBA championships. The Aces took a 2-0 series lead in the WNBA Finals when they blew out the New York Liberty by 28 points in Game 2.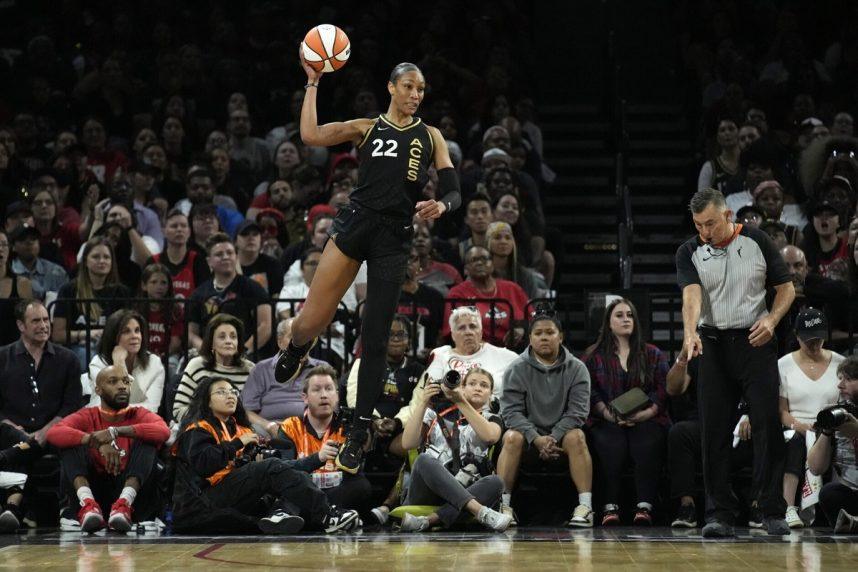 The Aces dominated the Liberty in a 104-76 victory at Michelob ULTRA Arena at Mandalay Bay Casino on Wednesday night. The Aces won both home games in the WNBA Finals, improving to 7-0 in the postseason.
During the regular season, the Aces (34-6) had the best home-court advantage in the WNBA with a 19-1 record. They are now 5-0 in Sin City in the playoffs.
The WNBA Finals shifts to New York City for Game 3 and Game 4 (if necessary). Game 3 tips off on Sunday afternoon at 3 p.m. ET in Brooklyn at Barclay's Center.
Aces on Verge of First Repeat Title Since 2002
The Aces were hot from the opening tip and the Liberty never recovered. In the first quarter, the Aces jumped out to a 19-point lead. They shot 70% from the floor and knocked down 60% of their 3-point attempts to score 38 points in the opening quarter.
They don't leave me speechless very often, but they executed defensively, offensively shared it," said Aces head coach Becky Hammon. "Everything we've been asking them to do, they're the real deal. Their competitiveness and their fight for each other, they're a real team."
All-Star forward A'ja Wilson scored a game-high 26 points and hauled down 15 rebounds. Jackie Young added 24 points and played lockdown defense once again. Point guard Kelsey Plum added 23 points and five 3-pointers, and guard Chelsea Gray chipped in 14 points and 11 assists.
"Great defense, playing out of our defense, unselfish, and just our physicality went up another level starting the game," said Gray.
The Aces have a three-guard backcourt and once again, the trio lit up the Liberty. Young, Plum, and Gray combined for 61 points and drilled 10 3-pointers. The Aces collectively shot 44.8% from deep, 52.9% from the floor, and went a perfect 17-for-17 from the charity stripe.
Hammon shortened her rotation and only six players logged the majority of the court time in Game 1. With a blowout in Game 2, Hammon emptied her bench in the fourth quarter and provided the starters with much-needed rest.
Liberty Desperate to Dig Out of 0-2 Hole
For the first time all season, the Liberty lost back-to-back games. The Aces held the Liberty to 36.1% overall shooting, including 22.9% from 3-point land. Their tight defense neutralized their perimeter offense.
We didn't execute anything we wanted to," said Liberty coach Sandy Brondello.
WNBA MVP Breanna Stewart had one of her worst performances of the season. She scored 14 points and added 13 rebounds for the Liberty, but missed 11 shots, including going just 1-for-6 from 3-point range.
Aces' defensive star Young continued her stifling defense and harassed shooting guard Sabrina Ionescu for a second game in a row. Ionescu won the 3-point shooting contest at the WNBA All-Star Game. During the regular season, Ionescu shot 44.8% from downtown.
In the WNBA Finals, Ionescu connected on only 25% of her 3-point attempts and 3-for-12 overall. She missed four treys in Game 1 and missed five more in Game 2.
Plum also kept Liberty point guard Courtney Vandersloot in check. Vandersloot scored nine points and the league's assist leader dished only four assists. She shot 33% from the field and 25% from 3-point range in Game 2.
Betnijah Laney was the Liberty's hottest 3-point sniper, entering the WNBA Finals with a 43.8% clip. Laney missed 11 shots in Game 2 and shot 2-for-9 from 3-point range. In two games against the Aces, Laney missed 10 trey attempts, and the Aces held her to 16.6% from deep.
Forward Jonquel Jones led the Liberty with 22 points in a losing effort. Jones shot an efficient 8-for-12 from the floor and added 10 rebounds.
WNBA Finals Game 3 Betting Preview
Even though the Liberty amassed a superteam to match the Aces, they're on the brink of elimination in this best-of-five series.
If the Liberty can storm back and win three games in a row, they'll become the first team in WNBA history to rally back and win a championship after trailing 0-2.
Eight teams fell into a 0-2 hole in the WNBA Finals, and seven of them were swept.
We gotta figure out a way to win," said Ionescu.
Teams with a 2-0 series lead in WNBA playoffs are 17-0, so history is on the Aces' side.
The Liberty are a +2.5 home dog in Game 3 on Sunday. The Liberty were 15-5 at home in Brooklyn during the regular season, and have a 3-1 home record in the playoffs.
The Aces didn't break a sweat covering the point spread in the first two games of the WNBA Finals. The Aces were a -4.5 favorite in Game 1 and easily covered in a 17-point victory. In Game 2, they were a -5.5 favorite and won by 28 points for another easy cover.
Most Read