Las Vegas Sportsbooks Offer Drive-Thru Service For Account Deposits, Seek New Mobile Customers
Posted on: May 7, 2020, 10:07h.
Last updated on: May 8, 2020, 10:10h.
Three sportsbooks in the Las Vegas area offering area residents curbside or drive-thru services as a way for customers to establish mobile accounts and make deposits on them. Circa Sports opened its service Thursday morning at the Golden Gate Hotel and Casino, one day after the South Point Hotel and Casino began taking deposits.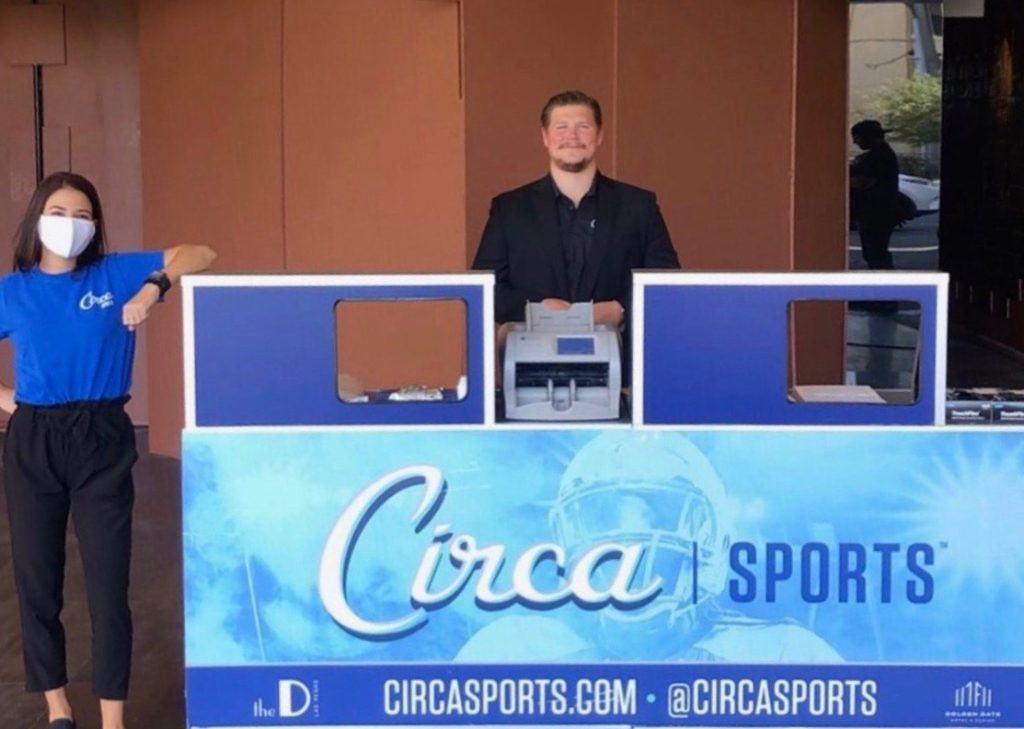 Meanwhile, William Hill will be offering the service Friday and Saturday at four Vegas locations and one in Sparks.
While Nevada law allows mobile gaming, it requires in-person registration to set up those accounts. When Gov. Steve Sisolak closed the state's casinos nearly two months ago, many mobile betting applications remained open. However, with the brick-and-mortar facilities closed, the gaming companies have not been able to get new customers established online.
At Circa, customers were able to pull up to the valet area at the Golden Gate in downtown Vegas. Employees are practicing social distancing guidelines, with workers who directly interact with customers wearing masks.
While customers could pay with cash, Circa employees cannot give out cash for security and regulatory reasons. Customers who bring in winning or canceled bets will have their winnings or bet amount applied to their mobile accounts.
According to a Circa news release, curbside service will run seven days a week from 10 a.m. to 6 p.m. PT. At South Point, located south of the Strip, daily hours run from 11 a.m. to 6 p.m. PT.
Those wanting to set up new accounts must bring a valid ID.
Circa Sports Also Taking NFL Contest Sign-Ups
Besides taking new accounts, Circa is also taking registrations for two NFL contests, its Million II handicapping pool, and its Survivor game.
The handicapping pool includes $250,000 in prizes awarded after each quarter of the season. For the season, Circa will award cash to 50 participants, with the overall winners earning $1 million and a custom blazer presented by Circa Sports founder Derek Stevens.
In the survivor pool, contestants must pick a team each week that they believe will win their game straight up. Contestants can only pick a team once each season, and if their selection loses or ties that week, the player is eliminated. The last survivor will win a guaranteed $1 million prize, and if the winning entry goes 18-for-18 (note: Thanksgiving Day games are counted as a separate week), they will get an additional $1 million as a bonus.
Out-of-town contestants are allowed to use proxies to submit their picks each week. However, the proxy must be with the entrant at the time they register. That rule remains in effect even during the curbside service, although they can be in separate cars.
William Hill Starts Limited Drive-Thru Friday
On Thursday, William Hill announced it would offer drive-thru service at five of its locations (see Tweet below) on Friday and Saturday. The service is in conjunction with a promotion the sportsbook is offering for Saturday night's UFC 249 event.
Ahead of the largest sporting events of the month, we wanted a safe way to meet the current demand from our customers," said Joe Asher, CEO of William Hill US, in a company press release.  "It sure is nice to have some American sports to bet on."
For existing mobile customers in Nevada, William Hill is offering a $65 bonus for those who bet $249 on the fight card. For new customers, those who deposit and bet $100 on the event will receive the $65 bonus.
ICYMI: Drive Thru Mobile Sports Book Sign-ups & Deposits at 5 @WilliamHillNV locations on May 8th & 9th.
Locations include:
-Alamo Casino
-Arizona Charlie's Boulder
-Arizona Charlie's Decatur
-Plaza Hotel and Casino
-Sierra Sid's Casino

For more details read the full release ⬇️

— William Hill US (@WilliamHillUS) May 7, 2020
The bonus is set to match the cost to watch the fights on pay-per-view.
William Hill's hours at each location will run from 11 am to 5 pm PT Friday and Saturday.