Tropicana Las Vegas Proximity to Raiders Stadium Gives Casino Added Value, Parent Company Holding Out
Posted on: August 2, 2020, 07:17h.
Last updated on: August 3, 2020, 12:22h.
The owner of Tropicana Las Vegas says that, while the casino resort is indeed on the market, there is no rush to sell the primely located Strip property.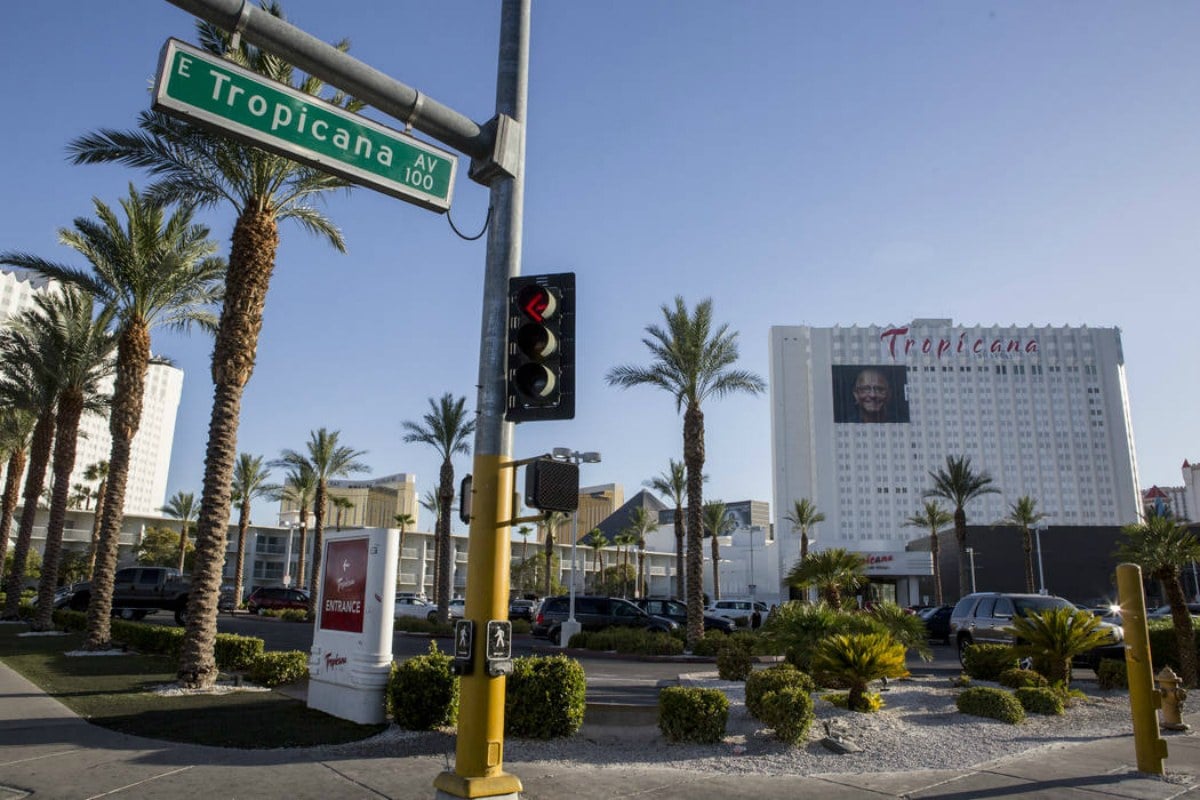 Gaming and Leisure Properties, Inc. (GLPI), the real estate investment trust of Penn National Gaming, revealed during its second quarter earnings call that Tropicana will be carefully divested.
"These 35.1 acres are Strip frontage," said Steve Snyder, CFO of GLPI, answering an analyst question on the call. "Others talk about 'Strip proximate.' There's nothing proximate about being on the corner of Las Vegas Boulevard and Tropicana Boulevard."
This is the corner of Main and Main," Snyder added. "You know everything that's going on down there with respect to the stadium [Allegiant Stadium, home of the NFL Las Vegas Raiders]. So, it's really a matter of being patient, letting Las Vegas come back to some feeling of normalization."
Tropicana remains closed and is scheduled to reopen on September 1.
Penn Lifeline
GLPI agreed in April to acquire Tropicana from Penn National for $337.5 million in rent credits. The deal also included GLPI acquiring the ground lease for the under-construction Hollywood Casino Morgantown in Pennsylvania.
Penn National made the decision to sell the land assets to GLPI in response to COVID-19 and casinos being forced to shutter across the country. Penn National's operating revenue went to nearly zero.
GLPI potentially got a bargain with Tropicana. Penn National paid $360 million for the casino property in August of 2015. It marked the Pennsylvania-based regional gaming company's first foray onto the Las Vegas Strip.
Gaming analysts say GLPI's agreement to acquire the casino resort was critical to Penn's survival in a zero-revenue environment. Penn National shares had gone from nearly $40 in February to $4.50 in mid-March. They've since returned to nearly $34.
Analysts have varying opinions on what sort of price Tropicana might fetch, some estimating as high as $700 million.
"We have a valuable piece of real estate in Las Vegas that we got fairly priced," said GLPI CEO Peter Carlino. "We have to wait to see how things settle out."
Robust Quarter
Global economies remain unsettled, but the three-month period was a good one for Growth and Leisure Properties. The company reported that all of its tenants — with one lone exception — have remained current on their rent obligations.
GLPI's quarterly funds from operations came out at $0.84 per share, topping the Zacks Consensus Estimate of $0.82 per share.
Net income totaled $209 million January through June, up from $186 million during the same six-month period in 2019. Basic earnings per common share in the second quarter jumped 21 percent to $0.52. For the first half of the year, basic earnings for each share totaled $0.97.
"As you all know, there have been eventful and unprecedented challenges that we and our triple-net competitors have faced this quarter. But I think GLPI has weathered the crisis extremely well," concluded Carlino.