The Killers' Brandon Flowers is 'The Man' in Las Vegas, New Music Video Celebrates Sin City's Bad Boy Image
Posted on: June 29, 2017, 03:00h.
Last updated on: June 29, 2017, 03:17h.
Las Vegas homegrown rockers The Killers pay homage to their roots in a new music video that puts front man Brandon Flowers into numerous roles that revere him for being "The Man" in Sin City.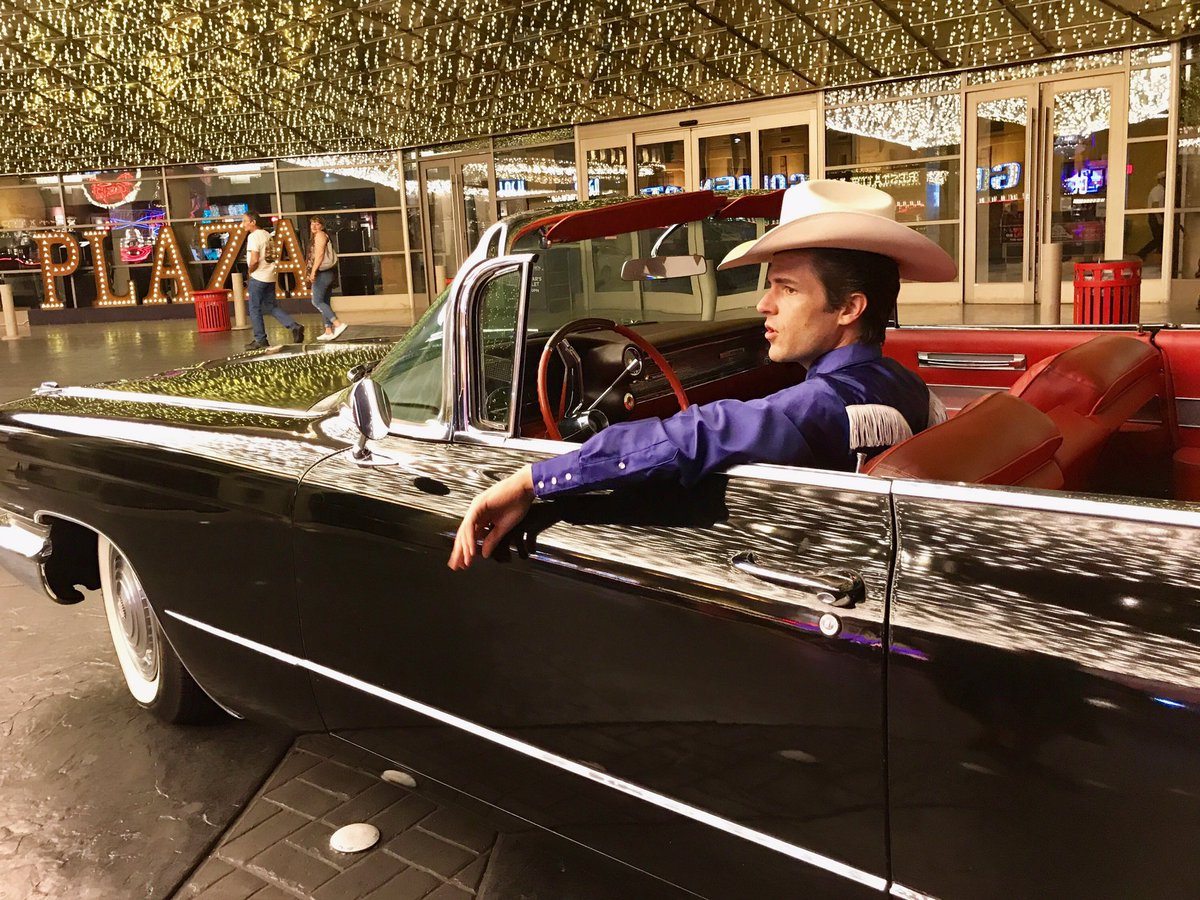 The band's first music video in two years, The Man carries on the tradition of living large in Las Vegas, or at the very least, of presenting such an image.   
From an Elvis-esque lounge singer to a tuxedo'd high roller, and on to an urban cowboy with no shortage of swagger, Flowers' characters perfectly capture the iconic Las Vegas' old-school zeitgeist. The video also lays out the dreams and struggles of those who aspire to fame, fortune, and a bevy of leggy showgirls, with an interesting "parallel universe" concept that goes back and forth between the dream and the somewhat grittier reality.
Dating back to the early 1960s, Las Vegas has been the getaway playground for Hollywood royalty and the best entertainers in the world, including the Rat Pack and of course Elvis, who more than did his part to promote the city with 1964's Viva Las Vegas, with entertainer Ann-Margret as his co-star and love interest.
Las Vegas has always embraced its "king of cool" reputation and bad boy image, with the "What Happens Here, Stays Here" motto serving as one of the most recognized marketing slogans ever. And some 30 years after modern Las Vegas began to take shape with Steve Wynn's Mirage, The Killers show that little has changed when it comes to the town's global persona.
In a kind of life-imitates-art moment, Flowers is currently trying to sell his Las Vegas home, which was once owned by film producer and legendary casino owner and reclusive billionaire Howard Hughes, who was an instrumental part of the city's history.
Familiar Theme
The Man isn't the first time The Killers have celebrated their hometown. After finding worldwide success in 2003 with Mr. Brightside, the band titled their second studio album Sam's Town after the slightly seedy old gambling hall.
The biggest hit from that album was When You Were Young, a track that mimics the subject matter of The Man. Drummer Ronnie Vannucci says the new song is "largely about when we were younger" and "felt invincible."
"What it meant to be a 'man' in your 20s, sort of your chest out … nothing could stop you, invincible sort of thing," Vannucci explained of The Man.
The group's 2006 hit When You Were Young was based off Bruce Springsteen's Born to Run, and shares in the theme of youthful optimism. Flowers himself is now 36.
Old Vegas
The Man comes with plenty of visual references that celebrate classic Las Vegas.
The Plaza in downtown serves as the casino for Flowers' characters. Movie-making and video production are always a delicate dance in Sin City, in that the town loves the free publicity and image-enhancements it's gained from Viva Las Vegas to Ocean's Eleven and Jason Bourne, but the massive production demands also impact every casino's raison d'être : gambling.
The slightly seedy Plaza provides the video with both its pre-Steve Wynn-era vibe, while being no newcomer to being a production backdrop, either. Pink Floyd, Starship, Mase, Lil Wayne, and Iggy Azalea are just some of the names who shot their own music videos there.
The property's façade also served as Biff Tannen's Please Paradise Casino Hotel in Back to the Future Part II, and was the setting of a heated argument between Robert De Niro and Sharon Stone in one of the city's all-time "ode to early Vegas" classic films, 1995's Casino.
Oscar Goodman, the city's well-known former mayor, sits at a table with Flowers in The Man. Back in his days as a criminal defense attorney, Goodman defended several of Las Vegas' leading organized crime figures, including Tony "The Ant" Spilotro, the Joe Pesci character in Casino.
During the second half of the video, when Flowers' multiple personalities begin to see their luck run dry, a fair amount of dramatic license kicks in. The cowboy gambler places his watch, jewelry, and even car keys as collateral on the table, something that might have happened in Deadwood, South Dakota in Wild Bill Hickok's time, but not much since.
References are also made to Evel Knievel's 1967 failed jump over the Caesars Palace fountains.
Any fan of Las Vegas, especially those with a sense of nostalgia for the city's past, will likely enjoy identifying with The Man. It's a pre-gender-fluid ode to boys-will-be-boys, and there's nothing wrong with that.
Similar Guides On This Topic