Southwest Airlines Against Proposed $1.4B NFL Stadium Site Near McCarran 
Posted on: July 4, 2016, 12:27h.
Last updated on: July 4, 2016, 01:11h.
Southwest Airlines transports over 12 million air passengers in and out of Las Vegas' McCarran International Airport each year, creating a $30 billion economic impact. That's why the airline's opposition to a proposed $1.4 billion NFL domed stadium next to the city's main air landing strips has the potential to bring the project to a screeching halt.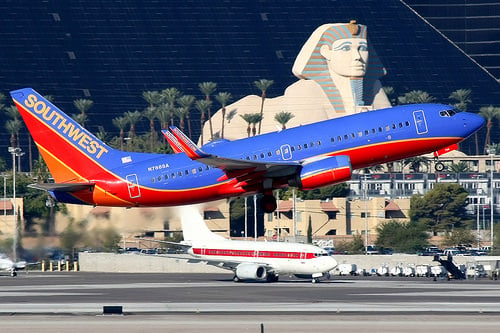 In a letter to Clark County Commission Chairman Steve Sisolak last week, Southwest executives voiced various concerns.
Most specifically, the company said that the stadium would result in decreased safety and security, airplane departure and arrival traffic concerns, and vehicle congestion affecting passengers trying to make flights.
"A stadium, whether open or domed, located less than half a mile from the ends of two of McCarran's major runways will restrict operations at [the] Airport, and will erode safety, security and capacity [as well]" wrote Southwest Vice Presidents Bob Montgomery and Captain Craig Drew in the letter.
The site in question is just steps from where commercial airliners land and depart around the clock. The intersection is Tropicana Avenue and Koval Lane, directly behind the MGM Grand on the Las Vegas Strip.
When McCarran first opened to commercial flights in 1948, Sin City was a much, much, much smaller place. The plethora of casinos and retail that now pepper the incoming flight paths weren't even an idea yet. Anyone who's heard the thunderous roar of a plane overhead as it make its descent knows exactly how precarious a perfect landing into McCarran already is. And that's without the added strain of a major league stadium and all its ancillary issues to contend with.
Location, Location, Location
The multibillion stadium project is being backed by Las Vegas Sands CEO Sheldon Adelson and Oakland Raiders owner Mark Davis. Vegas recently landed its first major professional sports franchise with an NHL expansion team.
Now Adelson and Davis want to bring the pigskin to Sin City.
Davis has pledged $500 million to the facility's construction, and Adelson, along with Majestic Realty, has thrown in another $150 million. The rest of the project would be funded through public revenues, most likely hotel occupancy taxes.
But the grand plan will likely need to look elsewhere after Southwest's opposition. During an interview with local NBC affiliate KSNV, Sisolak said, "To come out and say they're in opposition to that site, and the chief pilot to say he's in opposition to that site, the five words, 'please consider an alternative site,' ring pretty solid with me."
Site for Sore Eyes
Southwest Airlines isn't the only one worried about building a 65,000-seat stadium next to the ninth-busiest airport in the US. Certainly there are plenty of potential fans who would have been a little jittery watching an NFL game as incoming jetliners come roaring in.
A new location on the University of Nevada Las Vegas campus might find more favor among fans and the airline industry.
Situated about a mile east of the originally planned site, Adelson and Davis are now reportedly looking at the intersection of Harmon Avenue and Paradise Road. The site is known as UNLV Now, a proposed but failed bid to build a new football stadium for the university three years ago.
That places the stadium slightly further away from the Strip, where sports betting is expected to heat up with the NFL in town. However, that could be a good thing in diverting the influx of both pedestrian and automobile traffic away from the already busy Las Vegas Boulevard.
But don't count the Trop and Koval Lane site out of the running entirely just yet.
"We're not locked into a particular site," Sands spokesperson Ron Reese told the Las Vegas Sun late last week. "We anticipate there's going to be dialogue on each of these sites."