Soccer Match-Fixing Mastermind Dan Tan Rearrested in Singapore
Posted on: December 2, 2015, 01:04h.
Last updated on: December 2, 2015, 01:30h.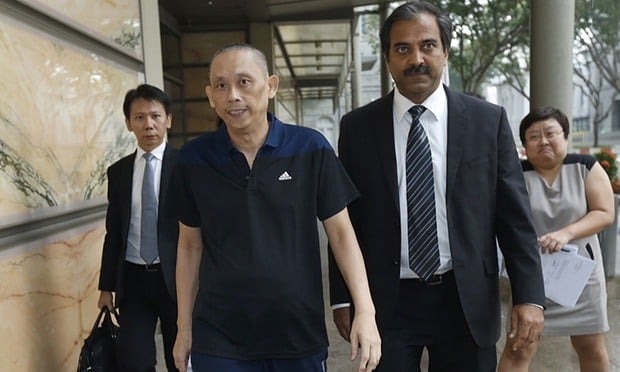 Alleged soccer match-fixer Dan Tan is once again in the place he's called home for the past two years: behind bars in Singapore. This, just one week after authorities released the self-described "businessman" from prison.
Tan has been in custody since 2013 on charges of operating a decade-long global soccer match-fixing syndicate that netted millions of dollars on rigged games, primarily in the Italian Serie A league.
Though the prosecution is still ongoing, Singapore allows indefinite detention of persons who haven't been found guilty if it's in the best interest of the public.
After a judge ruled that Tan didn't present a threat to the well-being of the general public, he was released in late November, only to be re-apprehended on Dec. 1st.
"We are still finding out what the next steps are," Tan's lawyer Hamidul Haq told the Associated Press.
Singapore Home Affairs and Law Minister Kasiviswanathan Shanmugam confirmed Tan's arrest, saying, "a decision will be made, one way or another, on what is to be done with him."
Match-Fixing FC
Interpol has labeled Tan the "boss" of the "world's largest and most aggressive match-fixing syndicate," but to date authorities in Singapore have struggled to compile enough concrete evidence to successfully prosecute the 51-year-old.
According to the BBC, Singaporeans are still fighting to obtain documents and data from Italian jurisdictions that might hold the key to convicting Tan on fixing matches. Meeting with witnesses and alleged insiders has also been painfully slow, as international cooperation has been dragging to the point of being nearly stagnant.
Conspiracy theories have even circulated, claiming Singapore itself has no interest in convicting Tan. But investigators have denounced such rumors, saying the process is long simply due to the global nature of the case and the unwillingness of Tan associates to testify against their powerful boss.
Not What Soccer Needs
The game of soccer is currently in the midst of a global crisis. The Fédération Internationale de Football Association (FIFA), the sport's governing body, is desperately trying to repair its image after seven of its executives were arrested in May on charges of corruption.
The FBI and IRS have both alleged rampant fraud has persisted in the organization for decades and that $150 million in bribes has been exchanged during the past 20 years. And both federal agencies say FIFA leaders routinely participated in wire fraud, racketeering, and money laundering to hide their criminal activities.
FIFA's longtime president Sepp Blatter has since been removed, as the association tries to heal not only its brand, but the tarnished image of soccer as a whole.
The governing body wasted no time in condemning Singapore's release of Tan last week.
"FIFA is very disappointed with the Singaporean Court of Appeal's decision to release Mr. Tan given the gravity of his past activities," FIFA said in a statement. "The integrity of the game is a top priority of FIFA and we continue to work closely with law enforcement agencies as well as the respective public authorities and other sports organizations on a national, regional, and global level to tackle the issue of match manipulation."