Singapore Anti-Gambling Campaign Goes Viral with Germany Win
Posted on: July 14, 2014, 05:30h.
Last updated on: July 14, 2014, 12:49h.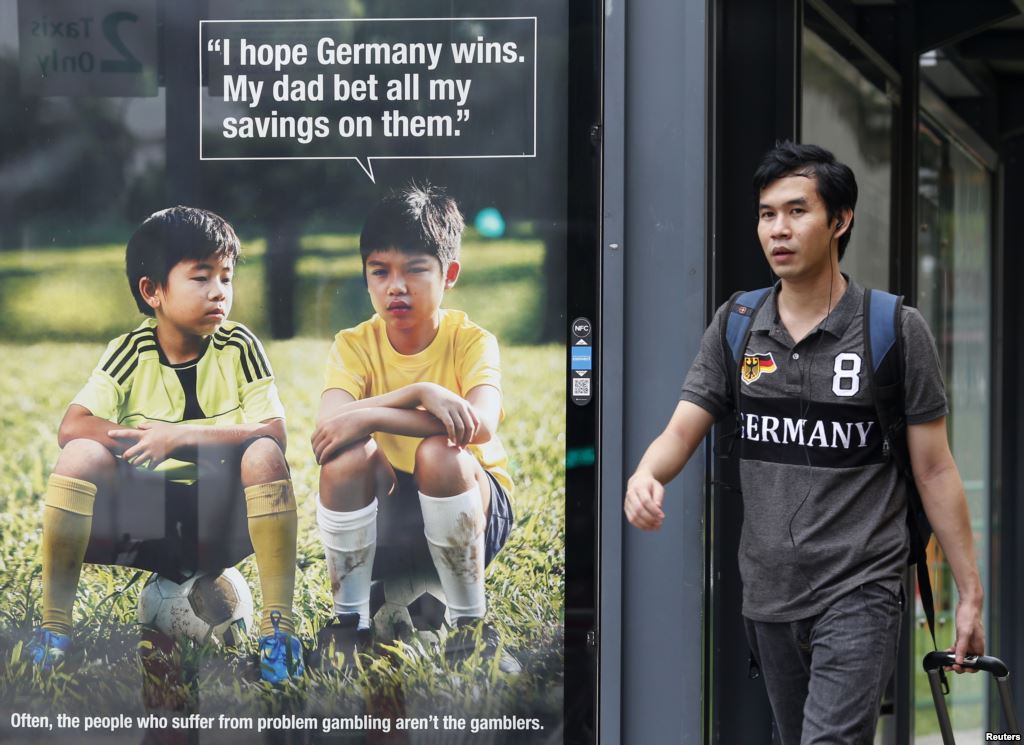 As goals go, Singapore's National Council on Problem Gambling's recent anti-gambling TV campaign proved to be a bicycle kick from 45 yards out. Designed as a series of thought-provoking vignettes on the evils of sports betting, they feature episodes from the troubled life of a small boy called Andy, who is heartbroken that his father has wagered his savings on Germany winning the World Cup.
"I hope Germany wins," says Andy mournfully, as his friends ask him who he's supporting in the tournament. "My dad bet all my savings on them."
Well, cheer up, Andy, because you're in for a massive windfall! As Germany romped through to the final, destroying tournament favorites Brazil 7-1 in the most earth-shattering semi-final win the history of the World Cup, the ads quickly became a laughing-stock. And now that Germany has taken home the Cup, Andy looks like he could go to Harvard, Yale, or just be a bum with a trust fund if he prefers.
Even some Singaporean politicians took to social media to join in the fun. During the first half, with Germany leading 5-0 within 30 minutes, Singapore's cheeky Manpower Minister Tan Chuan-Jin wrote on Facebook: "Looks like the boy's father who bet all his savings on Germany will be laughing all the way to the bank!"
"This Ad Has Given Hope to All Gamblers!"
But it wasn't until half-time, when Singapore TV unwisely chose to run the ad during the break that the whole thing went viral.
"Germany beat Brazil 7-1! Brazil need to find out what went wrong and I need to find the scriptwriter for the gambling control advertisement," chuckled Minister for Trade and Industry Teo Ser Luck.
"This ad has given hope to all gamblers!" declared one Facebook user.

"Always trust your father," said another.
Many believe that the Singaporean National Council for Problem Gambling may be channeling the spirit of Paul the Octopus, the German cephalopod who rose to worldwide fame for his knack of accurately predicting the results of matches during the 2010 World Cup. Paul's keepers would present him with two identical food boxes, each containing the respective flags of the two teams competing in a forthcoming match. Whichever box he chose to eat first would denote his tip to win the match, and he picked winners with eerie regularity.
Match-Fixing Scandal
Finally, as the laughter subsided, it was up to ad agency Goodfellas, which produced the ad campaign, to explain themselves. The ad, they said, was meant to "deter gamblers from gambling irresponsibly during the World Cup." However we can't help feeling that had they chose a different nation, such as, hmmm, maybe England, they would have had themselves a devastatingly effective commercial.
Ironically, Singapore was recently at the center of a World Cup match-fixing scandal. 48-year-old Singaporean Wilson Raj Perumal, already a convicted match-fixer who has written a book about his exploits, was allegedly able to tell a journalist the outcome of the Cameroon and Croatia World Cup match, during a Facebook chat, a month before it happened.
According to German magazine Der Spiegel, he also accurately predicted that a player would get sent off during the same match. FIFA investigated, however, and found no evidence that anything untoward had occurred.
With Germany's win, the ad campaign didn't miss a single beat. It was quickly revised to show our young friend Andy, now richer than Croesus, still staring wistfully off into space in a field, as his new bestie asks him, "Your dad's team won. Did you get your savings back?" To which Andy sadly replies, "No…Dad never stops. He wants to bet one more time."
Cheer up, Andy; with Dad's current track record, you could have your own Lamborghini by the time you're 16.