Scientific Games to Drive PGA Tour Real-Time Golf Data to Sportsbook Partners
Posted on: September 18, 2019, 12:54h.
Last updated on: September 18, 2019, 01:20h.
Las Vegas-based Scientific Games has reached a deal with IMG Arena to access and stream real-time PGA Tour golf data to its sports betting partners in the US and abroad.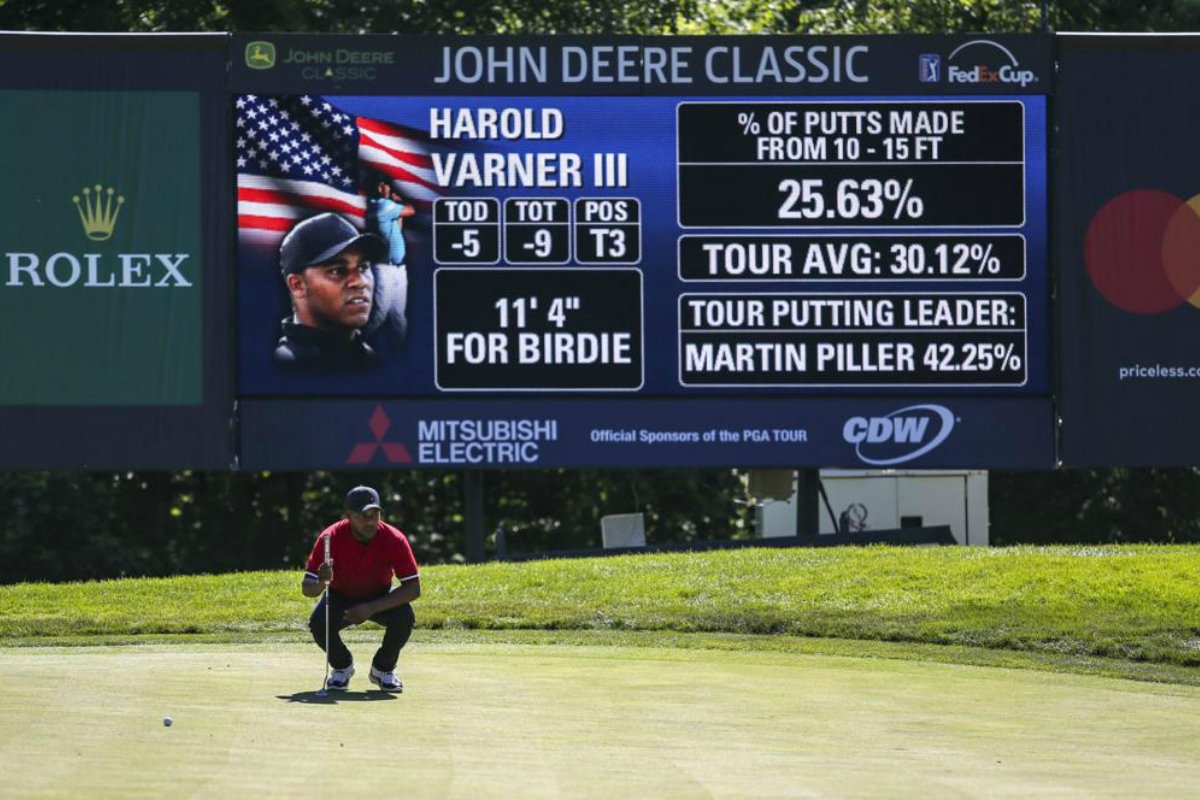 IMG Arena, a sports information technology company headquartered in London, obtained the exclusive rights to stream official data from the PGA Tour earlier this month in an undisclosed deal. IMG Arena will have access to the tour's in-tournament ShotLink, a proprietary platform that collects and disseminates scoring and statistical data on every shot by every player in real-time.
Scientific Games says it will circulate the real-time golf data through its OpenSports, a turnkey sports betting platform that is used by various interactive sportsbook operators. A few notable Scientific partners include Caesars Entertainment, William Hill, Paddy Power Betfair, Ladbrokes Coral, and Sky Bet.
Terms of the IMG-Scientific deal weren't made public.
Golf Opportunity
IMG Arena partnered with the PGA Tour soon after the US Supreme Court struck down the federal ban on sports betting that had limited the gambling activity to Nevada. The initial November 2018 agreement between the company and PGA Tour gave IMG permission to distribute scoring data to media outlets and for associated sports betting purposes.
IMG Managing Director Freddie Longe believes golf betting is ready to take hold with the sport's fans.
We see golf as a sleeping giant. It is one of the few major sports that doesn't yet offer consistent in-play betting markets," Longe said last fall.
That will soon change with the IMG and Scientific Games pact. The initial plan is to offer bettors lines on select par-3 holes. Ex: Will Tiger Woods hit his tee ball on the green at the par-3 sixth?
IMG plans to develop additional in-round bets in the future. IMG's data stream will go live in January 2020.
Offering lines such as how far will Woods hit his next drive presents problems, because ShotLink isn't a perfect technology.
Before each tournament, the course is mapped out with a digital image that is used by ShotLink to calculate exact locations and distances between any two coordinates. But during the tournament, the system is operated by a small staff of PGA Tour employees complemented by a volunteer workforce of roughly 350 each week.
Human error is inevitable, especially with volunteers new to using such advanced mapping equipment. That's why odds asking if Woods will drive it past 330 yards are troublesome. ShotLink mapping the two coordinates just a yard or two off could drastically impact a betting outcome.
Pros Concerned
Golf is the ultimate gentlemen's game, a sport that is largely governed by the players themselves. You won't find an NFL player call a penalty on himself, but on the PGA Tour, it's not uncommon.
With sports betting, however, some PGA Tour members are concerned fans with money dependent on the outcome of their individual play could lead to unruly galleries. Stars Rory McIlroy, Jason Day, Paul Casey, and Ian Poulter are a few of the marquee names who have voiced concerns.
What is going to happen is you will see more of this [heckling] stuff occurring, because there are going to be those who have bet against you. They're going to want to try and alter the result because they will potentially either make or lose money from it," McIlroy opined last month.
The comments came after Poulter had a fan removed from a tournament after openly rooting against him. "I hate to do that, but we shouldn't be getting abused in this day and age. Unfortunately, it happens quite often."
Similar Guides On This Topic