Ryan Riess Triumphs at 2013 WSOP Main Event
Posted on: November 6, 2013, 10:26h.
Last updated on: December 4, 2013, 05:44h.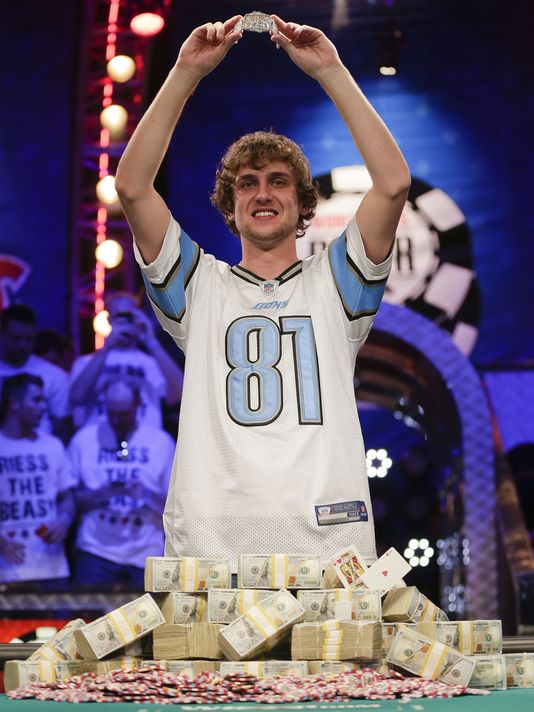 If anyone thought that the old-guard had made a comeback in WSOP Main Events, their opinions were well and truly readjusted after 23-year-old Ryan Riess – the first WSOP winner to be born in the 1990s – triumphed in the 2013 showpiece, bagging almost $8.3 million in the process.
After a break of a several months, the November Nine was shaping up to be a story of the experienced pros versus the plucky amateurs – and despite 2001 winner Carlos Mortensen falling in 10th place agonizingly short of the final table, the last group contained modern legends like JC Tran and online phenom, David "Raptor" Benefield.
However, Tran's chip advantage going into the final table didn't pay off, and after a blow-up of massive proportions against Jay Farber – who'd been working as a bouncer and VIP host up until the WSOP – he was gone in 5th.
With the "senior" pro Amir Lehavot gone also, it was down to the Michigan State University graduate, Ryan Riess and Farber, to decide who would lift the gold bracelet and bag themselves a place in the history books.
A Close Battle
Farber entered heads-up with the short chip lead, 105 million to Riess's 85 million, but it was the more experienced college man who made his skill tell.
After 30 hands – almost double the amount of last year's heads-up duel – the breakthrough came.
Sitting on the button, Farber raised to 2 million, Riess pumped it up to 5 million, and Farber had a re-pop to 8.8 million. Riess made the call, and Riess checked the 8d 4s 3c flop. Farber bet 6.7 million, and Riess made the call to take the players to the turn.
The 2h saw Riess make another check, Farber made a bet of 13.6 million, and Riess called to make a pot of 58.5 million. With the river 7s Riess checked again, and Farber checked. Riess's Jc Jh was good enough.
Into The Home Straight
With Ryan Riess taking a 130 million – 60 million lead, it was his game to lose, and despite a brief fightback by Farber, Riess was never going to let his lead disappear.
Sitting on 15bb, Farber did make a brief comeback, doubling up when moving all-in on a Kc 5h Qs flop. Riess flipped over Ks 10h for top-pair, with Farber's Jc 10s in need of a nine or ace to make the straight. The 9h duly arrived on the turn to give Farber the double-through, and send his legion of fans into apoplexy.
Short-Lived Hope For Farber
Despite a brief respite, and being just two cards away from elimination, Farber couldn't build on his momentum, and two key hands saw the end of his title challenge.
With a flop of Ad Qd Kc, both players checked, but when the turn fell 5s, Farber led out for 4 million. Riess made the call, and the Kh came on the river. Both players checked, Farber showed pocket nines, and Riess showed Ac 6d for top-pair, the hand, and another step en route to the title.
Final Hand
Hand 261, and Farber, crippled, moved all-in with Qs 5s. He was in need of all the luck and divine inspiration in the world as he saw Riess flip over Ah Kh.
A flop of Jd 10d 4c changed little, but a five would still be good for Farber.
The turn of the 3c gave Farber just one more card to save his tournament life. As the crowd rose, the dealer peeled off the 4d on the river, and Riess was swamped by his friends and family, as chants of "Riess the Beast" rang out around the Rio Hotel's Penn and Teller Theater.
The Green And White
For Riess, the $8,361,570 first prize was his. Only a couple years ago, Riess was studying Business at Michigan State University, but a move to Las Vegas followed, and his poker journey began. Multiple cashes on the WSOP Circuit came, and his best cash before here – runner-up in the WSOP-C Horseshoe Main Event – was all Riess had to show for his poker experience.
Now, his Hendon Mob profile has a nice big WSOP flag, and he rises up the list of all-time money winners.
2013 WSOP Main Event Final Table Results
1st: $8,361,570 Ryan Riess
2nd: $5,174,357 Jay Farber
3rd: $3,727,023 Amir Lehavot
4th: $2,791,983 Sylvain Loosli
5th: $2,106,526 JC Tran
6th: $1,600,792 Marc McLoughlin
7th: $1,225,224 Michiel Brummelhuis
8th: $944,593 David Benefield
9th: $733,224 Mark Newhouse