Right Hand Could Be Problem for Mayweather September Fight
Posted on: May 8, 2013, 05:22h.
Last updated on: May 6, 2013, 05:23h.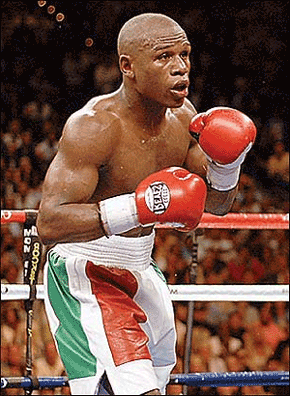 We hope he has it insured by Lloyd's of London for a couple trillion bucks: we're referring to Floyd Mayweather's right hand, of course.  His punches did some damage to opponent Robert Guerrero in their big WBC welterweight match last week, but Mayweather's hand also took some damage and it remains to be seen if he'll be in fighting condition for a September matchup.
Hurt, But How Badly?
Mayweather definitely caught some pain with his right hand punches at the MGM Grand Garden arena match in Las Vegas, but an unbandaged postfight news conference hand gave hope that the damages weren't too bad.  His September 14th Grand Garden fight is expected to be against Saul "Canelo" Alvarez.
During the news conference, Mayweather said he really wasn't sure exactly when his hand got bashed up during the fight.  His dad, Floyd Sr., who is also his head trainer and was working the fight in Mayweather's corner, knew by the end of the 10th round that something was amiss.
"He didn't have to tell me his hand was hurt. I'd seen him hurt his hand," the senior Mayweather said. "I know my kid."
 Lost a KO
The hand damage might have cost him a Guerrero knockout, by Mayweather's own estimation. Lacking that, he had to settle for a 117-111 win, per all three judges. Most importantly, he retains his perfect 44-0 win record, and of course his WBC welterweight title.
It's all an important part of his Showtime pay-per-view package; this fight was just the first in a six-fight contract. "We've got five more fights, so we'll see where I go from here," the undefeated champ said.
The Fight Will Go On
One way or another, there will be a fight at the Garden Arena on Sept. 14. Promoter and Golden Boy CEO Richard Schaefer said Alvarez is scheduled to fight, while Timothy Bradley, Jr. will be defending his own WBO welterweight title at the same time, in a Thomas and Mack Center matchup against Juan Manuel Marquez.
"We'll be here at the MGM Sept. 14, no question about it," Schaefer said. "We'll see how Floyd's hand is. But Canelo will be there, and we'll see what names are out there."
Should Mayweather be unable to show, Austin Trout-defeater Miguel Cotto has been named as a possible backup to fight Canelo.  Cotto currently holds the WBC junior middleweight title.
Mayweather, however, says it's a definite maybe for him to be back at MGM this Fall. "I may take some time off. I'm not in a rush," he said. "The plan is to be back here in September."
Guerrero, meanwhile, was stoic about his loss. "We'll get back to the gym, work on things, and I'll be back," he said. "Maybe one day we can do it again."
One thing you can count on, is MGM continuing to host these events. A crowd of 15,880 showed up (with all the ancillary bar, hotel, and gaming revenues), and the gate take alone was $9,992,350. Mayweather remains the biggest winner, with a $32 million payday, however.
Latest Casino Stocks:
Retrieving stocks data...
Retrieving stocks data...
Retrieving stocks data...
Retrieving stocks data...
Retrieving stocks data...