Richard Branson No Longer Casino Virgin, Billionaire Buys Hard Rock Las Vegas to Add to Hotel Group
Posted on: April 2, 2018, 11:00h.
Last updated on: April 2, 2018, 11:03h.
British billionaire Sir Richard Branson's Virgin Hotels announced late last week that it was acquiring the off-Strip hipster casino property Hard Rock in Las Vegas for an undisclosed sum. It will be Branson's first venture into the gaming industry.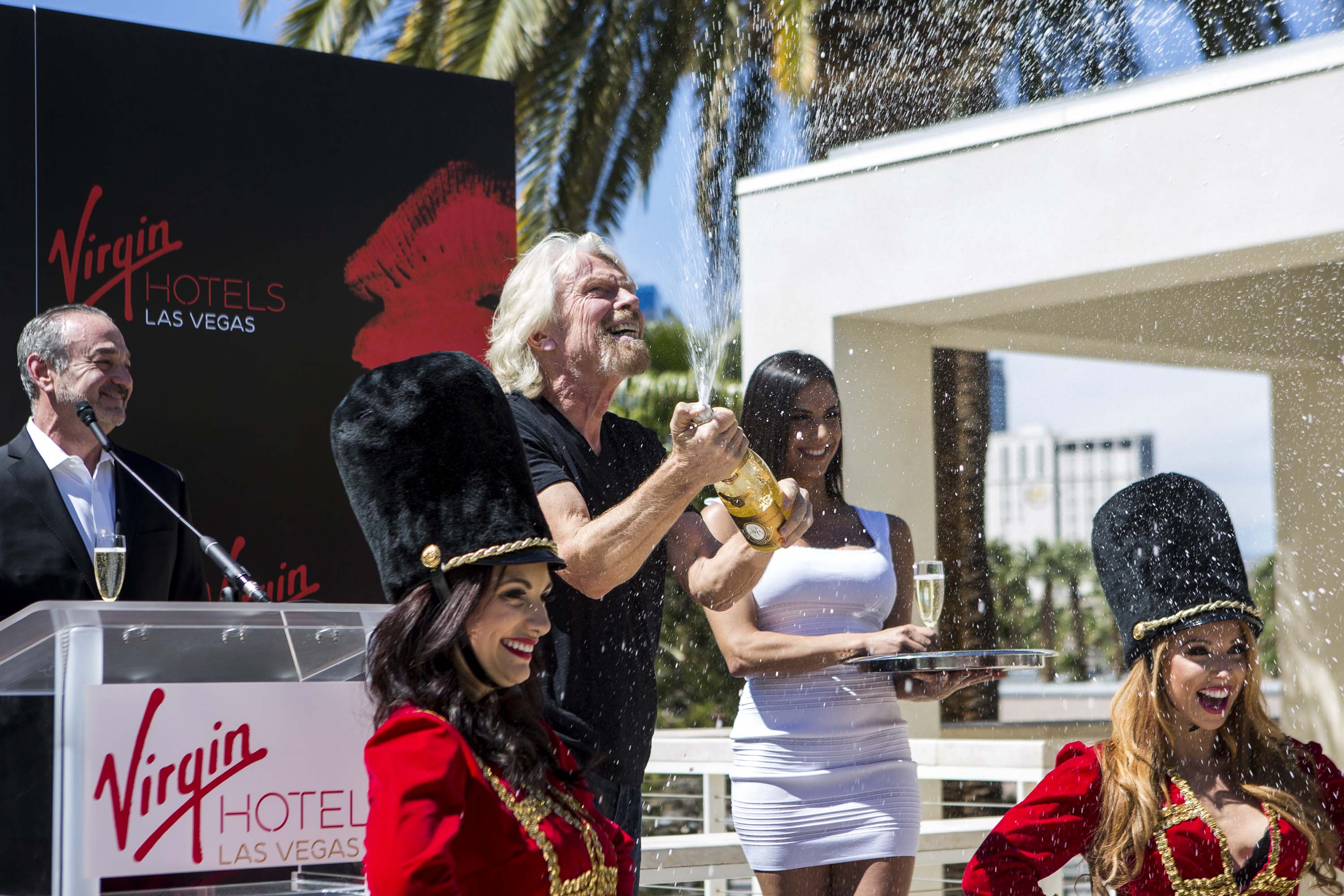 The 67-year-old Virgin Group founder has long wanted to control a casino resort in Las Vegas. It's been more than two decades since Branson first expressed such interest, but he's only now officially placing his bets on Sin City.   
During an announcement party at Hard Rock Las Vegas on Friday, Branson said of the deal that "Virgin is all about fun, entertainment, [and] not taking ourselves too seriously."
Branson noted that hundreds of millions of dollars will be spent transforming the property, which will include renovating all 1,500 of its existing hotel rooms. The entrance's signature guitar will likely be replaced with a giant V, he said, and once the overhaul is complete, the resort will be renamed Virgin Hotels Las Vegas, with that combination no doubt inviting an endless slew of guest snickering (we said).
Virgin Hotels' takeover of Hard Rock is in conjunction with Las Vegas-based Bosworth Hospitality, as well as investment firms Juniper Capital Partners and Fengate Capital Management. Branson said the purchase price might be revealed later, but Friday's ceremony wasn't going to be "boring business talk."
Virgin Territory
Branson, whose fortune is estimated at $5.1 billion, has long been engaged in business in the Nevada gaming epicenter, albeit not from a direct gaming angle. His airline Virgin Atlantic has been bringing travelers in and out of Las Vegas' McCarran International for decades. In 2017, the airline was responsible for more than 1.1 million passengers.
Last year, Branson also became a major investor in Hyperloop One (renamed Virgin Hyperloop One), a company that hopes to build underground high-speed rail service featuring "pods" that travel nearly 200 mph. One of the first proposed routes would connect Las Vegas to Los Angeles.
But while Virgin Hotels launched in 2010, today it only has one property in its portfolio, the 250-room Virgin Hotels Chicago. Nine more locations are in the works, however, with six (including Virgin Hotels Las Vegas) expected to welcome guests by 2019.
Undercover Information
Hard Rock Las Vegas made headlines last week, joining a long list of companies who have used customer data without permission for its own purposes. A report surfaced that the resort allegedly "harvested" data from patrons' mobile devices. A former technologist and security expert executive told The Verge that her company was employed by the casino to obtain location information on guests for "ad targeting."
According to Marry Hodder, the data whistleblower, Hard Rock used the information to send text offers to people who entered the property. Hard Rock officials declined to comment when reached by Casino.org.
It's a Hard Rock Life
Opened in 1995, Hard Rock Las Vegas was envisioned by Hard Rock Café founder Peter Morton. He sold the property in 2006 to Morgans Hotel Group for $770 million, along with the rights to use the Hard Rock brand name in the US for hotels and casinos west of the Mississippi.
Since 2007, the Seminole Tribe in Florida has owned and operated all domestic and international Hard Rock properties, including cafes, hotels, and casinos, with four exceptions being resorts in Las Vegas, Tulsa, Oklahoma, Sioux City, Iowa, and Vancouver, Canada.
In addition to their casinos in Florida, Lake Tahoe, Mississippi, Ohio, and the upcoming Hard Rock Atlantic City in New Jersey, the Seminoles are hoping to expand their international gaming portfolio by obtaining an integrated resort license in Japan. The tribe's first nondomestic casino opened in the Dominican Republic in 2011.