Plainridge Park Casino Slots Parlor Becomes First Casino To Open In Massachusetts
Posted on: June 26, 2015, 01:46h.
Last updated on: June 26, 2015, 01:55h.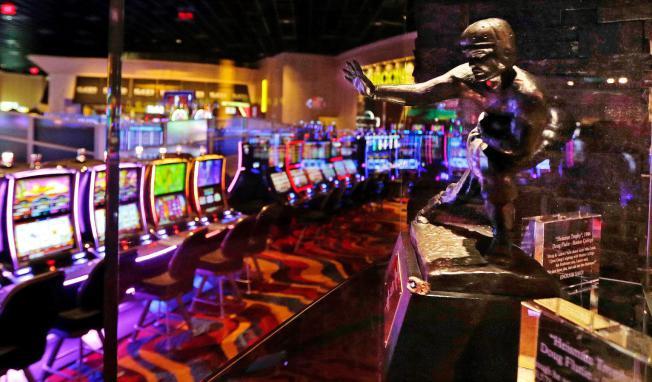 Casino gambling has officially begun in Massachusetts, as the Plainridge Park Casino opened for business on Wednesday.
The slots parlor was the first venue approved by the Massachusetts Gaming Commission, and is the first step towards full casino expansion in the state.
"Momentous" Day for Massachusetts
State Gaming Commission Chairman Stephen Crosby was on hand for the opening of the casino, which features slot machines and electronic versions of other games like blackjack and roulette. He called the launch a "momentous" occasion for the state.
"Take a look at this facility," said Crosby. "Take a look at 500 quality, high paying jobs."
Celebrities on hand for the opening included former NFL and Boston College quarterback Doug Flutie, who owns a restaurant and bar in the casino.
The opening at Plainridge Park is certainly the start of a new era for Massachusetts, which had one of the most contentious debates over gambling expansion in recent years in the United States.
A casino expansion law passed in 2011 was immediately controversial, and had to survive a repeal attempt last year before any venues could open.
Whether the casinos will prove popular and retain public support remains to be seen. But what is clear is that they will represent a windfall for Massachusetts, as well as the towns that host them.
State, Town to Receive Financial Windfall from Casino
Officials project that Plainridge should take in about $200 million in gambling revenues during its first year of operation. The state will receive 49 percent of that revenue, far more than the 25 percent it will take from the full resort casinos that will be opening in the next few years.
The town of Plainville will benefit as well, as the casino has pledged to pay $2.3 million a year in addition to $1.5 million in property taxes.
The local economy should also benefit from the influx of jobs. Penn National Gaming has hired about 475 employees to man the facility, with average pay of about $30,000 a year.
Plainridge Will Compete With Rhode Island Casino
The opening of the Plainridge Park Casino is also seen by many as the first shot fired by Massachusetts in the ongoing border wars with casinos in surrounding states. Plainridge will compete rather directly with Twin River Casino in Rhode Island.
Twin River expects to see a dip in visitors in the short-term, as gamblers want to check out the new facility. In the long term, they hope their more extensive offerings will keep most of their customers coming back, though it will take a while to really know what kind of damage has been done.
"We've been talking about this it seems like forever," said Twin River Worldwide Holdings chairman John Taylor Jr. "I think we are sitting with a full-service casino with lots of amenities. I think we're ready, as ready as you can be."
As more casinos come online, both Connecticut and Rhode Island will likely see customers who formerly came from Massachusetts to gamble stay in that state instead.
The MGM Springfield has already provoked Connecticut to make plans to build a third casino north of Hartford, while a casino in Everett and one more that might be licensed in Southeastern Massachusetts could further cut into Rhode Island's customer base.
So far, there are two projects competing for that final Massachusetts casino license: a KG Urban/Foxwoods proposal in New Bedford, and a plan to place a casino at the Brockton Fairgrounds.