No Goa? India's Newest Floating Casino Runs Into Sand Bank, Crew Members Rescued
Posted on: July 17, 2017, 03:00h.
Last updated on: July 17, 2017, 01:22h.
Goa, India's controversial new floating casino, MV Lucky 7, failed to live up to its name on Sunday night when it ran aground on a sandbank off Miramar Beach during rough weather.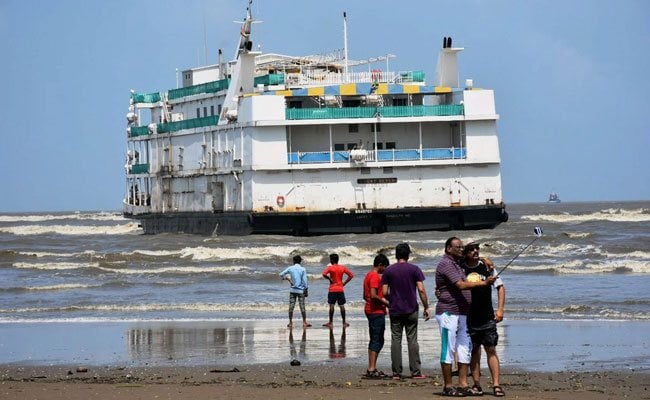 According to Indian media, the local coast guard was forced to rescue four crew members, one of whom was injured, while the other three were suffering from severe sea sickness. Fifteen other crew members did not require assistance and remained on board.
The ship was on its way to the Mandovi River, where it planned to anchor and open for business as "Big Daddy Casino," Goa's sixth floating gambling operation.
But the incident has caused a political monsoon in India.
Controversial Owner
There was already a backlash against MV Lucky 7. Opposition parties and local anti-gambling groups strongly opposed the Goan government's licensing of the casino, particularly following the revelation that it was owned by businessman and former minister for the state of Haryana, Gopal Kanda.
Kanda was arrested in 2012 following the suicide Geetika Sharma, an air-hostess at Kanda's MDLR airlines. Sharma named Kanda in her suicide note, claiming harassment.
Kanda resigned from his ministerial post and was subsequently arrested on charges of aiding and abetting suicide and sexual exploitation, although the case was later dropped.
Criminal Negligence?
Now, MV Lucky 7 is accused of negligence and of putting profit before safety by attempting to sail to the Mandovi River at a time when the sandbar area is closed to navigation until September, due to the monsoon season.
"The casino (ship) is stuck. Its owner should be arrested immediately," said Girish Chodankar of the local Indian National Congress opposition party. "An attempt was made to bring in the casino up the river illegally by pressuring the Captain of Ports.
"If that diesel (265 gallons) is spilled, then it would affect the environment adversely. Who should be held responsible?"
All of Goa's floating casinos are based on the Mandovi River where it flows through Panaji City, the state's capital. But even if MV Lucky 7 had made it there on this fateful trip, it wouldn't be sticking around for long.
Following complaints that the floating casinos' presence in Panaji block the movement of ships through the channel, the Goan government has ordered they must find a new place to berth or lose their licenses.
A June 30 deadline was recently extended to September 30.
Similar Guides On This Topic