New York Governor Backs $455M Belmont Park Overhaul, May Lead to RWNYC Aqueduct Casino Expansion
Posted on: February 1, 2023, 06:10h.
Last updated on: February 2, 2023, 10:51h.
New York Gov. Kathy Hochul (D) is getting behind an effort to modernize Belmont Park, a move that could end up opening the door for a casino resort at what's now Aqueduct Racetrack.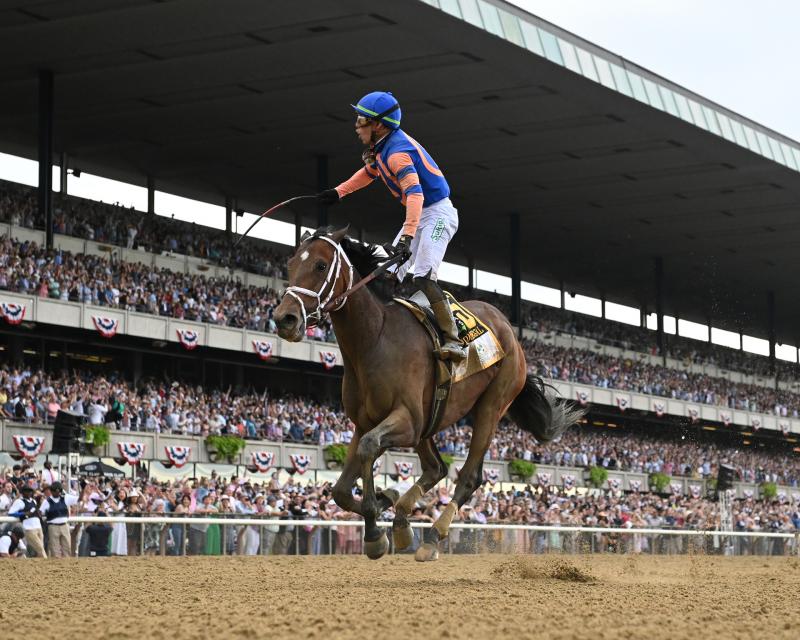 On Wednesday, the governor released her $227 billion budget proposal for the 2024 fiscal year. One of the projects included in the spending plan is a $455 million loan to the New York Racing Association, which operates both Belmont and Aqueduct, as well as Saratoga Race Course on state-owned property.
According to a revenue memo for the project, the modernization effort would include renovating Belmont's turf tracks, developing space for the track to hold non-racing community events, and building "a right-sized, modernized clubhouse" for the Long Island venue.
A statement from NYRA said the renovated Belmont would include the "amenities fans now expect from sports and entertainment venues." The track's last renovation took place 55 years ago.
Belmont Park stands at the center of the statewide racing ecosystem, and the project to re-imagine the facility will create jobs, drive tourism to the region and secure the future of thoroughbred racing across the state," NYRA President and CEO David O'Rourke said in a statement. "The time is right to build a new Belmont Park for the benefit of New York State, and we look forward to working with our legislative partners to ensure the Governor's proposal is enacted."
The renovation work is expected to create a $1 billion economic impact and lead to 3,700 construction jobs. Once completed, the new Belmont Park would create 740 new full-time jobs.
Officials expect the project to take three years to complete.
Aqueduct Presents Potential Expansion for Resorts World
In addition to repaying the state to the tune of $25.8 million a year for the renovation project, NYRA would also turn back control of Aqueduct, a racetrack in Queens that is roughly an 11-mile drive from Belmont, once the renovation work was complete.
Aqueduct holds its meets from the fall to early spring. Those races would be moved to Belmont.
"The state would have access to over 100 acres of prime real estate located near major highways and JFK Airport," the revenue memo stated.
That may open the door for Resorts World New York City to expand its current facility at the Queens track into a full-fledged resort. Resorts World opened there in 2011. It currently offers more than 5,000 video gaming machines, making it the largest gaming venue in the state.
Resorts World has also indicated its interest in pursuing one of the three casino licenses the state is looking to award. That would allow the company to switch out the VLTs for Las Vegas-style slot machines and offer live dealer table games. It also would give Resorts World an opportunity to develop more amenities on the site, which already includes a $400 million hotel.
The New York State Gaming Commission released the solicitation for applications last month.
Modernizing Belmont
In a statement to Casino.org, a Resorts World spokesperson wished NYRA well as it seeks to modernize Belmont Park.
If that process unfolds, it gives Resorts World a unique opportunity to work closely with our New York State and local community partners in developing economic growth pathways and public green space that complement our hotel and casino by unlocking the untapped potential of this land," the spokesperson said. "We are excited to play a leading role in helping New York State fulfill a shared vision for further developing an iconic destination right here in Queens."
While Resorts World is considered one of the favorites to receive a casino license, it will likely face steep competition from a number of other bidders. The process to award the licenses requires any casino proposal to have two-thirds support from a local review board before the state's sitting committee can consider it.
UPDATE (8:30 pm ET): According to a source familiar with Resorts World's lease with the state, the agreement precludes any other casino operator from using the Aqueduct land for gaming purposes.
What They Said
A renovated Belmont would likely put New York in a position to host the Breeders' Cup, a two-day event that serves as the world championship for thoroughbred racing. Belmont has hosted the event four times, but not since 2005.
The last time it was held outside of California or Kentucky was in 2007, when Monmouth Park was the site. Since then, it's been held only at Churchill Downs, Del Mar Thoroughbred Club, Keeneland, and Santa Anita Park.
A strong state starts with a strong economy and culture — and horse racing has been an anchor for both in New York for generations. But to ensure this sport continues to uplift our state, we must modernize Belmont Park on Long Island," Heather Briccetti Mulligan, president and CEO of The Business Council of New York State, said in a statement. "By including the Belmont Park modernization in her executive budget proposal, Governor Hochul has demonstrated her commitment to building an even stronger New York."
The project also has the support of key lawmakers in the New York State legislature, who said they will work with lawmakers to ensure it stays in the final budget.
"Upgrading Belmont for the first time since the 1960s will secure the future of horse racing in New York State, create thousands of new jobs, and pump over a billion dollars into our state's economy – all at no cost to taxpayers," said Assembly Racing and Wagering Committee Chair Gary Pretlow, D-Mount Vernon. "NYRA has worked diligently for years to create a project that is a clear win-win for New York."
"The advancement of the long overdue Belmont racetrack project will improve and transform that iconic sight for generations to come… I want to thank Gov. Hochul for understanding the critical role horse racing plays in New York and taking a major step forward to secure the sport's future by including the project to modernize Belmont Park in her Budget Proposal," Senate Racing, Gaming, and Wagering Committee Chairman Joe Addabbo, D-Queens, said.
New York's fiscal year runs from April to March. By law, the state legislature is required to pass the budget by April 1. However, there have been numerous times when that deadline has been missed due to ongoing negotiations between legislative leaders and the governor's office.