Nevada Legislature Back in Session to Discuss Casino Worker Safety, Unemployment Reforms
Posted on: August 4, 2020, 10:38h.
Last updated on: August 4, 2020, 11:28h.
A bill filed Monday in the Nevada Legislature would give certain businesses in the state, including casinos, protection from COVID-19 lawsuits. But it also calls on casinos to put in place worker safety provisions labor leaders have sought.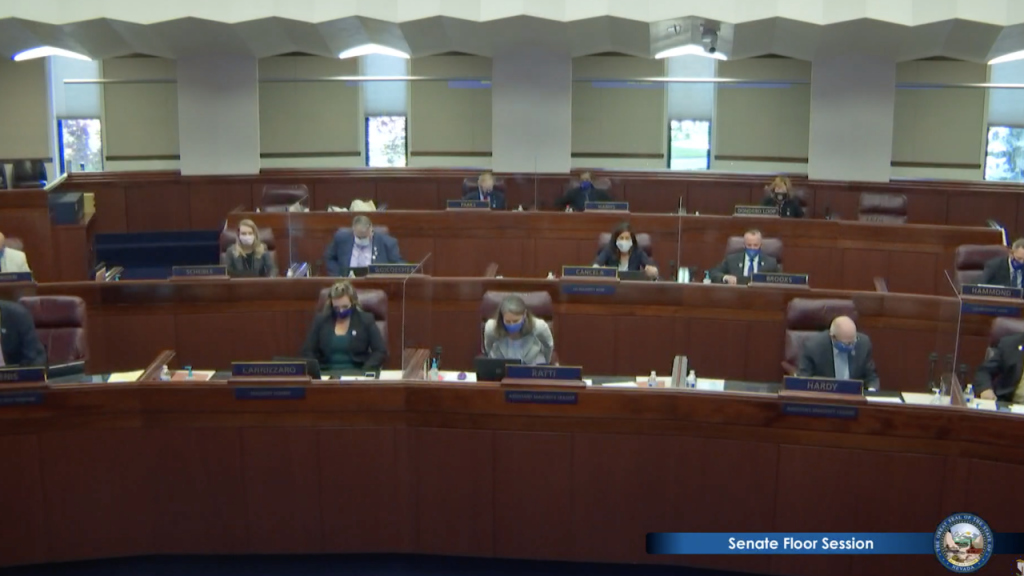 Senate Bill 4 would require public accommodation companies — like casinos and hotels — to follow specified pandemic plans, according to the bill. The Nevada Gaming Control Board would have the ability to request health officials to recommend changes to and enforce them if enacted.
Under the proposal, casinos, hotels, and resorts would need to encourage employees and guests to remain six feet apart, create workstations that include physical barriers or foster social distancing, and provide free masks, gloves, and sanitizer.
The United Auto Workers and the Culinary Union, which have pushed for protections for casino workers, support the bill.
A majority of Culinary Union members live in the 20 Clark County ZIP codes with the highest COVID-19 infection rates," wrote Geoconda Arguello-Kline, the Culinary Union's secretary-treasurer. "This Special Session is important for all workers and the hospitality industry."
However, the bill faces stiff opposition, namely from educators and others who want the same type of protections that gaming and hospitality workers would receive. Lawmakers took comments on the bill into the early hours Tuesday morning,
"I'm currently speaking here today with positive COVID-19 results. Yes, I stayed up through this entire session because this is important to me and those I serve," said Imani Patterson, who works at a Boys and Girls Club. "It's unfortunate, because I know I have got the virus from work. However, I cannot get sick pay."
Special Session Pushes on
Monday was the fourth day of a special session for the Nevada state legislature, the second such gathering the legislative body has had in less than a month.
While Gov. Steve Sisolak (D) called the first session to settle a budget deficit, lawmakers are delving into several issues related to the COVID-19 crisis and law enforcement reforms. The session started Friday. But in his proclamation to the Nevada Legislature, the governor said he expects it to conclude by this Friday night.
"I again look forward to collaborating with Nevada legislators to meet the challenges that are, unfortunately, before us," said Sisolak. "In order to protect the time necessary to address the ongoing COVID-19 crisis, my expectation is that this special session will be thorough and as efficient as possible."
Unlike the regular session, where lawmakers can propose bills, Sisolak determines the agenda for special sessions.
Unemployment Reform Victory
In addition to protections for gaming workers, lawmakers are also working on reforms to the state's unemployment program. Senate Bill 3 would expedite the claims process and allow the state to adapt the system to changes made on the federal level.
Those who qualify for unemployment now would be eligible for 20 weeks of payments instead of the usual 13 weeks, and businesses forced to furlough or lay off workers because of the pandemic will not face paying higher unemployment taxes.
The state Senate passed the bill unanimously early Tuesday. It now goes to the House.
Nevada's unemployment rate topped 28 percent in April, as casinos shut down because of COVID-19. However, many who applied for benefits did not receive payments in a timely manner because the volume of claims overwhelmed the system.