Mayweather vs. McGregor Cross-Sport Prop Bets Offered at Westgate SuperBook
Posted on: July 31, 2017, 10:00h.
Last updated on: July 31, 2017, 10:06h.
Mayweather vs. McGregor is officially less than a month away, and to entice its biggest handle possible, the Westgate Las Vegas SuperBook has unveiled a nearly unprecedented cross-sports prop sheet on the much-hyped fight that comes to blows on August 26.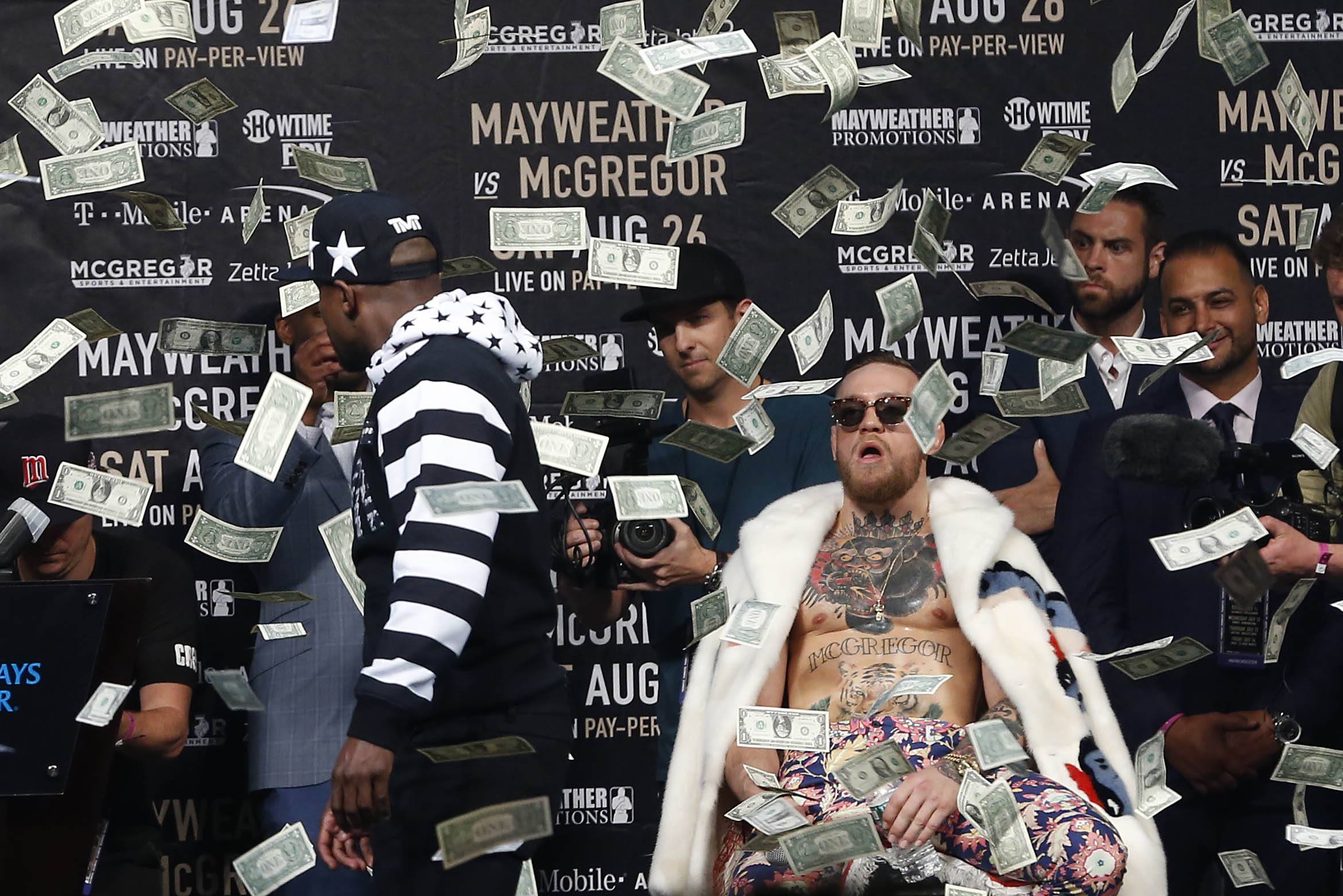 The book has a total of 40 cross-sport lines that allow fans to pair stakes against the fight from MLB, college football, Premier League soccer, BIG3 (three-on-three basketball league), WNBA, and the NHL.
For example, a bettor can take odds on whether New York Yankees slugger Aaron Judge will hit more home runs during his game that night against the number of times Conor McGregor will knock down Floyd Mayweather. The MLB star is the favorite at -300, with the underdog UFC fighter at +240.
A more even line asks, "Who Will Have More?" Total rushing yards by Bryce Love (Stanford) or total number of punches landed by Mayweather? Both propositions are at -110.
Love's first start for the Cardinals came last December in the team's college football bowl game. He finished with 115 yards. Mayweather tallied 148 punches during his clash with Manny Pacquiao in 2015. The even odds are because Love will be facing Rice, a team that went 3-9 last year.
Mayweather Still Favorite
Though the majority of Mayweather vs. McGregor ticket slips at Las Vegas sportsbooks are on the underdog, Money is still a heavy favorite. He's a perfect 49-0 in his career, and taking on a mixed marital arts (MMA) star who's never boxed professionally.
The SuperBook has Mayweather at -600 to McGregor at +400. A $100 bet on Floyd nets just $16.67, while the same bet wins $400 on Conor should be find a way to pull off the upset.
The sportsbooks at Stations Casinos and Caesars Palace are in agreement with the SuperBook. Wynn has the same odds on Mayweather, but is trying to grab some of the McGregor money by offering +450.
The best underdog lines, however, are online. SportsBetting.ag has McGregor at +525, while MyBookie.ag has it to +550.
About $75 of every $100 wagered on the fight has been on McGregor. That's why next month the oddsmakers will be strongly rooting for the Mayweather.
Ticket Sales Slow
There hasn't been so much hysteria surrounding a boxing match since the Mayweather vs. Pacquiao bust that left fans frustrated. Many believe August 26 has more than enough potential to be another disappointing affair.
Mayweather is one of the fastest boxers in history, and experts believe McGregor won't be able to land enough punches to adequately compete. That's perhaps why ticket sales are slow, as fans struggle to justify the pricey tickets.
Ticketmaster still has plenty of seats available, though the cheapest options start at $3,500. The resale market has tickets for $1,500, but they're the originally priced $500 tickets, the cheapest in the arena.
It appears many are content to pay the $99.95 pay-per-view Showtime price, split with a friend or two, and watch the spectacle from the comfort of their own home.