Macau VIPs Still Very Important, Represent 58 Percent of Casino Revenue
Posted on: October 17, 2017, 04:00h.
Last updated on: October 17, 2017, 03:47h.
The Macau VIP segment continues to account for the biggest chunk of gaming revenue on the region's casino floors.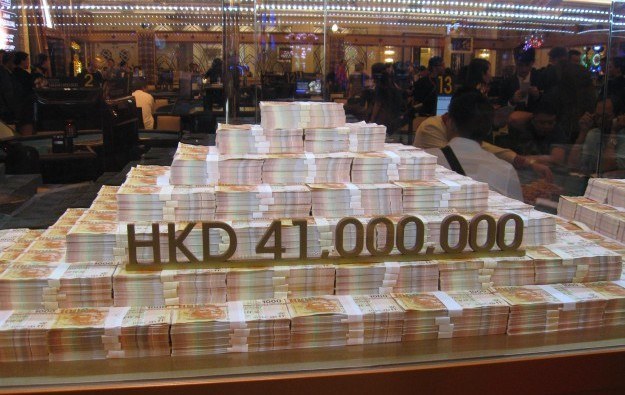 Despite junkets being included in People's Republic President Xi Jinping's anti-corruption crusade, with smaller touring companies ceasing operations in recent years, the high roller demographic is still placing more bets than the general mass market population.
According to Macau's Gaming Inspection and Coordination Bureau (DICJ), VIP baccarat play accounted for 57.7 percent of the city's total gambling revenue during the third quarter of 2017. Casinos won MOP 38.69 billion ($4.81 billion) on VIP baccarat between July through September, more than half of Macau's $8.33 billion gross gaming win.
September pushed revenue year to date past the $24 billion mark, up almost 19 percent. Through nine months in 2017, casinos have collected $4 billion more than they did at this time a year ago.
High stakes baccarat, the preferred game of Chinese's wealthiest citizens, accounted for 52 percent of total gaming revenue in 2016.
General Gaming Up
Despite the fact that the DICJ reports that Macau VIPs are still the casino industry's bread and butter, income is increasing from the general population, too. The gaming regulator reveals that mass market play was up in the third quarter by 7.4 percent.
Mass play totaled $3.52 billion during the three-month span, with slot machines accounting for $400.3 million.
The increase is good for casino companies looking to become less dependent on VIPs. Though there's been signs that Jinping's anti-corruption crackdown is easing as it relates to junkets, the general thought across Macau is that becoming a more diversified tourism destination will help protect the gaming enclave's economic longevity.
As China began closer scrutinizing junket companies that were bringing wealthy mainlanders to the gaming zone, which resulted in Macau casinos making "just" $28 billion last year, down from $45 billion in 2013, resorts began searching for new sources of revenue.
Wynn Resorts' newest property in China, Wynn Palace, opened in August of 2016 with a gondola aerial ride that lifts passengers high over Macau. That fall, Las Vegas Sands debuted The Parisian with a half-size replica of the Eiffel Tower, water park, theater, and hundreds of high-end retail shops.
MGM Cotai is slated to open in January 2018, and the $3.3 billion integrated casino resort won't feature a single VIP baccarat table when it welcomes guests.
Mass Appeal
Efforts to bring new visitors to Macau is working, as the city attracted 12 percent more visitors during this month's Golden Week than it did in 2016.
The Macau Tourism Office (MTO) recently released some rather bullish predictions. The industry agency's 15-year Master Plan predicts that non-gaming spend will balloon from $6.6 billion last year, to between $12 billion and $14 billion by 2025.
The MTO says it's also anticipating that total visitors will surge from under 31 million in 2016, to upwards of 40 million arrivals by 2025.
Similar Guides On This Topic