Macau Peninsula Playing Second Fiddle to Cotai Strip, Says Analyst
Posted on: August 12, 2017, 02:00h.
Last updated on: August 12, 2017, 12:53h.
Macau's downtown peninsula, the traditional gaming hub of the semi-autonomous enclave, is likely to go the way of downtown Vegas, becoming a secondary market eclipsed by the larger, grander properties of the Cotai Strip.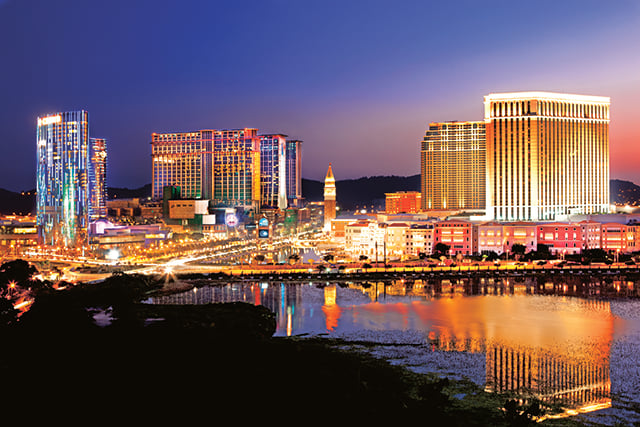 So says says Andrew Klebanow, a senior partner of US-based consultancy Global Market Advisors. Klebanow suggested this week that downtown Macau will soon be overshadowed by Cotai, in a pattern that will mirror the development and rise of the Las Vegas Strip in the nineties.
"Downtown Las Vegas devolved into a second tier gaming destination, attracting people with low-priced accommodations, cheap food and better gaming odds," said Klebanow. "Not only did that not stop the loss of market share to the Strip, it prevented downtown owners from reinvesting in their properties… In short, the [Macau] Peninsula casinos with one or two notable exceptions, will continue to lose market share to those more alluring properties on Cotai.
Competitive Advantage
The first casino on Cotai, a reclaimed landfill site, was Galaxy Entertainment's Grand Waldo Hotel, which opened its doors in 2006.
It was followed a year later by the first of its breathtakingly big integrated resorts, Las Vegas Sands Corp's Venetian Macau. In fact, LVS, with an inkling of things to come, itself coined the term "the Cotai Strip" and owns the copyright.
Cotai is appealing to developers in the world's biggest gaming market because of the competitive advantages the space affords.
It permits the construction of large non-gaming amenities that attract the mass market, shopping malls and entertainment venues that the Peninsula casinos have no room for.
Peninsula Market Will Survive
The Cotai Strip has seen a flurry of construction activity over the past few years, with the enclave's newest and most impressive properties, such as the Wynn Palace Macau, LVS' Parisian Macao, and Melco Resorts and Entertainment's Studio City, opening in quick succession.
All are geared to the mass market as the region pivots away from its reliance on the VIP segment.
"The majority of the peninsula casinos will survive," said Klebanow. "They will always enjoy the advantage of having properties that are easy to get in and out of… Some of those properties will be sold to more nimble operators or to people and companies that think they can operate those casinos better than their predecessors.
"What is inevitable though, is the continued growth in market share by the casinos on Cotai," he added.
Similar Guides On This Topic