Macau Hits Two-Year High in February as VIPs and Mass Market Celebrate Chinese New Year
Posted on: March 1, 2017, 02:00h.
Last updated on: March 1, 2017, 01:33h.
Macau's gross gambling revenue soared to a two-year high in February, rising 18 percent on the previous month and notching up its seventh consecutive month of growth.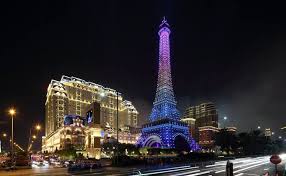 Slowed growth in January had prompted fears that talk of a full rebound for Macau was premature.
The enclave reported a growth rate of just 3.1 percent for the month of January, way behind December's 8 percent and November's 14.4 percent, and the analysts' predictions of 8.5 percent.
But it proved to be a blip. February's figures blew away all expectations and suddenly the bounce back feels very real indeed.
You would have to go back to January 2015 for the last time Macau exceeded the 23 billion patacas ($2.9 billion) haul it took last month.
The difference is, then, it was on the way down and still had 19 months of spiraling revenues ahead of it. Now Macau is well and truly on the up.  
March Could Slow
January's numbers suggested a slow start to the Chinese New Year holiday, which this year began on January 27, but things clearly picked up as the festivities continued up until the Lantern Festival on February 11.
But now the party's over, there's a good chance things could slow down again in March.
Vitaly Umansky, an analyst with Bernstein in Hong Kong, told Bloomberg that, along with the New Year, junket marketing events over the last week of February had led to a significant increase in VIP spenders and that March is likely to see "a slowing VIP environment" versus February.
Mass Market Path to Growth
Chinese president Xi Jinping's anti-corruption drive, spearheaded in 2014, spooked the VIP gamblers and turned the screws on the junket industry that welcomed them and lent them money to bypass restrictions on bringing cash into Macau.
It was an anti-graft campaign that sought to discourage public displays of wealth by Communist Party officials and also further stem the tide of money flowing out of the Chinese mainland.
In June 2014, Macau, which earlier in the year had been one of the fastest growing economies in the world, went into a freefall as the Chinese economy itself also began to slow.    
There is certainly a sense that some of the high rollers have returned, but Macau is no longer relying on them. The path to slow, steady growth is instead being driven by the mass market, the Chinese middles-classes, which are arriving in Macau in search of its new family friendly resorts and attractions.
Similar Guides On This Topic