Westgate Las Vegas's NFL SuperContest Shatters Record, Will Pay Winner $1 Million
Posted on: September 5, 2017, 03:00h.
Last updated on: September 5, 2017, 04:22h.
Changes to the Las Vegas Westgate's NFL SuperContest seem to have worked as the handicapping competition produced 2,323 early-bird entries, breaking 2016's record.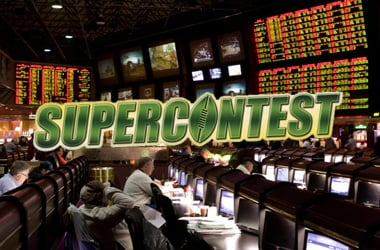 Because of the amount of people signed up the 2017 tournament will produce its first $1 million winner. The deadline is 11 a.m. September 9.
Last year the popular challenge had 1,576 early submissions en route to a then-record 1,854 players trying their skill at picking five winners against the spread of professional football games throughout the 17-week regular season.
The 2016 winner was 32-year-old Starbucks barista Damon Graham, who walked away with $905,482.
Gamblers from all over the United States enroll in the event and those not living in Las Vegas use proxies to submit their weekly selections.
Graham used a local company to drop off his picks because he wasn't sure he would be able to get to the resort every seven days over the four-month period.
Popular Service
In 2004, 411 players were in the match and were almost all locals. As it has grown, non-Vegas residents wanted to get in on the action and companies cropped up offering to go to the off-Strip establishment and submit the picks, which has had contestants from Europe and Abu Dhabi.
Entrants must sign up in person, but after that can have someone else hand in the selections. LV SuperBook Director Jay Kornegay told the Review Journal that has fueled the popularity.
"Most of that growth has been from out of state," he said. "I've got to give a lot of credit to our marketing department for getting the word out on social media that people from out of state could get into the SuperContest by using a proxy service, which we have no affiliation with or endorse."
One such business is FootballContest.com, which claims to have handled approximately 40 percent of last year's participants. Their fee ranges from $100-$300. They also have customers for the Golden Nugget's Friday Football Showdown and William Hill's College Football Pick'Em Contest.
Contest Modifications
Kornegay made a couple of revisions and additions to the SuperContest, including adding a mini-contest. That will feature a three-week competition during Week 15-17 for a maximum of one $5,000 fee and it is a winner take all.
The regular contest is a $1,500 fee and a limit of two entries. It pays out 50 places.
In the past the resort has offered a bonus for a player with a winning mark of 67 percent or higher, but Kornegay wanted to spread the money around to those who might not be at the top near the end of the season. He instituted a $15,000 prize for the leader after the fourth week and eighth week, as well as to the victor in the mini-contest.
Another perk will be the presentation of a SuperBowl style ring to the winner of the two competitions. Kornegay estimates they will cost about $2,000 a piece and told the Review Journal it is just another way to stimulate interest.
We're trying a couple enhancements here," he said. "We're throwing more money at it, and giving a ring to the winner's a nice touch."
Most Read