Las Vegas Raiders Move "Pretty Definitive" According to Cowboys Owner Jerry Jones
Posted on: November 3, 2016, 05:00h.
Last updated on: November 3, 2016, 03:06h.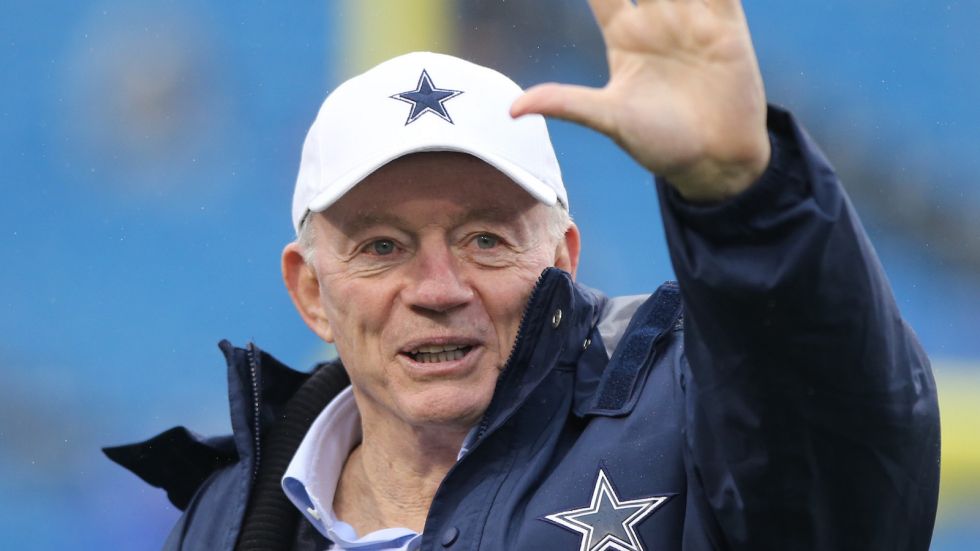 The Las Vegas Raiders are positioned to become the next franchise in the National Football League (NFL), at least according to Dallas Cowboys owner Jerry Jones.
Perhaps the most influential owner in the league, Jones said during his weekly radio broadcast that Vegas has everything going in its favor to relocate an NFL team to the city.
"Vegas is pretty definitive, there's a pretty bright line there right now," Jones said on 105.3 The Fan, the local CBS radio station in Dallas. "They've provided for a team the most funding that has ever been funded from third parties to give the team an opportunity."
Backed with $650 million in private funding from billionaire Sheldon Adelson, the owner of Las Vegas Sands, Oakland Raiders boss Mark Davis is ready to relocate his storied yet troubled franchise to Sin City. Davis has pledged $500 million to accompany Adelson and Nevada's $750 million in capital to build a $1.9 billion, 65,000-set domed stadium near the Strip.
"Vegas has a lot going for it. I think it's going to really have a real, if you will, strong case to get an NFL football team," Jones declared.
Jerry Talks Ratings
Jones, who made his billions in oil and gas, also weighed in on the recent NFL television ratings decline. According to Nielsen data, viewership is down more than 11 percent this year for NFL broadcasts compared to 2015.
"Our ratings have always been strong relative to any other programming on television," Jones explained. "But they haven't always been just a steady curve upward. I really take a longer look at it."
Though Jones is staying positive on the TV downward trend, NFL Commissioner Roger Goodell said recently that the league is looking into possible culprits for the decline. One theory is that ongoing national anthem protests are leading to some Americans turning off the tube.
Nielsen Sports believes legalizing sports gambling would help increase ratings. In a report published in September, the research agency said Americans who place a financial bet on an NFL game watch 19 more games per year than football fans who don't.
Time to Legalize Sports Betting
Americans support repealing the Professional and Amateur Sports Protection Act of 1992 and ending sports betting prohibition on the federal level.
A Fairleigh Dickinson University PublicMind poll released this week found 48 percent of US voters support the freeing of sports betting, compared to 39 percent opposed.
One of those in the minority is Goodell. The commissioner continues to defend his stance that having an NFL team in Vegas could compromise the integrity of games.
"I think we can do it in Oakland," Goodell explained at the NFL owners meeting last month.
Fortunately for Davis and Adelson, the decision isn't Goodell's. If 24 of the league's 32 owners approve Davis' proposal to move to Las Vegas, there's nothing the commissioner can do.
"When I came into the league 23 years ago, I probably wouldn't have supported a team being in Las Vegas," New England Patriots owner Robert Kraft told the NFL Network in October. "I think the way things have evolved . . . this would be a positive move."