Cellblock LV: In a City of Constant Action, Cellphone Providers Try to Keep Up with Tourist Demand
Posted on: February 13, 2017, 03:00h.
Last updated on: February 13, 2017, 01:59h.
Las Vegas cellphone service is often hit or miss during busy events on the famed Strip. Local officials want to change that in order to make sure all of the city's patrons can quickly connect to their mobile networks.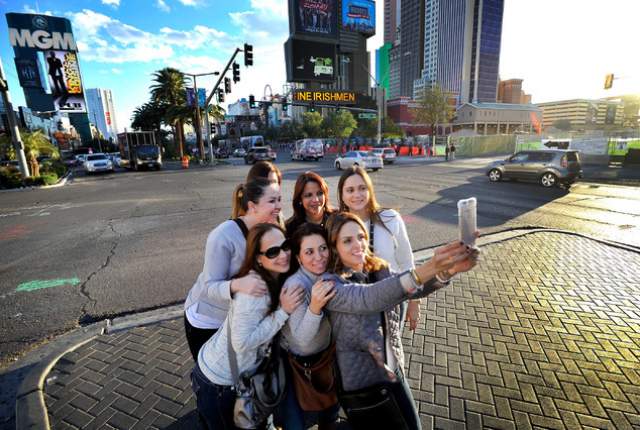 Like any other major metropolis, cellphone coverage in Vegas becomes a problem when massive groups of people congregate in close quarters. Tall buildings can also impede connections, as signals must travel substantial distances to reach their customers on the ground below.
During a typical day in Sin City, few will experience substantial cellphone reception issues. But come night, especially on busy weekends and during large conventions and trade shows, missed and drop calls aren't out of the norm.
Clark County wants to improve its cellular infrastructure, and is considering ways to improve its wireless connectivity.
Small Cells Provide Greater Reception
Cell sites are spread across Clark County on rooftops and "hidden" via not-so-clever ways like fake trees and cactuses. The problem with traditional cell towers is that, while they can cover a broad range of distance, they can also become gravely slowed when overloaded with data and network requests.
Experts believe the solution to Las Vegas' cellphone service woes are "small cell" blocks. Small cells are precisely as they sound: compact boxes that can be placed on street poles or other ground-level structures that provide strong and close network access points.
"Small cells are used to densify the network by bringing the wireless signal closer," AT&T's Director of External Affairs Sandra Morgan told the Las Vegas Review-Journal.
According to the LVRJ, Clark County already has about 90 small-cell boxes around South Las Vegas Boulevard. There's about 100 streetlight poles that do not currently hold cell boxes or any other equipment and could theoretically be fixed with further small-cell units.  Another option would be to place the small boxes on structures such as bus stop shelters or physical features like bridges that traverse the main drag.
Conventional cell towers can reach phones dozens of miles away, but small-cell sites only extend to devices located within about 1,500 feet. That of course limits the number of requests, allowing greater coverage.
Imperative Concern
Though the typical headache from a poor cellphone connection is a dropped call or longer-than-expected photo upload time, an inadequate mobile network in a place like Las Vegas does present serious problems.
The majority of tourists visiting Vegas won't have any problems using their cellphone, but in a large convention space where thousands are gathered, a network can easily become overloaded in a time of crisis such as a fire or other potentially catastrophic event.
It's the same reason why cellphone service can fail at a large NFL football stadium, even though the customer is sitting outside in an uncovered bleacher on a sunny day.
For as far as technology has come, especially with regards to mobile devices, connectivity remains an issue in high-traffic areas like Las Vegas.