Las Vegas a Tale of Two Cities as Market Research Shows Local Casinos Faring Better in Reopening
Posted on: June 25, 2020, 05:51h.
Last updated on: June 25, 2020, 02:59h.
A report from a New York-based research and analytics firm shows that casinos on the Las Vegas Strip are seeing a slight improvement in the number of gamblers returning. But the tourist mecca still faces a long recovery from the COVID-19 crisis.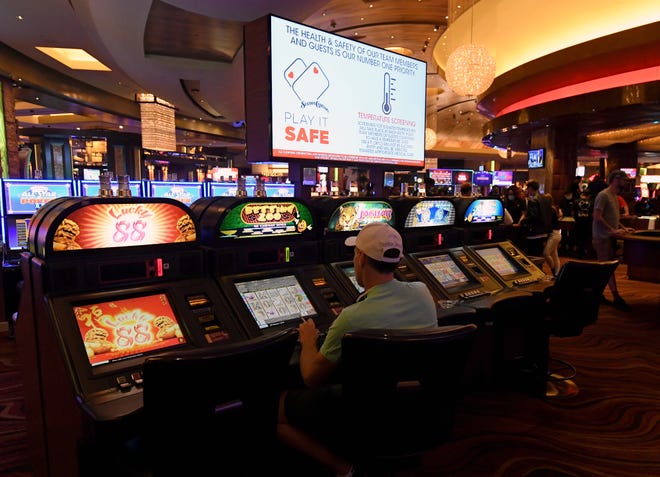 According to M Science, the player count at the Strip casinos for the week ending June 14 was down 64 percent from the same week last year. That's compared to being 70 percent off for the week ending June 7, the first weekend casinos were allowed to reopen in the state.
In some ways, Las Vegas is a tale of two cities when it comes to gaming. Vegas' in-town casinos, which are more geared toward locals, saw player counts off by just 25 percent the first weekend they reopened, according to M Science data. Some of the initial buzz, however, wore off as the second-week totals dropped by 37 percent from last year.
Matt Jacob, a senior analyst for M Science, said the data shows the Vegas' tourism market remains down as the country rebounds from the coronavirus pandemic. Bettors still need to feel comfortable flying and staying in a hotel.
Las Vegas is a market where people stay, on average, three-and-a-half nights, and people aren't flying in from all over the place. Half the people traditionally fly in," Jacob told Casino.org.
M Science tracks dozens of different metrics on major casinos in Nevada, Louisiana, and Mississippi, and provides that data to financial institutions and other companies. That information, which includes breakdowns of slot and table players, is available to clients on an almost real-time basis. The firm can also break down data by key markets within those states and by company or individual casinos.
Tunica Casinos Showing Best Recovery
Of the markets M Science tracks, the one that has shown the best recovery so far has been Tunica, Miss.
After seeing year-to-year player counts drop by 42 percent the first week that Tunica's casinos reopened, the numbers have gotten better. Since then, player counts have declined by no more than 30 percent in a week compared to last year's totals, and during the first week in June, traffic was down just 22 percent.
The numbers haven't been quite as good for Mississippi's casinos on the Gulf Coast. But they have improved in recent weeks. After seeing year-to-year traffic drop 50 percent over the last week of May, the counts have improved with each successive week. For the week ending June 14, traffic was down just 36 percent.
Similar to the local casinos in Las Vegas, the regional casinos are also more attractive than the resorts on the Strip, Jacob said.
"People are maybe as many as three hours away. They're driving in and to those cities and gambling, and then basically driving home," he told Casino.org.
While Mississippi's numbers look encouraging, the numbers aren't quite as clear for Louisiana's casinos in Shreveport/Bossier City. The M Science data shows the traffic has been down at least 50 percent in three of the first four weeks. The other week, traffic count was down by 48 percent.
Gambling Drive
As far as individual play goes, M Science is seeing table play down a little more than slots.
States that have allowed casino gaming to resume have placed restrictions on gaming tables. In many cases, blackjack tables have seen their capacity cut in half. Other table games, such as poker games, have not been authorized to resume in all states.
While traffic may be down across the board, Jacob told Casino.org the research shows those going to casinos are playing more.
"I think they're probably playing more because the people that are going to the casinos are going to gamble," he said. "There are not as many people just going on a Saturday night to just go. They're going because they want to gamble."