Katrina Recovery Still Continues Ten Years Later, and Casino Industry Does Its Part
Posted on: September 1, 2015, 12:13h.
Last updated on: September 1, 2015, 12:14h.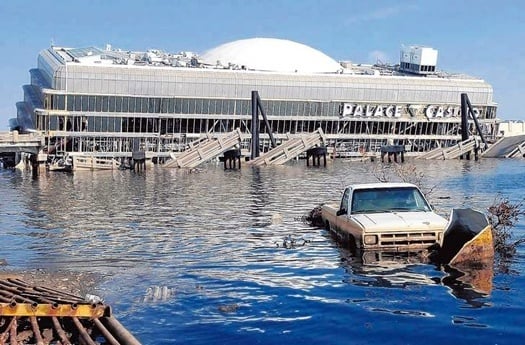 Hurricane Katrina battered the Gulf Coast ten years ago, and for obvious reasons, most of the discussion about the storm, its aftermath, and its impact on the region has been on the very real human stories that impacted those in New Orleans, Mississippi, and beyond.
But there is another equally real story to be told, one of the gaming industry that was impacted dramatically by Katrina, only to not only rebound itself, but also help those in need during and after the storm.
Gambling played a major economic role soon after Hurricane Katrina, and it did so much more quickly than might have been expected given the circumstances.
After the damage caused to many casinos in Biloxi, Gulfport, and elsewhere, local officials weren't even sure they would be able to convince major gaming operators to come back to the region, considering the high costs of rebuilding or repairing their operations.
Casinos Return to Find Success
But eventually, those operators and their casinos did come back.
"I don't think anyone ever thought about not rebuilding," Hollywood Casino Gulf Coast and Boomtown Biloxi CFO Wade Howk told the Las Vegas Review-Journal. "People took their time deciding what to do, but this was a place no one was going to give up on."
Aided by changes in Mississippi law that allowed casinos to be built slightly offshore to better protect themselves against future storms, the operators decided to rebuild. Now, 11 casinos are in operation in Biloxi, Gulfport, and Bay St. Louis, just two fewer than before the storm.
The casinos aren't exactly the same as they were before Katrina, however. Many are smaller, and the Gulf Coast casinos now employ only a little more than half as many people as they did a decade earlier. But there is no doubt that these companies have provided enormous economic benefits to the region that few other industries were in a position to do.
According to a 2014 study by Oxford Economics, the gaming industry contributes more than $4 billion to the economy in Mississippi. But what no one could have expected was that, in the years immediately following the hurricane, video poker revenues spiked in New Orleans and throughout Louisiana.
Stress May Have Driven Surge in Local Gambling
The drive back to gaming may seem surprising to some. But according to gambling addiction specialist Deborah Smith, it was almost predictable.
"Anytime there's a natural disaster, people are going to experience PTSD," Smith told ESPN.com. "They feel terrible, and they want to feel better. Gambling actually helps them feel better for the moment."
Of course, many of these people might have gambled more than they should have in the wake of such a disaster. Not surprisingly, both Louisiana and Mississippi saw spikes in calls to a national problem gambling hotline following the disaster, though that trend leveled off after a few years.
The relative success of the gaming industry isn't a fairy tale happy ending for the region, though. Katrina certainly left a mark that is still being felt today, with many lost lives or livelihoods, particularly in New Orleans, and even more particularly in the city's African-American community, which in many ways is still rebuilding even a decade later.
But the gaming industry remains of vital importance to the Gulf Coast. And today, the biggest threat isn't another hurricane, but rather the expansion of gaming in neighboring states.
"Everyone in Biloxi [acknowledges] an expansion in Alabama would be a major negative, as it would cut off the business from Mobile and the Florida Panhandle," wrote gaming analyst Alex Bumazhny of Fitch Ratings Service earlier this year.
For now, that's one hurricane that hasn't landed yet, much to everyone's relief. But it still could in the not-too-distant future, and the impact of nearby gambling might be just as hard to combat in the region as any Cat 5 storm.