Junior Middleweight Champ Molina Jailed Before MGM Garden Fight Night
Posted on: March 7, 2014, 07:03h.
Last updated on: October 11, 2022, 04:18h.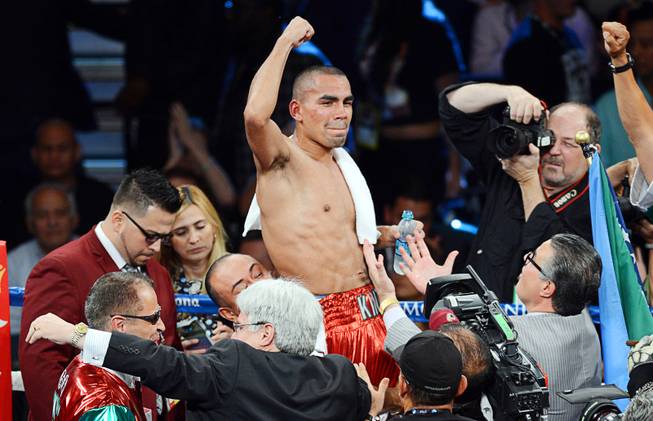 UPDATE March 8, 2014:  Carlos Molina was not released from Clark County Detention Center on Friday, and the Saturday MGM Grand Garden Arena fight was cancelled. It appears the primary reason was because technically Molina is considered an illegal alien and was wanted by immigration officials, despite having lived in the U.S. since age four.
"He's not getting out of jail to fight, and we don't know when he is getting out," said Warriors Boxing promoter Leon Margules in an ESPN interview. "It's because of his immigration status. He's an illegal alien."
—-
It's a development that has promoters and bookmakers chewing through their nails: Carlos "King" Molina's scheduled defense of his IBF junior middleweight world title fight at the MGM Grand Garden Saturday against undefeated opponent Jermall Charlo may not go ahead – because Molina was still in jail awaiting release as we went to press on Friday's weigh-in day.
Arrested on Outstanding Warrants
Molina was arrested shortly after his press conference at the MGM Grand earlier in the week on a fugitive warrant, stemming from a 2007 parole violation for failing to register as a sex offender. In 2002, he was convicted of second-degree assault on a minor in Outgamie, Wisconsin.
Meanwhile, it has also emerged that Appleton, Wisconsin police have a disorderly conduct warrant out for him, dating back to 2005.
On Thursday morning, Clark County prosecutor Bart Pace agreed to set Molina's bail at $10,000 with the agreement of Wisconsin authorities; however, as Molina's representatives scrambled to secure his release in time for the bout against challenger Jermall Charlo, he still needs to clear an immigration hold (he was born in Mexico, but has lived in the US since age four), and currently remains in Clark County Detention Center – Las Vegas' main holding lockdown for bad boys.
Molina's promoter, Leon Margules, said: "We made an agreement with Wisconsin for the fighter's release in the sex offender registration violation. The immigration issue is a little more complicated. I'm still trying to find out exactly why Carlos is being held. I'm hopeful we can get it resolved, get him released and get him in the ring Saturday. He told me he's holding up well, but he wants to get out and he wants to fight Saturday."
Monday Hearing Puts Fight in Doubt
While authorities initially said they expected the boxer to be released in time for the fight, the fact that records show that his next hearing has been set for this coming Monday throws that into doubt.
At a press conference on Thursday, Richard Schaefer, CEO of Golden Boy Promotions, remained upbeat: "I'm waiting to hear from Molina's people," he said. "They're handling all of Molina's issues. We don't have to make a decision on the fight until the weigh-in (Friday). But I know Carlos wants to fight. He's very anxious to get in the ring and he's really fired up."
However, Schaefer revealed that, should they fail to spring the miscreant champion from his jail cell, he has a back-up plan: "Just in case, this is just for the pay-per-view audience to know … if that fight does not happen, then we would, of course, have the luxury of moving up Ricardo Alvarez against Thompson to the pay-per-view card."
While viewers may be covered regardless, it's a total headache for the bookmakers, obviously: collectively, millions of dollars in wagers pass through their hands on big Vegas fight nights and – should this bout fail to materialize – those bets would have to be returned.
Meanwhile, Molina's opponent is trying to keep a clear head: "When I first heard it, I didn't believe it," said Charlo. "I thought my trainer [Ronnie Shields] was kidding. But I'm going to keep doing everything the same way as if we're going to fight. I'm going to stay focused. I'm going to stay in shape. I'm not going to be distracted."
No matter what happens, Charlo's been told he will be paid; Molina's purse was slated at $275,000 and Charlo's at $100,000.