Japan Mulls Allowing Citizens to Play, Following Suit on Many Asian Countries
Posted on: March 3, 2017, 10:05h.
Last updated on: March 3, 2017, 10:05h.
Building a casino in Japan has been a goal for major gaming operators for decades, but that dream may not play out exactly how they wished. While the Asian country did decide to legalize gambling in December, speculation remains around whether the government might limit how much, or if, citizens will be able gamble, or if entry will be limited solely to tourists.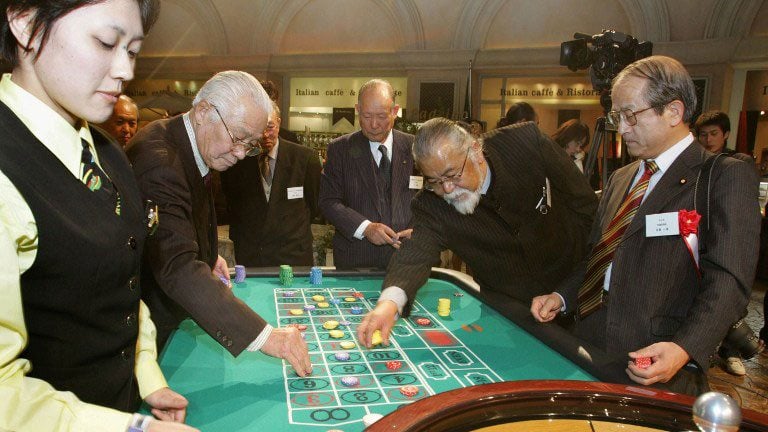 Ready to Pounce
The opposition party to Prime Minister Shinzo Abe  cites problem gambling as a serious issue in the country and building convenient places would only compound the problem.
People currently bet an estimated $30 billion on horse, boat, and bicycle racing. And popular game pachinko, though technically illegal, is mostly left unchecked by law enforcement.
Japan's leader has pushed this issue since he was elected the first time in 2006 and lobbied the legislative branch to pass his measure. They did, but with the stipulation that a year-long period to decide how they would regulate it so it wouldn't become a burden on residents.
Abe also said the extra revenue generated will help pay for necessary budget items. It was estimated by one company that figure could be $25 billion annually, though other analysts have pegged the amount at more like $10 billion, about $15 billion less than what Macau now pulls in.
Companies like Las Vegas Sands, MGM Resorts and Wynn Resorts have been anticipating entering the country's market and are still excited at the prospects.
"Japan is a natural next entry point for us," Ian Michael Coughlan, president of the Macau arm of U.S. operator Wynn Resorts, told the Nikkei Asian Review.
Looking to Asian Neighbors for Paradigm
Shaping regulation after places like Singapore and Vietnam might help control potential addiction issues.
Singapore legalized gambling in 2010, but saw the government impose an entry fee on citizens and permanent residents. The establishments also have lists of persons who are barred because of financial difficulties.
But Yin Shao Yang, a gaming analyst with investment firm Maybank Kim Eng, said the admission price is only a partial solution.
"The levy does help discourage residents from going to casinos," Yang said. "But ($70) is not much for hardcore gamblers, but it is for non-gamblers."
Vietnamese Prime Minister Nguyen Xuan Phuc instituted a law that would allow his countrymen into casinos if they could prove they earned at least $440 per month. Where the county's average annual salary is $2,200, that would disqualify most.