Internet Sensation Auburn Fan Mark Skiba Just Misses with 500-1 Shot
Posted on: January 8, 2014, 05:30h.
Last updated on: January 7, 2014, 08:56h.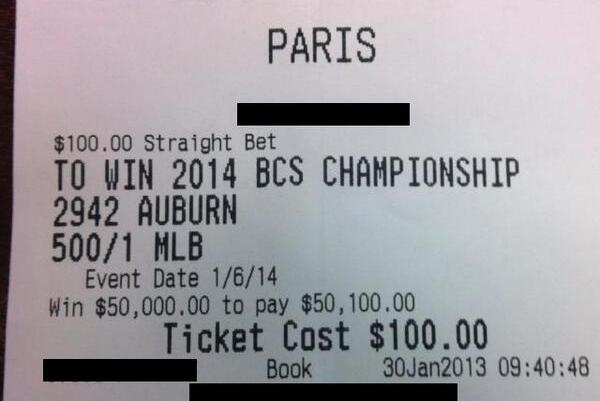 The Auburn Tigers almost pulled off one of the most unlikely national championships in the history of college football this week. But for one man with a massive payday on the line, "almost" simply wasn't close enough.
Mark Skiba is now something of an Internet phenom, after he posted a picture of the $100, 500-1 betting slip he had that would pay out, should Auburn win the BCS Championship. The bet was placed by his father during a vacation to Las Vegas last January, when few gave Auburn any chance at being an elite team in the Southeastern Conference (SEC), let alone one of the top squads in the country.
Auburn Devotee Through and Through
But Skiba – an Auburn alumnus and a huge fan of the team – held on to the ticket even after the Tigers lost an early season clash with LSU – a loss that should have ended whatever faint hopes they had of finding themselves in the title game.
Then, miracles started to happen. Auburn starting winning game after game, eventually finding themselves ranked within the top 25 teams in college football. A miraculous catch after a tipped ball in the final minute led Auburn past Georgia 43-38. A week later, Auburn beat undefeated Alabama – the national title favorite at that point – by returning a long Alabama field goal attempt in the final second of regulation over 100 yards for a touchdown.
Auburn then won the SEC Championship game over Missouri, but they still needed some help to reach the BCS Championship, thanks to that early season lost. Again, miracles fell out of the sky: for the first time since coach Urban Meyer came to the school at the start of last season, Ohio State lost a game, vaulting Auburn into the #2 ranking, and into the national championship.
Skiba now held a 500-1 ticket that suddenly looked a lot more valuable. And while Auburn came into the final game as a heavy underdog to the undefeated Florida State Seminoles, an upset win would pay him the $50,000.
Hedge Funds Denied
Just about everyone advised Skiba to hedge his bets by putting down a large wager on FSU to win the game. While that would have required a heavy cash outlay – the Seminoles were around a 3-1 favorite, meaning Skiba could have hypothetically put up $30,000 to win $10,000 – it would have been possible to lock in a profit of between $10,000 and $20,000 if he wanted to.
Skiba originally planned to do just that, but was then dissuaded by the odds moving even further in Florida State's favor. Instead, after traveling to Las Vegas to watch the game, he decided to let his bet ride.
Early on, Skiba looked like a genius. Auburn led 21-3 early, and had a 21-20 advantage at the half. Even after Florida State took a 27-24 lead late in the 4th quarter, a Tre Mason touchdown run gave Auburn a 31-27 lead, with just 1:19 remaining in the game.
But Florida State would not be denied. They drove down the field, and with 13 seconds left in the game, Jameis Winston threw a two-yard touchdown pass to Kelvin Benjamin to take a 34-31 lead. Auburn tried to pull off one last miracle to end their season, but came up short, making the Seminoles the national champions.
Skiba wasn't the only bettor to lose big on the game, however. Reportedly, there were more than a dozen $100 bets at various Las Vegas sports books for Auburn to win the championship at 1,000-1, along with countless smaller bets. There's no word on how many of those bettors hedged – but Skiba says he wouldn't change his experience one bit.
"I regret nothing," he said after the Auburn loss. "At the end of the day, I was playing with house money for the last two months. This was not supposed to happen in so many ways. It's the whole experience and the story. That's what I will remember."
Sure, sure – that's what they all say.