In Zimbabwe, Gambling is No Game for Unemployed Masses
Posted on: February 6, 2014, 05:30h.
Last updated on: November 30, 2021, 10:50h.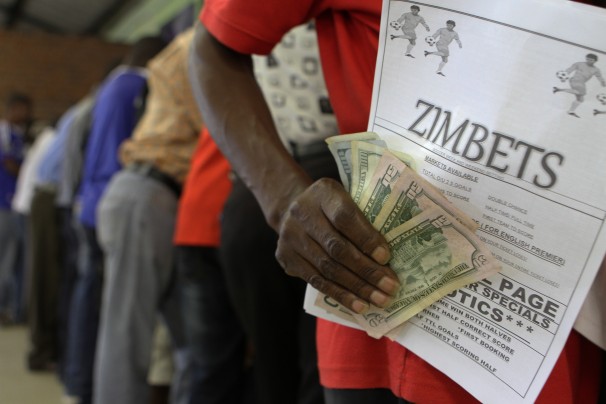 Head to Las Vegas and Macau, and you'll find an endless number of gamblers enjoying themselves as they put $10, $100 or more on the table for a single bet. And that doesn't even count the high rollers and professional gamblers who may spend anywhere from thousands to millions of dollars in a single session. But in one impoverished country, gamblers are betting a lot less than that in order to try to scratch out a living any way they can.
No Business But Gambling Business
Gambling has become a big business in the nation of Zimbabwe, a place where there isn't much legitimate business of any kind at the moment. Once the home of a growing industrial base, the country is now mired in a true economic crisis, one that seems to worsen every year under the rule of long-time President Robert Mugabe, who once again won re-election last year. At the moment, the estimated unemployment rate in Zimbabwe stands at over 80 percent, and the situation shows no signs of improving.
Of course, there's always work to be done no matter where you live, so while few Zimbabweans have formal employment, many find ways to earn money where they can. Those looking to earn a living often move to Harare, Zimbabwe's capital city. Some become street vendors, selling food, or airtime for prepaid mobile phones.
And for some, the best way to make money seems to be professional gambling – in particular, sports betting.
In Harare's betting shops, gamblers bet as little as the equivalent of 20 cents on soccer matches, horse races and other competitions from around the world. The hope is to make a little money that can help pay for food and other necessary expenses for the gamblers and their families.
Making Gambling a Full-Time Career
Take 28-year-old Tinashe Marira, who says that his occasional winnings give him a better chance to feed his family than anything else he could be doing for work. While he doesn't always win – what gambler does – Marira says that gambling is his full-time job, and that he won't be looking for regular work elsewhere in the near future.
"This pays better than any job I could ever find," Marira claims.
But while gambling may be seen as a way to make a living in Zimbabwe, it's not one that brings a lot of enjoyment to players there. When a goal in a European soccer match is the difference between eating or not that night, there's not much fun to be had while waiting for results to come in.
"Gambling here is done with seriousness coupled with a sad desperation," said Harry Ndlovu, manager of a betting shop known as Zimbets. Along with betting on sporting events, Zimbets also hosts slot machines and video roulette games.
"These people don't bet for fun," Ndlovu said. "For them it's a desperate search for money to pay for household expenses."
That's not to say that big bets don't happen, too. There are tales of gamblers wagering as much as $40,000 and winning $33,000 on an FC Napoli win, while others speak of a bettor who lost $30,000 backing Bayern Munich against Manchester City.
Younger bettors focus mainly on soccer, as the popularity of the sport means that they're familiar enough with the teams and players to make seemingly smart bets. Some more knowledgeable gamblers will even dip into less popular leagues and competitions in order to find good values. Meanwhile, older gamblers prefer horse racing, which has long been popular in Zimbabwe and throughout southern Africa.
According to Ndlovu, his shop takes in as much as $50,000 a month in bets, with about 40 percent going back to players in winnings.