Harrah's New Orleans Blames Cigarette Ban for Declining Revenues, Pennsylvania Casinos Set Record
Posted on: April 19, 2016, 07:29h.
Last updated on: April 19, 2016, 07:45h.
Harrah's New Orleans says the cigarette ban imposed by the city a year ago this week has negatively impacted its gambling revenues and needs to be held accountable for the casino's downward spiral.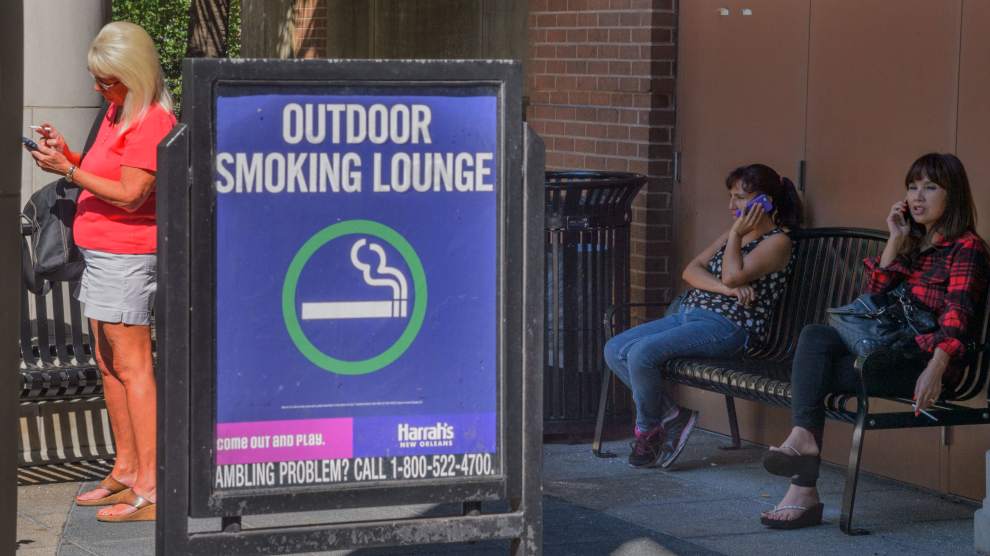 Statistics provided by the Louisiana Gaming Control Board seem to back up those claims. Gross gambling revenue at Harrah's New Orleans totaled $23.9 million in March, down nearly 21 percent from the $30.2 million the casino generated in the same month during 2015.
Since 2007, all Louisiana workplaces and restaurants have been smoke-free, but the law didn't apply to casinos and bars. Following a unanimous New Orleans City Council vote and Mayor Mitch Landrieu's (D) signature, a city ordinance went into effect on April 22, 2015, that banned cigarette smoking and vaping on the casino floor.
"Slot revenue, Harrah's largest source of revenue, has been impacted the most with slot revenue down 17 percent in the period following the ordinance's effect compared to prior year," Harrah's spokeswoman Jade Brown-Russell stated. "In the 12 months impacted by the smoking ban, Harrah's has experienced gaming revenue declines in 10 of the 12 months."
Clash of the Ash
Supporters of the clean air ordinance say Harrah's is simply looking for a scapegoat to place blame.
"That's been a trend over the last couple of years," Louisiana Campaign for Tobacco-Free Living Associate Director Tonia Moore said of the financials. "I know a lot of people want to connect that with the smoke-free ordinance, but unfortunately we still cannot connect that to being the sole purpose for their revenues declining."
Under the law, gamblers must leave a slot machine or table game to smoke a cigarette in a designated area.
Moore's position is also with merit, as Boomtown New Orleans, located south of the city in Jefferson Parish and outside of the smoking ban, also saw its revenues go south. Year-over-year, Boomtown reported an earnings decline of 2.3 percent.
Pennsylvania Sets Record
Smoking in Pennsylvania's 12 land-based casinos is still permitted, though in certain smoker-friendly gaming areas. Instead of an outright ban, Keystone State lawmakers and local government officials opted to allocate up to 50 percent of the casino floor to smokers, though all dining areas are 100 percent smoke-free due to the Pennsylvania Clean Indoor Air Act.
The compromise seems to be working.
In March, Pennsylvania gaming facilities reported a record month for table revenues as the casinos raked in $77.9 million. That figure is the most ever in the state's six-year history permitting blackjack, roulette, poker, and other tables.
Sheldon Adelson's Sands Bethlehem once again led the way by posting $19.6 million in table receipts.
Slots also claimed higher revenues in March, with the casinos posting a combined $211.2 million from the machines. In total, the Pennsylvania Gaming Control Board said gaming rose 4.2 percent during the 31-day month.
Considering casinos pay an effective tax rate of 55 percent on slots and 14 percent on table games, one of the highest tariffs of any state with legalized gambling, Harrisburg politicians are surely welcoming the increased income as they continue to try and find new ways to fund swelling expenditures.
Most Read