Four Top 10 College Football Teams Lose Straight Up, Huge Payday for Bettors
Posted on: October 16, 2017, 01:00h.
Last updated on: October 16, 2017, 12:38h.
Bettors who put money down on four college football underdogs came away with a very profitable weekend as four of them in the Top 10 lost outright.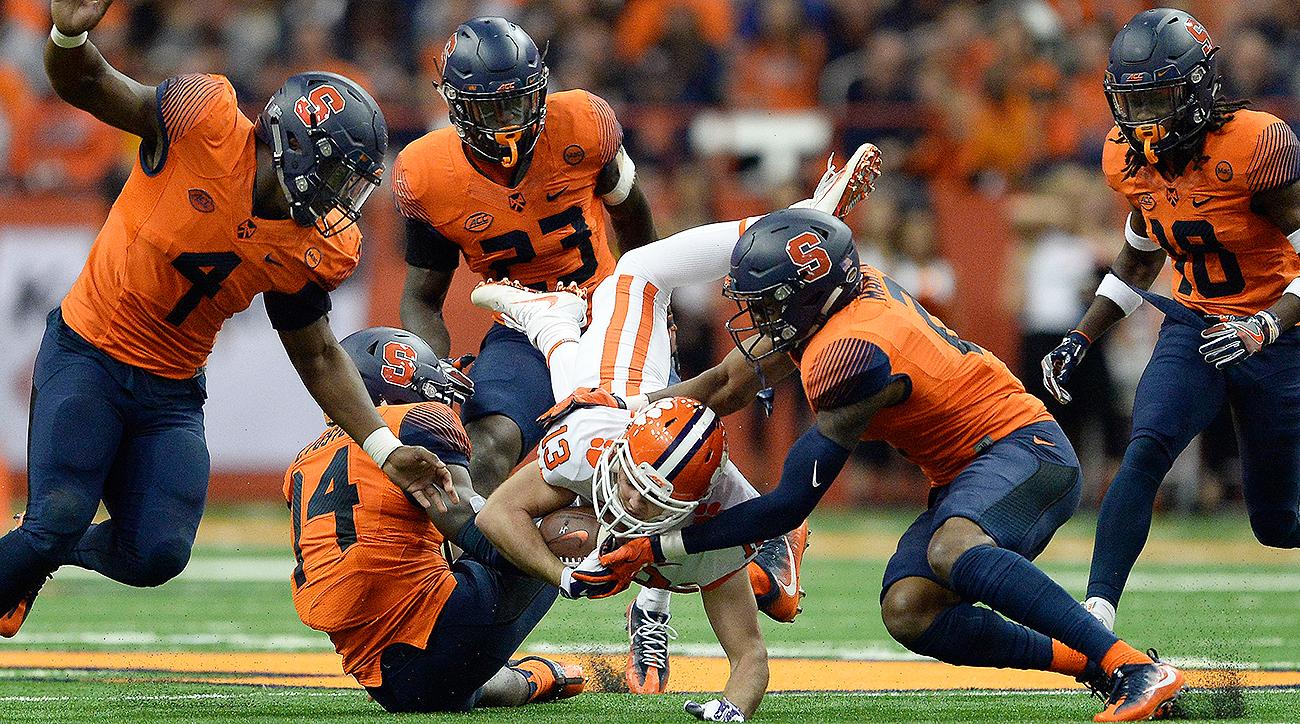 As a result all but one fell out of the first 10 spots and are now in need of a lot of help if they are going to be one of the four teams to compete for the College Football Playoff National Championship.
Clemson, Washington, Washington State and Auburn were all defeated by an unranked opponent. Clemson lost to Syracuse and as a result dropped from No. 2 to No. 7. Washington (No. 5) lost to Arizona State, Washington State (No. 8) was defeated by Cal and Auburn (No. 10) was upset by LSU.
Clemson was mentioned as a possible competitor for No. 1 Alabama and had even garnered 18 of the 61 first-place votes in last week's Associated Press Top 25 poll, but after the biggest upset so far in seven weeks of the season, the Crimson Tide were firmly atop the poll with voters giving them confirmation that they believe they are the best team in the country. Clemson fell to No. 7.
Big Payday
The Tigers were favored against Syracuse by 24 points and the money line for the Orange was plus-1000. When they lost, 27-24 on the road Friday night that began a chain of unthinkable losses.
The next victim was Washington State. Coach Mike Leach had led his team to an upset over USC to get in the Top 10 two weeks prior, but after getting pounded on the road later that night by Cal, 37-3, they would soon find themselves dropping seven spots to No. 15.
The Golden Bears were a 16 1/2 –point underdog and a plus-550 straight up.
Their rival Washington was shocked in Tempe, Arizona a day later when Arizona State won a defensive battle, 13-7. The Cougars were a 17 ½-point pick and the Sun Devils were a plus-700 on the money line. Washington is now No. 12.
Auburn went to LSU and hadn't won there since 1999. They kept that streak alive when the Tigers, who were plus-215, upended them, 27-24. The loss dropped them 11 spots to No. 21.
Other Profitable Upsets
Top programs weren't the only ones that were getting surprised on the weekend. Several other squads that were favored saw heavy underdogs shock them and pay off well at the sportsbook.
The biggest was Boston College defeating Louisville. The Cardinals were ranked as high as 12th but fell out of the Top 25 after losses to Clemson and North Carolina State. Still they were expected to easily beat the Eagles, who were getting 19 points, but the lost 45-42 and returned a plus-650 to BC fans.
Other notable victories were South Alabama –plus750 at Troy, Tulsa plus-450 vs. Houston and Florida International plus-400 vs. Tulane.