Farber and Riess Heads Up at WSOP 2013 Final Table
Posted on: November 5, 2013, 12:10h.
Last updated on: December 4, 2013, 05:28h.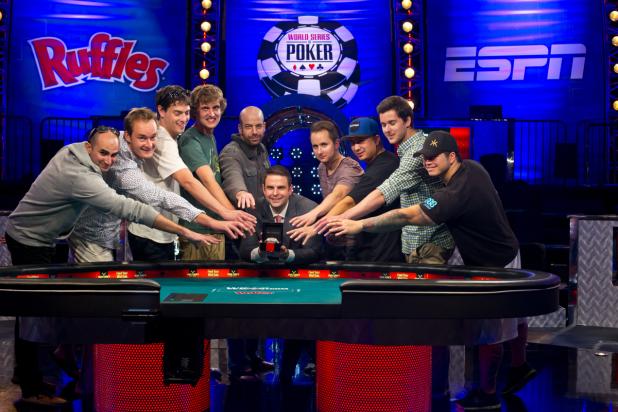 Update:  Ryan Riess wins the WSOP 2013 Main Event
While all eyes were on the 'big names' of Amir Lehavot and JC Tran at 2013's WSOP Main Event final table, it would be the lesser names of Jay Farber – who was working as a VIP host in Vegas until recently – and Ryan Reiss, the youngest player left in the competition, who would end up hogging the headlines.
After Lehavot's elimination in third place, play stopped for a night's break and the heads-up duel between the two Americans. A quick stat to consider: combined, Reiss and Farber had earned around $330,000 in tournament earnings prior to the final table here.
Tonight, both players will recommence the battle for the gold bracelet and a first prize of $8.4 million: that will make anything the pair have made in the past mere pocket change.
Shuffle Up And Deal
Seat 1
Sylvain Loosli (France)
Starting Stack: 19,600,000
Seat 2
Michiel Brummelhuis (Holland)
Starting Stack: 11,275,000
Seat 3
Mark Newhouse (USA)
Starting Stack: 7,350,000
Seat 4
Ryan Riess (USA)
Starting Stack: 25,875,000
Seat 5
Amir Lehavot (Israel)
Starting Stack: 29,700,000
Seat 6
Marc-Etienne McLaughlin (Canada)
Starting Stack: 26,525,000
Seat  7
JC Tran (USA)
Starting Stack: 38,000,000
Seat 8
David Benefield (USA)
Starting Stack: 6,375,000
Seat 9
Jay Farber (USA)
Starting Stack: 25,975,000
2012 Main Event champion Greg Merson was guest of honor as the final kicked off, and with the customary cry of 'Shuffle Up and Deal', play was underway, with blinds starting at 200,000/400,000/50,000.
As expected, the short stack David Benefield, sitting on a stack of roughly 16bb, wasted no time in getting jiggy, moving all-in twice within the first 12 hands. The second time he did, moving all-in for 4.375 million, Sylvain Loosli made the call with K-J, happily seeing Benefield flip over Ks-9s. Incredibly Benefield made his flush with a spiked 2s on the river to double through.
However, it was the other shortie, Mark Newhouse, who would be first to perish, busting in ninth place for $733,224.
Newhouse Makes a Beeline For The Rail
With the pro, who knows a thing or two about fight-backs in his life, moving all-in for 5.05 million from the hijack, Ryan Riess was the only player to make the call.
We were in race territory as Newhouse's 9c-9s found itself up against the As-Kh of Ryan Reiss. Newhouse was in need of some divine intervention when the flop fell 7s Kd 10c, pairing Reiss's king, but with a harmless 7c turn and 6d river, Newhouse was out. Meanwhile, Riess moved to 38 million chips and set himself up for a push to the title.
Benefield's Luck Runs Out
B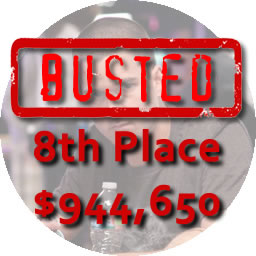 enefield was out only two hands later, when JC Tran made a bet from the button of 1.1 million. Benefield wasted no time in shoving for his last 8.5 million. Jay Farber called after a long dwell, and Tran got out of the way.
Farber needn't have worried about his dwell-up, finding his Ac Kd good against the Ks 2s of Benefield going to the flop.
A flop of 5d 10s Qc was no help to "Raptor" but the Js turn gave him at least some outs, with an ace chopping the pot or a spade winning him the hand outright. However, it wasn't to be for Benefield as the 2d fell on the river to send him crashing out.
Brummelhuis Doubles Up, Then Crashes Out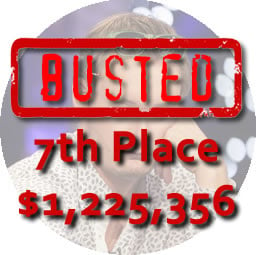 After a double-through at the expense of Ryan Riess, Dutchman Michiel Brummelhuis suffered the curse of the double-up by busting out shortly afterwards.
Opening to 1.5 million from the small blind, Ryan Riess bumped it up to 3.2 million and Brummelhuis moved all-in for 15.55 million.
Brummelhuis's fears at the speed of the snap-call were realized when Riess flipped over As Ah, and Brummelhuis – again holding pocket nines (9d 9c)– was in need of some luck as the board ran out. There would be no first Dutch WSOP champ this year as the board came out a harmless Ks 7c 4d 2d 7h to send Brummelhuis crashing. Seventh place, and $1,255,356 in prize money, easily marked the Dutch player's biggest ever tournament cash.
Farber Makes Moves, McLaughlin Crumbles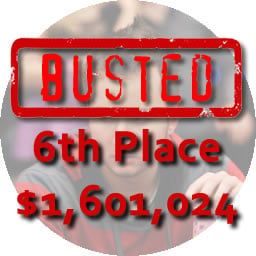 Play settled down somewhat after Brummelhuis's elimination, with Jay Farber making his mammoth starting stack tell to take a stack of 67,000,000 into six-handed play.
However, the biggest hand of the final table came with the elimination of Canadian pro, Marc-Etienne McLaughlin, who imploded when sitting in third place in chips.
Raising to 1.6 million from the hijack, the Quebec man, watched from the rail by 2010 champion, and compatriot, Jonathan Duhamel, Jay Farber re-raised from the button to 3.8 million. McLaughlin was having none of the aggression, however, and immediately came back with a raise to 8.7 million. After a further raise from Farber to 19.4 million, McLaughlin shoved for 38.6 million.
Farber quickly made the call, and it was perhaps inevitable that two monster hands would be in play. It proved so, with Farber's As Ah against McLaughlin's Ks Kc.
After the board came 8s 7s 2h Jd Jc McLauglin missed the double-up that could have seen him become a contender to bust in sixth place. He'll know that he went out (for a $1,601,024 payday) to the best hand, at least.
All Hell Breaks Loose, Tran Busts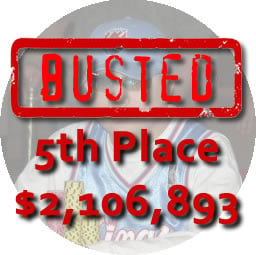 With the blinds at 400,000/800,000/100,000, JC Tran – many people's tip for the title before play started – busted in fifth place for $2,106,893, just a few hands after McLaughlin's demise.
Sitting on the button, Tran moved all in for 9.925 million and Jay Farber made the call from the small blind.
Farber's luck on boards went with him yet again as his Ks Qh hit the Kd Jh 9h flop straight in the face, and Tran was going to need some help from the dealer with his Ah 7s.
However, the 5d turn and 6h river weren't exactly what JC had in mind, and the bookies' favorite was out in fifth place for $2,106,893. He will certainly rue losing such a commanding chip lead at the start of play.
Loosli Gets Loose, And Loses The Lot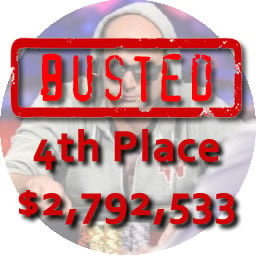 With only a few big blinds to their name, Frenchman Sylvain Loosli and Israeli-born Amir Lehavot were going to have to make some moves, and it was Lehavot who made the first push, doubling through Reiss when holding jacks against Reiss's A-9.
Loosli wasted no time in following suit, but when he moved all-in with Qh-7c with 9.825 million chips, he found a willing caller in Ryan Reiss with Ac-10h. The board came down 9h-Ks-8h-9c-Ad to seal the Frenchman's fate. He departed in a very respectable fourth place for $2,792,533.
Farber Lets Lehavot Have It
With Ryan Riess moving to 64 million chips, and Jay Farber breaking the 100 million mark, Amir Lehavot had no choice to shove his 5bb stack over the line.
He did so when holding 7s-7d, only to run into Ryan Riess's 10c-10d. The board came a very unhelpful (if your name was Amir Lehavot) Qc 8c 4h 2d Jd to put the Israeli out of his misery in third place.
Heads-Up Battle
Lehavot took almost $4 million for his third place finish, leaving the final two Americans in healthy shape ahead of tonight's heads-up fight. With the blinds at 500,000/1,000,000, an ante of 150,000, and Farber sitting on around 100bb vs. Riess's 85bb, it should prove to be an interesting battle. Suddenly those pre-final odds of 8/1 for Jay Farber are looking very good indeed.
Heads-Up Chip Counts
Jay Farber: 105,000,000
Ryan Riess: 85,675,000
2013 WSOP Main Event Prize Breakdown
1st $8,359,531 ???
2nd: $5,173,170 ???
3rd: $3,727,023 Amir Lehavot
4th: $2,791,983 Sylvain Loosli
5th: $2,106,526 JC Tran
6th: $1,600,792 Marc McLaughlin
7th: $1,225,224 Michiel Brummelhuis
8th: $944,593 David Benefield
9th: $733,224 Mark Newhouse