Encore Boston Harbor Not Nickel and Diming Customers, Casino Says in Voucher Lawsuit
Posted on: October 31, 2023, 07:53h.
Last updated on: October 31, 2023, 10:48h.
Encore Boston Harbor attorneys are asking the US Court of Appeals for the First Circuit to uphold a lower court's ruling that went the casino's way.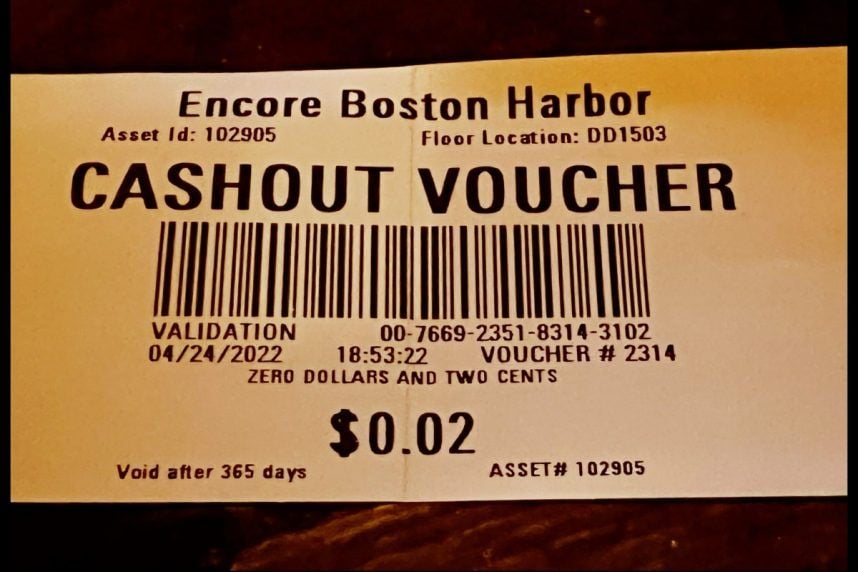 Massachusetts resident Richard Schuster brought a class-action lawsuit against Encore Boston Harbor and its parent company, Wynn Resorts, in August 2019. Schuster claims he was among the integrated resort's first guests when the $2.6 billion property opened two months earlier in June.
Encore Boston Harbor, Schuster alleged in his lawsuit, incurred technical issues with its ticket redemption units, commonly called "TRUs" in the gaming industry. The self-service cashier kiosks failed to dispense coins for change because of coin jams and "coin-mechanism malfunctions."
The TRU machines were switched to coinless several days after the casino's opening, Wynn officials said. The kiosks have since dispensed cash in the amount of the nearest whole dollar value of the voucher inserted. The remaining change of less than a dollar is printed on a new TRU ticket that can be redeemed at a staffed cashier window.
Schuster alleged he was shortchanged on the 12 visits he made to Encore Boston.
Casino patrons have filed several short-changing lawsuits in recent years. MGM Resorts, Hard Rock International, and Caesars Entertainment have all been hit with similar lawsuits, though none of the casino operators have been found guilty.
District Court Sides With Wynn
In February, US District Judge Allison Burroughs ruled against Schuster and his claims against Encore Boston Harbor for "breach of contract, promissory estoppel, conversion," and violating Massachusetts' consumer protection laws.
Burroughs ruled that Wynn's use of coinless TRUs did not violate state law or gaming regulations imposed by the Massachusetts Gaming Commission. She also rejected Schuster's claims that coinless cashier kiosks are "immoral, unethical, and unscrupulous" because very few tickets are redeemed, allowing Encore to retain the change, which adds up to millions of dollars a year.
Plaintiff admits that even after he learned that he could redeem the tickets at the cashier window, he nonetheless continued to either throw the tickets in the trash or to use them to continue to play on the slot machines and that he never once attempted to redeem them at a cashier window," Burroughs said.
"In other words, even at the point when Plaintiff admits he had the information he now argues should have been included on the tickets, the allegedly omitted information did not change his behavior, and therefore, his argument that but for the omission, he would have acted differently fails," Burroughs concluded.
Wynn Seeks Case Dismissal
Schuster appealed Burroughs' ruling to the First Circuit Court of Appeals, where the federal appellate court is expected to soon rule whether it will hear the case. In its 84-page brief filed last week, Wynn attorneys asked for the case to be dismissed.
Schuster was not subjected to any unfair or deceptive conduct on any of his twelve visits to Encore. Instead, he chose to play slot machines, received clear … instructions on how to redeem his TRU Tickets, did not receive any misleading information, and ultimately chose, over and over again, to do something with his TRU Tickets other than what he was instructed to do," the Wynn brief argued.
"Like Schuster's choices, Encore's decision to implement the challenged TRU practice was a permissible one, expressly permitted by the controlling legal standard. Encore's conduct was, as a matter of law, not unfair, deceptive, or otherwise actionable. Accordingly, for the reasons discussed above, the entry of summary judgment in Encore's favor on all of Schuster's claims should be affirmed," the brief concluded.