DraftKings Rolls Out Channel on Samsung TV Plus
Posted on: May 10, 2023, 12:18h.
Last updated on: May 11, 2023, 01:04h.
DraftKings said Wednesday its DraftKings Network offering is heading to Samsung TV Plus, the technology company's free, ad-supported TV (FAST) platform.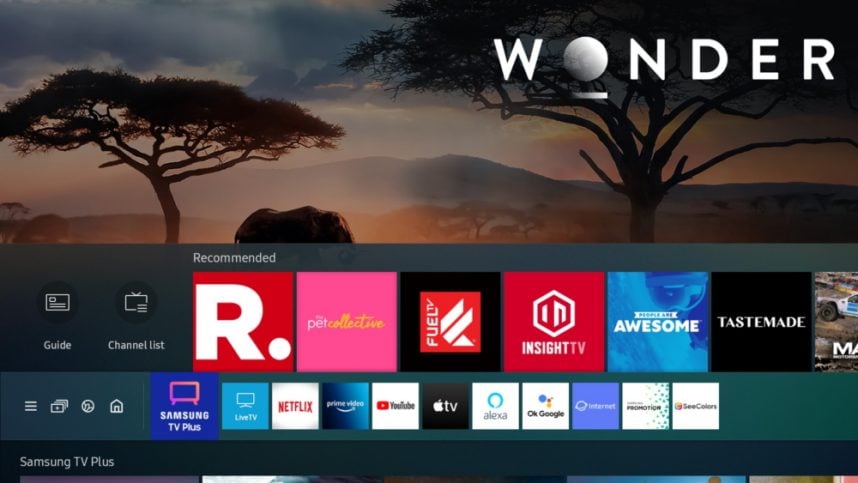 That makes DraftKings the first sports wagering company to launch a 24/7 channel on Samsung TV Plus and marks the latest expansion in the sportsbook operator's burgeoning media business. Samsung's FAST offering features over 250 channels and is available on Samsung Smart TVs Galaxy devices, Family Hub appliances, and over the internet. Samsung televisions produced between 2016 and 2023 feature FAST programming.
The diverse range of programming will also be found in audio and video formats on high-reach platforms such as iHeart Radio, Spotify, Apple Podcasts, YouTube, and Twitch, among others," according to a statement. "The DraftKings Network will feature a scrolling ticker at the bottom of the screen displaying up-to-the-minute scores, odds, and a QR code that will direct customers to tailored DraftKings Network offers."
In 2021, DraftKings launched a channel on the SLING TV streaming service after notching a similar accord with DISH Network.
Samsung Deal Could Speed DraftKings Media Ambitions
News of the Samsung accord emerged about two weeks after reports surfaced indicating DraftKings is readying a sports streaming entertainment platform, the aforementioned DraftKings Network.
That platform is supported by a growing portfolio of original content, which the gaming company cobbled together in part through acquisitions. In 2021, DraftKings purchased Vegas Sports Information Network (VSiN) and Meadowlark Media. Shows produced by those entities will be among the original daily scheduled programming viewers will see on Samsung TV Plus. Meadowlark Media is the owner of Dan Le Batard's network of shows.
"At launch, the DraftKings Network programming lineup will feature original shows anchored by The Dan Le Batard Show with Stugotz; national baseball voice, Jared Carrabis; Golic and Smetty with Mike Golic Sr. and Jessica Smetana; GoJo featuring Mike Golic Jr.; Ross Tucker's Football podcast; and select VSiN programming like Follow the Money with Mitch Moss and Pauly Howard," according to the statement.
There will be seven regularly scheduled daily shows and nine weekly programs.
Interesting Timing for DraftKings/Samsung Announcement
The DraftKings/Samsung announcement arrived a day after media reports stoked speculation that the  Pat McAfee Show, hosted by the former NFL punter, could be on its way to ESPN, meaning its relationship with FanDuel would end.
That has no bearing on DraftKings' deal with Samsung. But it's notable because it underscores the value traditional media outlets see in leveraging sports wagering content. It's also coincidental because FanDuel is DraftKings' primary rival and because the latter has a previously established deal with ESPN.
With Samsung, DraftKings could gain more exposure. Last year, the Korean company accounted for 19.6% of global television sales, well ahead of the 11.7% market share earned by the next two companies. That's just TVs and doesn't account for mobile devices and Samsung smart appliances, which offer TV-viewing capabilities.