DFS Roundup: SEC Network Bans Ads, SportsCenter Anchor Compares with Gambling
Posted on: September 27, 2015, 01:01h.
Last updated on: September 26, 2015, 01:06h.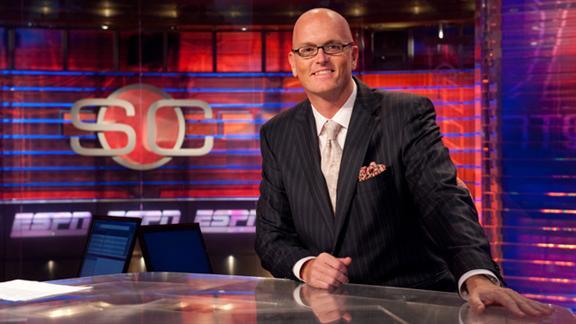 Sports fans can expect to continue to see a never ending stream of ads from DraftKings and FanDuel on their television sets, as the leaders in daily fantasy sports (DFS) continue to pour money into their marketing efforts.
But starting this week, there will be at least one less network on which the ubiquitous and sometimes overwhelming commercials won't be appearing.
SEC Commissioner Says Ads Won't Be Allowed
According to Southeastern Conference (SEC) Commissioner Greg Sankey, ads for the sites will no long appear on the SEC Network, an ESPN-affiliated television network that shows games and other content related to the league.
According to Sankey, the SEC has been working with ESPN since earlier in the summer to phase out the ads over time.
"Is it a form of gambling, is it a form of skill game, I think there is some question about that," Sankey said. "And I think the appropriate place for us to land as a conference on the SEC Network, again working with ESPN, is not to include that advertising on the network moving forward."
Sankey noted that even if DFS games were fairly distinct from traditional sports betting, they might still not be okay under NCAA rules.
"Give there's an NCAA bylaw related to sports wagering that picks up a lot including fantasy sports, we felt not including that was an appropriate position for the league," he said.
The SEC isn't the only conference to shy away from DFS ads. The Pac-12 has also determined that it will not allow such commercials to air on their networks, either.
"The federal government has determined, for the moment, that it's not gambling," said Pac-12 Commissioner Larry Scott. "But the NCAA has taken a position that we can set the rules and we don't support it. So that's where we've drawn the line."
Scott Van Pelt Talks DFS and Gambling on SportsCenter
Even some personalities on major media outlets that are strongly tied to the DFS industry have begun to speak out on some of the peculiarities of daily fantasy games as they currently stand.
On Thursday's late-night airing of SportsCenter on ESPN, Scott Van Pelt used his "One Big Thing" segment to talk about DFS and gambling, and how there is only a sliver of difference between the two.
"Let me ask you: if you deposit money someplace, and you can have more money in that account based on the outcome of points scored in a sporting event, where did you deposit your money?" Van Pelt asked. "A) a daily fantasy site, B) an offshore sportsbook, or C) all of the above? The answer is C."
Van Pelt also made it clear that he is "pro-daily fantasy," but that he thinks that the "charade" of pretending DFS wasn't gambling is silly. He pointed to the recently unsealed deposition of Roger Goodell, where the NFL Commissioner noted that fantasy sports contests were "not based on the outcome of a game [but instead] on the performance of the individuals they select."
"That is true," Van Pelt said. "But are you not betting on the outcome of the players you select each day? How could anyone say otherwise?"
The candor with which Van Pelt talked about the issue surprised some observers because of the close relationship between ESPN and DraftKings.
The two companies have an exclusive deal that begins in January, though until then, advertisements from both DraftKings and FanDuel will continue to be seen regularly on the network.