Culinary Union Expected to Vote for Citywide Las Vegas Strike, Walkout Unlikely
Posted on: May 21, 2018, 06:17h.
Last updated on: May 21, 2018, 06:52h.
The Culinary Union, Nevada's biggest casino workers' union, will vote on Tuesday on a measure that threatens to bring Las Vegas to a virtual standstill.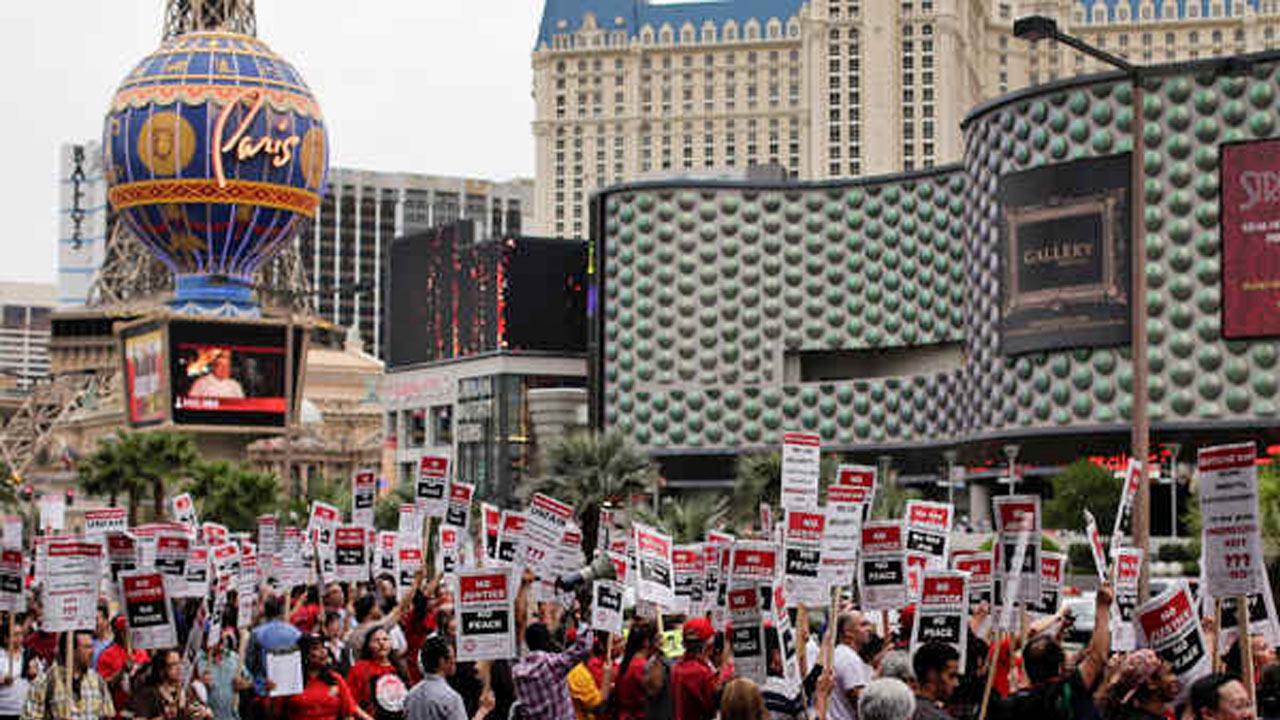 For the first time in 15 years, the union's 50,000 bartenders, bellmen, cocktail servers, food servers, housekeepers, kitchen staff, and porters will decide by ballot whether to stage a citywide walkout.
Some 34 resorts along the Strip and downtown would be impacted should the union vote to act, with about 80 percent of those being employees of MGM Resorts and Caesars Entertainment. If members authorize a strike, it could be called any time after June 1, when the current union contract expires.
Bigger Share of Trump's Tax Cuts
Culinary, which is currently in negotiation with operators, wants to ensure that money saved by casinos from the corporate tax cuts brought in by the Trump administration trickles down to workers. In Q4, these cuts generated a combined, non-cash benefit of $4.3 billion for the top four Strip operators, according to the Las Vegas Review-Journal.
The union is also fighting for more protections from sexual harassment by guests and co-workers and for the mandatory issue of "panic buttons" to housekeepers.
The group also wants assurances against job cuts in the face of the increased use of new technologies by casinos, such as kiosks for self-check-in.
We believe our proposals are fair, considering the companies are in better position and the recession is over," Culinary Union spokeswoman Bethany Khan told the Las Vegas Sun. "The workers who have helped make those companies succeed should not be left behind."
Walkout Unlikely
But operators believe the chances of the union taking the nuclear option are slim. Last week, Rich Broome, a spokesman for Caesars, said his company would "continue to negotiate in good faith with the Culinary Union" and was "optimistic that we will achieve a good settlement before the current contract expires at the end of the month."
MGM said in an official statement that it had always been "great partners" with the union.
"We have issues to address, but we're confident we will find mutually beneficial solutions to all our contract issues," said the company.
According to two UNLV professors consulted by the Las Vegas Sun, Bill Werner and Ruben Garcia, the most likely scenario is that the union will vote overwhelmingly in favor of a strike but will fail to go through with its threat.
Instead, the contract will be extended while negotiations continue: a process that could take anywhere up to a year. Once a resolution has been found, workers will be paid retroactively on days worked after June 1.
The last time the union organized a citywide strike was in 1984, although individual casinos have been picketed on numerous occasions since, including — infamously — a six-year strike at the Frontier in the 1990s.
Similar Guides On This Topic