Cordish Companies in Bust-Up with Madrid Regional Government Over $2.4 Billion Casino Project
Posted on: July 25, 2017, 01:00h.
Last updated on: July 25, 2017, 01:01h.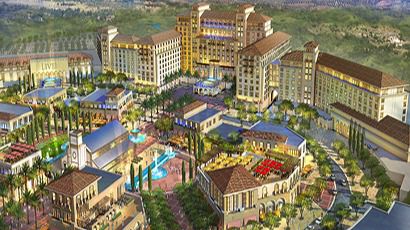 Cordish Companies has announced it will sue Madrid's regional government over its rejection of a proposal to build a $2.4 billion casino and hotel resort outside the Spanish capital.
It's the second time Madrid's civic officials have knocked back the US property giant and casino operator, but it appears to be as much the manner of the rejection as the rejection itself that has spurred the company into legal action.
Cordish learned of the denial when it was leaked to the media last Friday. In an official statement on Saturday, the company complained of "very serious irregularities" during the process and of a lack of "professional secrecy" towards its  intellectual and industrial property.
Cordish said it would "vigorously pursue the exercise of all legal actions that may be in defense of their legitimate interests against the regional government and the responsible persons concerned."
Legal Threats "Meaningless"
The government, in response, branded the legal threat "meaningless" because it said "the procedure established by law had been scrupulously followed." The proposal had been turned down based on the recommendation of eight different technical reports and the decision was protected by law, it added.
Cordish wants the government to designate the project an Integrated Development Center (ICD), which will offer it crucial tax breaks and flexibility of land usage, but such status can only be conferred by a regional government once every decade.
The Cordish proposal lacked the diversity to be considered for ICD status, officials concluded. That's because, despite promises of a 15-acre self-cleaning lake with artificial beach, and a World Soccer Hall of Fame Museum, 90 percent of revenues would still be derived from the casino and accompanying hotel, they claimed.
Lack of Diversity
Cordish believed its second proposal, submitted in May, would be enough to clinch the deal. Officials had rejected the first, again, on is lack of diversity, and also because an internal assessment that found the government would have to invest more than $370 million on infrastructure, should the project go ahead.
In the revised proposal, Cordish promised to pick up that tab, while emphasizing that gambling would only account for around 10 to 15 percent of revenues for the total project.
It would be "Europe's largest offer of resort style hotels, gastronomy, all kinds of entertainment, shops and events for residents, families, tourists, congresses and conventions," Cordish said.
Madrid's officials were unmoved, claiming the the revised proposal was not "substantially different" and questioning Cordish's numbers.
"The developer has again contributed contradictory and, in some cases, insufficiently supported figures on revenue and project demand, which would entail a high risk of overvalued figures," it said.
Similar Guides On This Topic