California's Bankers Casino is Site of $95K Theft, Suspect on the Lam
Posted on: April 4, 2023, 07:25h.
Last updated on: April 4, 2023, 02:27h.
California authorities continue to search for the man who stole more than $95K from Bankers Casino in Salinas, Calif., and walked nonchalantly out of the cardroom on Sunday.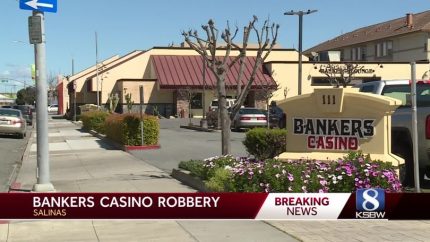 At approximately 7 a.m., the unidentified, masked suspect walked into the main entrance of the cardroom, California TV station KSBW reported. He then made his way to a location where cash was held.
He scooped up the loot, placed it in a backpack, and then walked out of the casino and left the property. It appears no one noticed him during the theft.
It's unclear if the stolen money was picked up from a cashier's cage.
Not an Open and Shut Case
It's apparently unclear if the cardroom was closed during the theft. The casino's posted hours for poker on Sunday don't start until 9 a.m. Saturday night's poker games stop at 3 a.m.
Other casino games don't start until 10 a.m. on Sunday. Saturday night's nonpoker games stop at 3 a.m.
Later on Sunday, a casino worker responsible for totaling the cash received noticed there was missing money. That led security guards to review surveillance video.
The likely suspect was seen on the video. He was described as between 5 feet 10 inches and 6 feet tall. He weighed about 200 pounds and was wearing black pants and a dark hoodie at the time of the theft. He also had on a black facemask and sunglasses.
Casino security guards contacted the Salinas Police Department to investigate the crime.
Bankers Casino is located about 60 miles south of San Jose, Calif.  The California Gambling Control Commission identified the owner as Old Town Investments.