Caesars Entertainment Picks Cromwell as Casino Name Amid Controversy
Posted on: February 12, 2014, 05:30h.
Last updated on: February 11, 2014, 08:16h.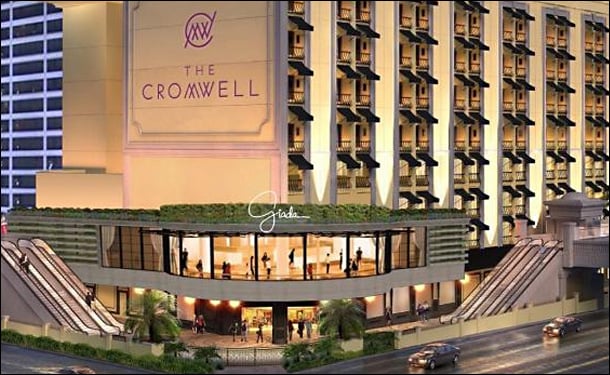 A rose by any other name would smell as sweet, the great Bard said. The same, however, may not hold true for Las Vegas Strip casinos.
Once slated to be called The Gansevoort – already an off-beat enough name, albeit a recognized hotel brand, for American audiences, at least – the tiny boutique hotel casino overhaul being completed after much controversy by Caesars Entertainment on the site of the old Bill's Gamblin' Hall on prime real estate on Flamingo and Las Vegas Boulevard is now to be named The Cromwell.
Definitely easier to spell and pronounce; but somewhat akin to naming a property The Puritan, historically speaking. In other words, not a very Vegas-y association to this rename; not at all.
What's in a Name? A Lot, It Turns Out
Let's back-track and do a little history on this controversial property though. Originally, Caesars brought in Gansevoort – mostly an East Coast chi-chi hotel group – to manage and brand the new casino hotel. But after becoming mired in third-party twice removed controversy when Caesars was trying to partner with Suffolk Downs for a new casino project in Massachusetts, Gansevoort was dropped after being deemed an unsuitable regulatory connection for Caesars (who ultimately split from the Suffolk Downs project anyway).
Yes, we know this story has more broken alliances and drama than a daily episode of "The Young  and the Restless."
"Maybe they liked the nice way the name sounded when it rolls off the tongue," noted University of Nevada, Las Vegas associate history professor Michelle Tusan. The expert in British studies points out that "people put British names on bed sheets to make them sound more expensive."
Good point. Certainly the boutique property is being aimed at a hip, rich, young audience that wants to be far from the madding crowd. Or, at least across the Boulevard from it.
Beyond that, the new hotel name's associations are both obscure and strange for a Sin City property. After all, one of the two famous British Cromwells was a 17th century Puritan who wanted to eliminate sin from Britain back in  the day. He also signed King Charles I's death warrant, briefly running the show under the title of "Lord Protector" of England, and rallying against the old Roman Catholic ways.
The name could also come from Cromwell's predecessor, Thomas Cromwell, 1st Earl of Essex at the time of Henry VIII's reign: the man who moved England from Roman Catholicism into what is now known as the Anglican Church so that he could divorce his brother's wife, whom he had married after his sibling passed away, in  favor of the seductive Anne Boleyn (mother of the future Queen Elizabeth I). It was this Cromwell who – when Henry was denied papal dispensation to divorce Wife #1 Catherine of Aragon – took it upon himself to create his own religion via the Church of England to expedite Henry's wishes for a formal divorce from Catherine.
Of course, no good deed goes unpunished, and Thomas was eventually executed for treason and heresy (sort of a handy catch-phrase that kings used back then to eliminate anyone who was annoying them) when Anne of Cleves – Henry's Wife #4 – proved to be a less-than-perfect match for the lusty king.
Loveman Apparently Didn't Weigh In
While an argument could normally be made that the name was chosen somewhat capriciously and that  casino executives may not necessarily be the most well-versed in 500-year-old British history, Caesars CEO Gary Loveman is actually a former Harvard Business School professor and holds a Ph.D. in Economics from the revered Massachusetts Institute of Technology. Okay, maybe teaching "Service Management" for the hospitality industry doesn't exactly make you a historian, but you'd think he might have some clue about the negative associations with the Cromwell name, nonetheless.
Perhaps the naming thought process was simply that it was a short and upscale sounding title for what promises to be a somewhat pricey property when it opens this Spring with a 40,000-square-foot casino, a 260-seat eatery to which television food show hottie Giada De Laurentis has lent her name, a 65,000-square-foot rooftop nightclub and pool that is being presented by iconic nightclub impresario Victor Drai, and a hip and happening entry and lounge area.
The $185-million renovation will also encompass 188 Parisian-loft-style suites.
Possibly gun-shy after the Gansevoort issue – in which someone quite removed was alleged to have had Russian mob ties – Caesars is going it alone now. And while the casino operator won't discuss how they decided on such a controversial – and some would say, odd – choice of names, no doubt they hope it will pull in people who don't associate it with anti-monarchist genocidal rule or religious blasphemy.
Since this is Las Vegas, they're probably pretty safe with that one.
The Cromwell's not the only new casino hotel expected to open this year. Other projected openings for new properties include the SLS Las Vegas, on the site of the former Sahara. That 1,600-room property is slated to open this Labor Day weekend.