Betfair New Jersey Ad Campaign Launched Before Actual Licensing
Posted on: October 20, 2013, 05:30h.
Last updated on: November 18, 2013, 03:36h.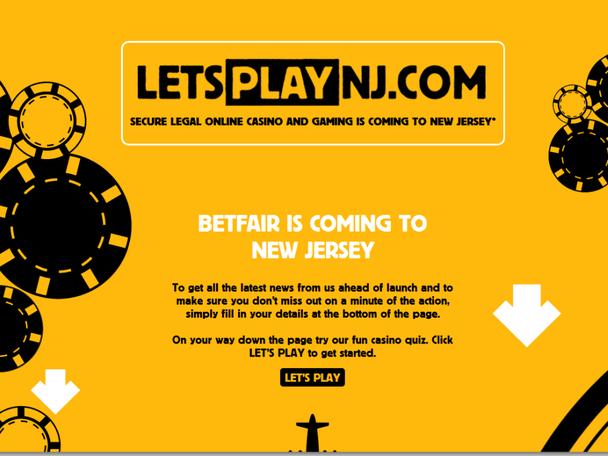 Whether on the Internet or on TV, the issue of advertising is always a delicate balance of audience inundation with turning that same audience off with a little too much drumming, and Betfair – the UK gaming site that is still technically awaiting licensing approval in the Garden State – will be dancing that dance as they unfurl their "LetsPlayNJ.com" and "BetfairNJ.com" for-now-free-money U.S. sites and pump up their advertising of same in anticipation of receiving said license, apparently, before the state says "Let's go" on November 26 with legal online casino gaming.
Gathering Online Customer Base
Offering a taxicab yellow homepage on the two identical pages, we're not sure the choice of an airplane headed down in what appears to be a nosedive as you take their rather sophomoric three-question "quiz" was their best choice of graphics for a U.S. audience. But regardless, this is their ploy to get potential players engaged in advance of their real money launch in New Jersey right around Thanksgiving time; all you have to do is leave your email and zip code for them to keep you up to speed on what's happening. And since anyone can play who happens to be within New Jersey state limits when they log on – whether they actually reside in New Jersey or not – potentially anyone in the world or at least certainly in the U.S. could welcome this impending news.
Whether Betfair is actually ready to rock n' roll on November is now in the hands of the New Jersey Division of Gaming Enforcement (DGE), with whom the power for official legal licensing and operation lies for real money play, of course. Just like those 5-minute disclaimers by creepily pleasant voices on TV spots for pharmaceuticals, the two Betfair sites have their own at the bottom of the two sites, noting that "the future availability of Internet gaming services on Betfair.com in New Jersey is contingent and conditioned upon the issuance of all necessary approvals, licenses and permits by the State of New Jersey including, but not limited to, all approvals, licenses and permits required by the New Jersey Division of Gaming Enforcement."
Soft Launch Pre-Rollout Planned
With just six weeks to go till the 26th – and a five-day pre-launch soft rollout to hopefully catch the inevitable site glitches before real money play kicks in – surprisingly few of the planned online casino sites are actually officially licensed and ready to roll. So far, just Borgata has been green-stamped by the DGE, according to public records, at least. The casino – one of the few that hasn't completely fallen in the sewer with its profitability for its land gaming operations – is paired up with online operator bwin.party to offer their Internet product to the world.
Other online partnerships waiting to unleash their dazzle on New Jersey gamblers come November include Caesars' four Atlantic City properties with 888 Holdings, the Trump Taj Mahal with Ultimate Poker (the first online legal poker site in Nevada launched earlier this year, and thus presumably with a slight operational edge over most of the other sites), Tropicana and Gamesys, Resorts Casino Club and PokerStars, and Trump Plaza with Betfair. Because it is a requirement that all online operators have their servers housed within an actual Atlantic City brick-and-mortar casino, no one can become an Internet licensee without a land partner of some sort.
Still waiting to tell the world who they're engaged to are Revel and the Atlantic Club, although both have reportedly made their matches, albeit still covertly.