Atlantic City Strike Adverted at Three of Union's Five Targeted Casinos
Posted on: June 30, 2016, 10:57h.
Last updated on: June 30, 2016, 10:57h.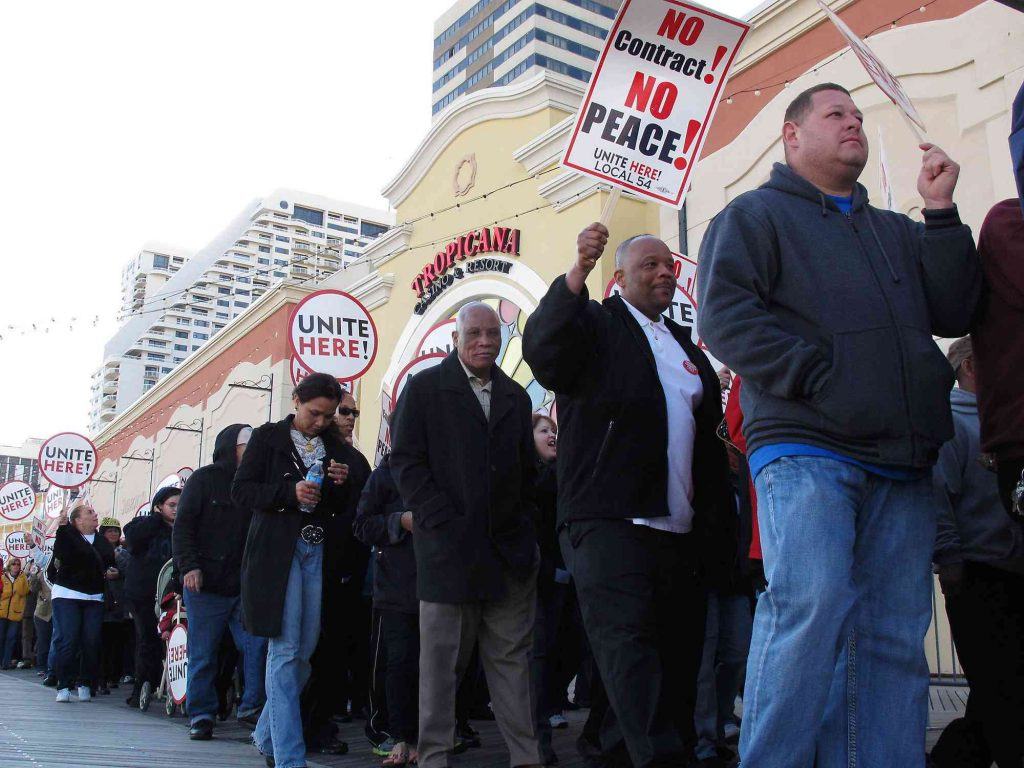 The Atlantic City strike planned by the UNITE HERE Local 54 hospitality workers union has been averted at three of the five targeted casinos. Scheduled to walkout on Friday, July 1, the union reached a new deal with Caesars' three properties on June 30.
Harrah's, Caesars, and Bally's agreed to new terms with the largest union in Atlantic City, though details were not disclosed. The union still plans to strike against Trump Taj Mahal and the Tropicana.
"We are glad that Caesars Entertainment recognized the importance of fair wages and benefits to the workers in Atlantic City,"
UNITE HERE President Bob McDevitt said. "I hope that Tropicana and Taj Mahal get the message."
UNITE HERE is seeking higher hourly wages for its constituents, added vacation time, and continued healthcare benefits. Over the last 12 years, the union claims its most senior membership has received just $0.80 per hour in raises.
The Borgata, Golden Nugget, and Resorts aren't being targeted by UNITE HERE and will not be affected by the planned strike.
Keeping Workers Working
The new deal between Caesars and the local union is vital to keeping business afloat in Atlantic City. UNITE HERE represents nearly 10,000 workers in the city, with about 6,500 employed by the five casinos in question.
Caesars, the largest gambling company in Atlantic City, is responsible for employing 4,000 workers. "This agreement is a big victory for 4,000 casino workers, middle-class jobs, and the Atlantic City economy," McDevitt explained.
Caesars echoed those sentiments.
"We are pleased to have reached an agreement with Local 54 that keeps our employees at work," Caesars and Bally's President Kevin Ortzman told the Associated Press. "Caesars Entertainment is proud of the investments it has made to contribute to Atlantic City's revitalization and will continue to help drive the city's revival."
In addition to allowing union workers to continue earning wages, the renewed contract also allows Caesars' three properties to operate as normal over the July 4th extended holiday weekend.
Harrah's, Caesars, and Bally's collectively pulled in $87.8 million last July. With the holiday on a Monday this year, revenues in Atlantic City are expected to get off to a fast start in the summer month.
Strike Planned
It's down to the final hours for the Tropicana and Trump Taj Mahal. UNITE HERE says negotiations with the final two properties are ongoing, but unless a deal is reached by midnight the strike will commence on Friday.
An update from UNITE HERE will be provided this evening.
The Tropicana and Trump Taj Mahal are the third and fourth largest hotels in Atlantic City. With a combined 4,088 rooms, the two resorts account for over 30 percent of the casino occupancy availability.
Being independent of its staff is certainly not the way the Tropicana and Trump Taj want to ring in Independence Day. But just as gaming revenues are beginning to stabilize in Atlantic City after a years-long economic storm, the properties also don't want to increase their expenses.
A deal might be difficult to achieve, and hundreds of temp positions might be available starting tomorrow in Atlantic City.