Alleged Mafia Kingpin Joey Merlino Offers Odds on His Own Trial
Posted on: January 30, 2018, 04:00h.
Last updated on: January 30, 2018, 01:09h.
"Skinny" Joey Merlino, alleged boss of the Philadelphia Mob, had some betting advice to offer on Monday as he stood on the steps of the Manhattan federal court where he will face trial this week for illegal gambling, extortion, gun-running, fraud, and racketeering.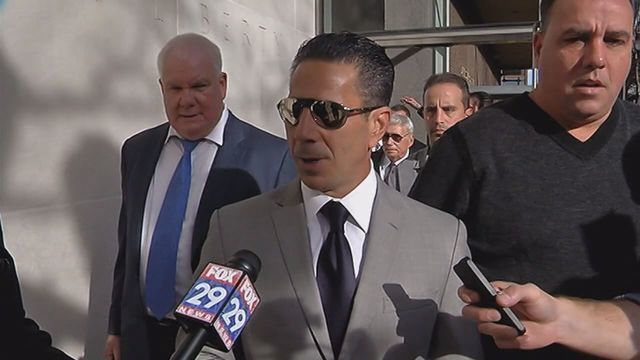 "Deadlock win, all the way," Merlino, told The New York Post when asked to assess of his chances of walking free. The flamboyant gangster also had a free tip for Sunday's Super Bowl: "Bet the Eagles," he said.
Tellingly, Merlino's money is on the underdog.
But while he's spent over a decade in the slammer for racketeering based on gambling, loan-sharking and receipt-of-stolen-property charges, he's also beaten the wrap before: specifically, murder, attempted murder and drug-dealing charges and believes he will do so again.
'Legitimate Businessman'
"Skinny" Merlino now claims to be a "legitimate businessman," based in Boca Raton, Florida, who until recently ran a restaurant, "Merlino's," which claimed to cook his mother's recipes.
He says he left his previous line of work because there were "too many rats."
He was talking about the Mafia not the kitchen of his former restaurant.
But in August 2016, Merlino was arrested by the FBI along with alleged members of the Genoveses, Gambinos, Lucheses and Bonannos, four of NY mob's "five families."
The list of suspects reads like characters from an old James Cagney movie, with names like "Tony the Cripple," "Mustache Pat," "Muscles," "Tugboat," "Nicky the Wig" and "Big Vinny."
Mafia Pact
Authorities believe they had disrupted a group known as the East Coast LCN Enterprise, a criminal union formed by a pact between the four New York families and Merlino's Philadelphia Mob.
The organization's operations stretched from Massachusetts to Florida, according to prosecutors, and gambling was a big revenue generator. It owned sports betting businesses based in New York, Florida, New Jersey and Costa Rica, and also owned an illegal gambling house in New York that took horse racing bets and held poker tournaments.
"The Mob remains a scourge on this city and around the country," said Preet Bharara, who was US Attorney for the Southern District of New York at the time of the arrests. "From loan-sharking and illegal gambling, to credit card and health care fraud, and even firearms trafficking, today's Mafia is fully diversified.
"As alleged, threatening to assault, maim and kill people who get in the way of their criminal schemes remains the go-to play in the mob's playbook," he added.
Merlino's trial is scheduled to start Tuesday and is expected to last around a month. He has rejected plea deals that would have seen him serve a prison sentence of just two to three years.