Alexandr Dolgopolov Angrily Denies Fixing Tennis Match Amid Investigation
Posted on: August 31, 2017, 03:22h.
Last updated on: August 31, 2017, 03:22h.
After winning his first-round tennis match at the US Open on Wednesday, Alexandr Dolgopolov didn't get to talk about the victory, but instead found himself having to deny match fixing amid an investigation by the Tennis Integrity Unit (TIU).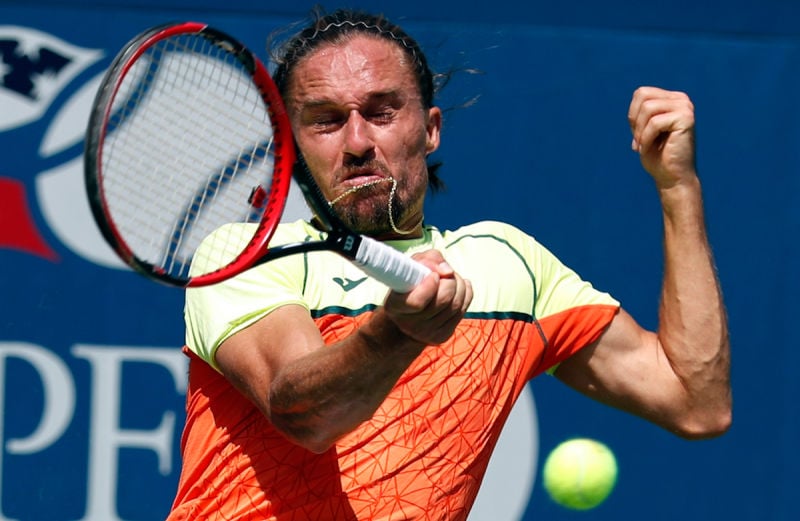 The alleged incident that prompted the inquiry by tennis's anti-corruption group was against Thiago Monteiro at last week's Winston-Salem Open.
The 64th ranked player in the world, who was also investigated in 2011 and cleared, lost on August 20, 6-3, 6-3 in the first round to Brazil's Thiago Monteiro . Apparently it wasn't that he fell to the 113th ranked player, it was how he lost and the large amounts of money bet on the match that triggered the investigation.
The Ukranian was defeated in just 55 minutes and failed to create a single break point. This coupled with enough money being bet against him hours before the start of the contest piqued the TIU's interest.
Dolgopolov Lashes Out
When asked about the inquiry on Wednesday after he defeated 46th-ranked Jan-Lennard Struff 3-6, 6-3, 6-2, 1-6, 6-3 in two-and-a-half hours on Court 16, he was not very happy about being grilled by reporters about the allegations.
"You want my honest answer? I don't give a f*** to be honest, because it's like a circus," he said. "So, for me, I don't want to even talk about it. I talked to the TIU. I respect their work. I gave all the information needed. At the end of the day, what's going to happen is I'm not involved in anything."
Reporters pressed him about the break points and he defended his play, saying he suffers from Gilbert's Syndrome, a disease that affects the liver and can cause exhaustion.
"I was giving my best effort," he said. "I wasn't playing my best."
That wasn't enough for the media, who asked him more questions that clearly irked the 28 year old.
"Let's talk about facts," he said. "There is a TIU that does their job. If they find something, good, let's talk about it. Before that it's a pity that the guys are writing and hurting people's image without anything, just a betting pattern."
Betting Suspended
Bookmakers in Britain have a policy to stop taking wagers if they feel there are irregularities. That was what happened in the Dolgopolov- Monteiro contest. Large amounts of cash came in on Monteiro a few hours before the match and several operators stopped taking bets.
Ladbrokes is one of the biggest sports betting parlors in the UK and when they noticed the unusual pattern, stopped taking bets, a spokesperson for the company told the Guardian Newspaper.
"I can confirm we suspended the match [betting] due to the suspicious moves in prices pre-match," said a spokesperson for Ladbrokes. "This was flagged to relevant authorities right away."
The probe in ongoing and the TIU would not comment, only to say that is conducting the examination of the contest.
Latest Casino Stocks:
Retrieving stocks data...
Retrieving stocks data...
Retrieving stocks data...
Retrieving stocks data...
Retrieving stocks data...